Got the post-holiday, cold weather blahs? Even in our usually balmy Outer Banks, this time of year can be just a bit…well, dreary. The festive lights are gone, decorations are stowed away, and the cold (and snow!) are certainly not helping.
Fear not! Winter won't get in your way – embrace the season and create a colorful interior that counteracts the cold and gray outside. Take matters into your own hands and use some of these warm, cozy designs for your winter beach home: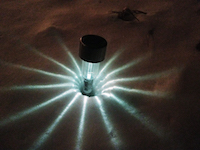 Let the sunshine in: The sight of the sun can warm our hearts, even on some of the coldest days.
Install dramatic windows that let the sun stream through
Build a sun room and fill it with comfy chairs, pillows and blankets to curl up in and read
Strategically place mirrors to help spread the warmth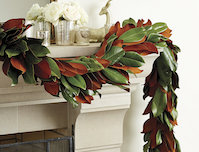 Light up the night: Your entrance might be a bit dark without the holiday decorations, so why not add a few lights or lanterns to brighten it up again? Using lights to brighten up the front walk can look breathtaking when streaks of light from solar or other landscape lighting shine beautifully on fallen snow!
Keep that holiday feeling: After the hype of the holidays, many people tend to feel down once all the excitement of holiday cheer and get togethers slow a bit. A great pick-me-up is to change things up in the rooms of your home.
Make a magnolia leaf garland to spruce up your mantel and bring some post-holiday nostalgia into the room as you warm up with cocoa in front of a blazing fire
Create a colorful wreath with yarn balls for Valentine's Day, St. Patrick's Day or pastel spring colors to put that welcoming touch back on the front door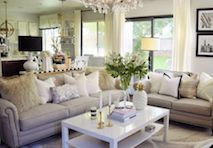 Be bold in white: You don't have to wait until Memorial Day to wear white! Go with the winter flow and decorate your home in bold, dramatic statements with white furniture or walls that are offset by metal accents, modern furniture or dark appliances.
Or get colorful: A new painting, a bright throw rug, or a colorful pillow can add a needed dash of color to any room. You can even fill a glass container with sand, shells or colorful balls to add a whimsical touch of color in darker corners. If you have some pine cones left from your holiday decorations, simply wrap them in soft, pastel-colored yarn and display them in a bowl to warm up a room.
Use textures: There is still time to enjoy some of the luxurious textures of winter – wool, faux fur, or heavy blankets can be appealing, cozy and comforting. Mix and match for a bit of whimsy.
Think ahead: One sure way to get winter off your mind is to start planning for spring now:
Place flower bouquets strategically around the house
Throw a fresh coat of paint on walls that are long overdue for a refresh
Get ahead of the season rush and schedule an appointment with a local landscaper to get your outdoor areas in shape for spring
Getting creative will really help time fly while awaiting the return of warm, wonderful days! Contact a local construction services company to find more ideas about creating cozy designs for your winter beach home.