What family traditions do you remember as a child?  Do you still have special traditions that you have carried on from generation to generation, or have you started new ones with your family?  A few of our SAGA team members shared their special holiday traditions that they look forward to each year!  We hope you will enjoy hearing their fun and memorable traditions!  Happy Holidays from our family to yours!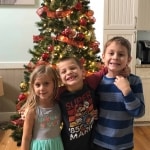 Emily Moore – Homemade Cinnamon Rolls on Christmas Morning
"Our family has always had Cinnabon cinnamon rolls on Christmas morning!  Since there is not a local Cinnabon store, we are starting a new tradition this year of making our own, HOMEMADE version of Cinnabon cinnamon rolls for Christmas breakfast."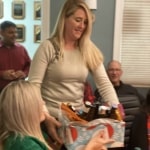 Lauren Garrett- Christmas Eve Holiday Lights Tradition
Growing up my family always got together on Christmas Eve and after dinner drove around to look at the holiday lights.  We still keep this tradition and I look forward to it every year.  Locally there's a great Outer Banks themed light display in Carolina Club in Grandy!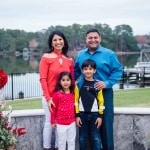 Shweta Gupta- The Gift of Giving Back
The holiday season is our favorite time of the year.  We start our holiday, the day after Thanksgiving by setting up the Christmas tree. Our children get to be creative and place all the ornaments on the tree. We play holiday music each evening.  As a family, we enjoy trying new recipes and making new desserts each year. One of our favorite things to do is spread holiday cheer by giving home baked goodies and chocolates to our library, post office, fire department and doctor's office. We also love to take a short vacation with the grandparents around Christmas and really celebrate being together as a family.
John Dunstan-  Annual Christmas Eve Service
Our family looks forward to Christmas eve worship service at Nags Head Church, setting up the manger scene of our savior Christ Jesus, and doing an advent candle lighting with scripture reading
Jan Forrester- New Traditions
My brother and I always make sausage balls for Christmas breakfast and watch National Lampoons Christmas Vacation.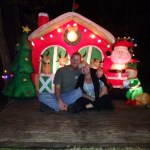 Susie Ray- Annual Poulos House Christmas Lights
We always enjoy going to the Poulos House on Ocean Acres Dr and walking the entire display looking for new additions during the Christmas holiday.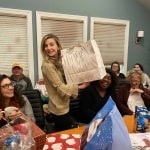 Debbie Gabbert- Christmas Season Traditions with a Christmas Eve Peppermint Ice Cream Birthday Cake
Christmas is such a special time of year and we have a few traditions that we look forward to each Christmas Season!
My boys LOVE the "Elf on the Shelf" tradition, where the little elf watches you throughout the day and then reports to the North Pole each night to tell Santa if you have behaved or not.  Even though my boys are getting older, they look forward to seeing the new hiding spot or "mess" that the elf has made upon his return from the North Pole each night!  We have quite an active elf.  His name is "Jack James" and he visits us on December 1st with a chocolate calendar to count down the days until Christmas.  He also brings gifts throughout December such as ginger bread houses and new Christmas PJ's!
We love to explore the Christmas lights around town while drinking hot chocolate in the car and listening to Christmas music.
On Christmas Eve we enjoy going to church and focusing on the true reason for the Season!  After church we have a birthday cake for Jesus.  The birthday cake is Angel food cake with peppermint ice cream in between….it is one of our family favorites…YUM!
Christmas morning there is typically one or two larger gifts that require the boys to go on a "treasure hunt".  When they open what they think will be a present, it is actually a clue that gives them a hint to the location of the next hidden clue. These clues typically take them all OVER the house and even outside.  They love following the clues in order to find their "big gift".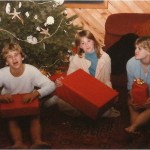 Tammy Aycock- Pranks and laughs
My mom enjoys making us laugh and is a prankster!  When we were young, we were allowed to open one gift on Christmas Eve. That specific gift was meant to represent things we had done or experienced that year.  One of my favorite years was receiving my very own toy ambulance because I had been in a few accidents that year.   My brother received toy garden tools because he hated helping with yard work.  I love thinking back on these memories!