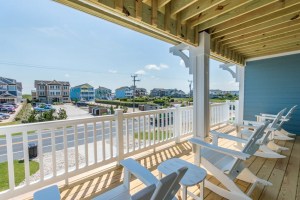 Sapphire By The Sea's Story
Quotes By: "Aaron & Heidi Dereski"
Building the perfect home can be one of the most fulfilling experiences you'll ever have. Think of the possibilities, the freedom to choose, the ability to have it your way. From inception to completion, SAGA's team of dedicated professionals have the resources to assist with every aspect of home design, development, investment and maintenance. Our clients-Aaron and Heidi, were kind enough to share their experience throughout the building process of their investment property "Sapphire By The Sea".
Deciding to Build on the Outer Banks: "Living in Virginia, the Outer Banks of North Carolina has always been a favorite vacation destination for our family. After reviewing the offerings of existing homes for sale, we made the decision to build a new home to take advantage of the modern styling and worry-free feeling of having efficient building materials, appliances, etc."
Why We Chose SAGA: "While visiting several SAGA homes during our research of the OBX area, we fell in love with the unique style, level of quality and attention to detail found in all the SAGA homes. Our initial meeting with Sumit Gupta, SAGA's CEO, gave us immediate reassurance that we had made the right decision."
Floor Plans: "SAGA worked with architects to design a house that would maximize rental income, which allowed us to expedite the construction process. We made a few modifications along the way to customize our home to our taste, all of which were easily accommodated by the experienced SAGA staff."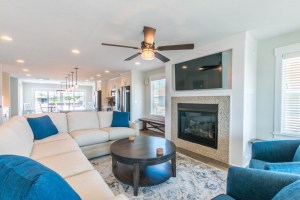 Interior Design: "SAGA eased the (sometimes overwhelming) decisions of this process by introducing us to their resident interior designer, Tanya Dulyaba. We met with Tanya numerous times to review selections to achieve the ambiance we wanted. She did a tremendous job narrowing down options and making suggestions, based on her years of experience with SAGA. Tanya became our "go to" for interior design questions, as well as other details, that we didn't know exactly who to contact concerning a particular matter."
Working with SAGA: "They definitely succeeded in making us proud of "Sapphire By The Sea". If given the opportunity, we would definitely choose SAGA again and wouldn't hesitate in recommending them to anyone looking to build in the OBX."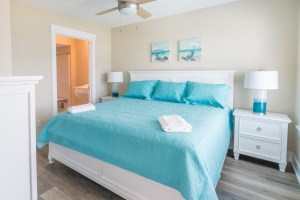 Top SAGA Strengths: "Good Communication – SAGA staff did an excellent job of making themselves available during the entire process."
Personal Attention – "SAGA provided contact information for all pertinent staff, [we] were always able to reach someone whenever we had questions or just needed to discuss something. We felt we were working with a small company, even though SAGA has an expansive presence in the OBX region."
Exceptional Results – "We cannot say enough how pleased we are at the end result. Our home has the exact warm, comfortable, modern and coastal feel that we wanted. This is a direct result of the experience and level of dedication offered by SAGA as our builder."
Pride in Their Work – "It was evident that SAGA was as proud of our new home as we were when they chose our house to be one of the few homes to represent them in the 2018 OBX Homebuilders Association Parade of Homes."
Aaron and Heidi, owners of Sapphire By The Sea
Build Your Story..Your WayOur company mission and goals are evident in this testimonial from Aaron & Heidi. We were honored to work with them and immensely enjoyed helping them "build their story".