Summer is upon us! Backyard parties are an essential part of the season. If you are looking for new, creative ideas when it comes to hosting your next summertime party-we've got you covered!
Decorating
Do away with the standard paper/plastic plates and cups. Consider investing in a colorful non-breakable outdoor dinnerware set. Also, bring out some of your fun platters from inside.
Make fruity floral arrangements with watermelons or pineapples as your vases.
Get creative with old planters you don't use! Clean them up, line them and turn them into decorative coolers.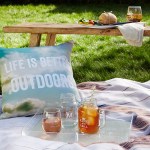 Seating
You will want to have plenty of seating for your guests. If you feel like your outdoor seating is limited, get creative. Relocate indoor furniture, like benches or stools, grab the camping chairs, throw a few decorative pillows around! You can also throw out some blankets and seat cushions and create a picnic-style sitting area.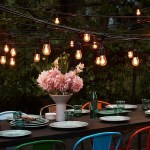 Lighting
Not just for décor-your guests will appreciate plenty of light once the sun goes down. Try string or café lights, tiki torches and hanging lanterns.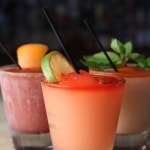 Food and Drink Stations
Think outside of the box when it comes to food and drinks. Instead of a standard buffet, make stations. Create a fun taco bar or skewer station.
Apply the same idea to drinks for your guests. Spread cold, refreshing drinks around so they are easily accessible. Create a signature drink or cool guests down with a DIY frozen drink station. You'll need ice, water, frozen limeade, and the frozen fruit of your choice. Try adding raspberries, peaches, or mangos for this drink.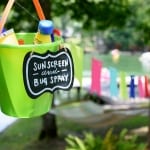 Must-Haves
Fill up a basket of essentials.
Keep guests comfortable outdoors all day long and into the night with summer essentials including sunscreen and bug spray. Your guests with thank you!
Prep Your Yard
A few days before your party begins, get rid of any standing rainwater that will attract mosquitos. Check planters, spray out gutters and empty out the kiddie pool!
Music
Use a Bluetooth speaker, that has been fully charged. Keep your music selection upbeat and something most will recognize. Classics like The Rolling Stones, The Beatles, Stevie Wonder, Michael Jackson, and more.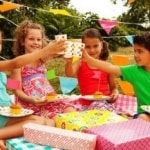 Entertain the Kids
Don't forget about the little ones! Create a kid's area! Think bubbles, perhaps a sprinkler and some beach balls.