When remodeling a kitchen or bathroom, countertops are an important focal point. They need to complement the room's décor, yet still withstand the rigors of everyday life. The conundrum is that it can be challenging to choose a particular countertop material because there are so many options available. While many homeowners still love the classic appeal of stainless steel, tile or butcher-block counters, other popular options include: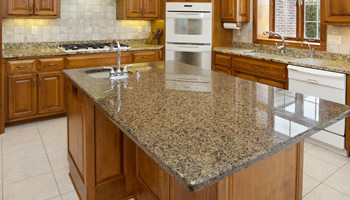 Granite: Granite is all-natural, elegant, durable, and heat-resistant. Although a bit more costly than other options, granite countertops often last a lifetime and require little maintenance. Because it is more porous than other options, it can stain more easily; although rare, granite may also chip or crack, so it's important to have any repairs done by a professional. Yearly resealing is an important part of preventing these occurrences. Granite comes in a surprising array of both warm and cool colors, with each slab a perfect natural masterpiece.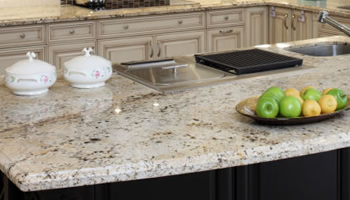 Quartz: Quartz is an attractive, non-porous, durable, low-maintenance alternative to granite. It does not require resealing, and is highly scratch-, heat- and stain-resistant, and also hygienic – perfect for kitchens with a lot of cooking activity, or heavy-traffic bathrooms. Quartz countertops can be engineered to resemble granite, marble or stone or it can come in a wide range of colors, which can be ideal for many contemporary designs, but it does not have that individual, one-of-a-kind feel of natural granite.
Solid Surface: Non-porous solid-surface countertops, such as Corian, are durable and easy to maintain, but they can be damaged by sharp knives and hot pans, which might make it more suited for use as a bathroom countertop. Today's designs can mimic many of the most popular countertop materials at an affordable price.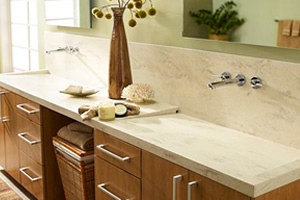 Other popular materials:
Soapstone. Ideas for a soapstone countertop are endless! Starting out as light-gray to green-black, it gradually darkens over time. It does not require sealing, and scratches or stains can be removed with mineral oil or gentle sanding.
Concrete. Poured-concrete tops are on trend right now due to versatility, color variety, heat-resistance, and ability to create unique shapes and sizes, but it also needs to have regular sealing.
Composite Material: Eco-aware homeowners relish the availability of composite countertops, made from earth-friendly materials such as recycled paper or fly ash. These modern-day alternatives resist stains, inhibit bacteria growth, tolerate heat well, emit no radon gas, and are food safe, but they may sometimes require special maintenance or sealing.
Current trends in countertop design include thinner widths, or utilizing thinner and thicker slabs for counters and islands to add a stylish visual statement. Colors tend to run in muted neutral or natural shades, but the room is often spiced up with a colorful or tiled backsplash. Instead of just continuing the counter material up the wall several inches, a mosaic-pattern tile backsplash will often run right up the wall, creating a dramatic focal point for the room. More homeowners also opt to have an integrated sink made from the same material as their countertop, for a smoother, seamless appearance.
Now that you have some helpful information at your fingertips, hopefully your countertop conundrum has been solved! The next step is to consult with a design specialist and start creating the kitchen of your dreams.