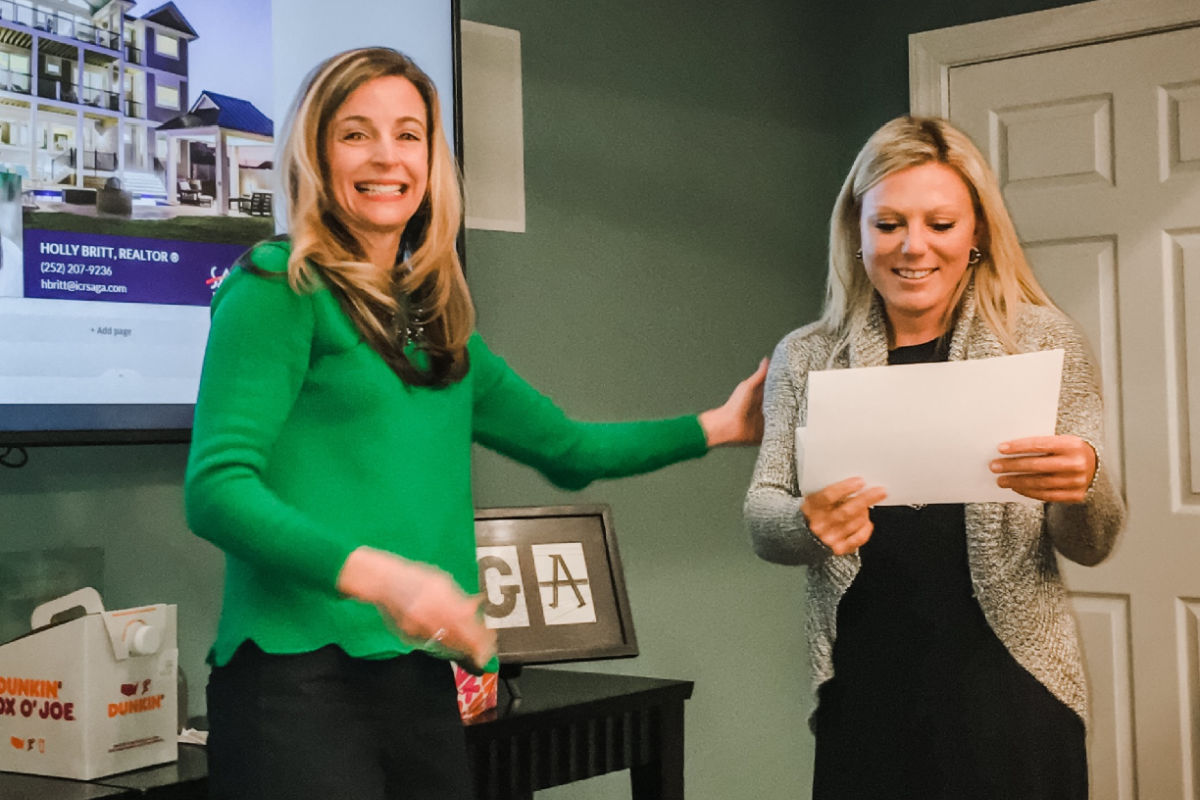 SAGA Realty & Construction's Director of Sales Debbie Gabbert honored each 1st Quarter Award Winner
We are so proud of our exceptional sales agents at SAGA Realty & Construction. Director of Sales Debbie Gabbert honored each 1st Quarter Award Winner with an appreciation certificate and a small gift.
Congratulations to realtors: Jessica Arnett, Martha Hathcock, Holly Britt, Sarah Pritchard and Jeffrey Robinson. Well done!
REALTOR JESSICA ARNETT "Most SAGA Homes Sold"
Meet Jessica:
Jessica Arnett is a high-energy sales and customer relations professional well-versed in communicating with different individuals and negotiating successful sales contracts. Jessica has been a sales professional for over 15 years focused on building relationships and business development.
She started her real estate career in 2010 with an emphasis on working for buyers and assisting with relocation & leasing. Skilled in leadership functions such as training and mentoring, Jessica has run her own successful company among training and support for other agents. She prides herself with integrity, understanding her clients needs and attention to detail.
Jessica and her family are happy to call the Outer Banks their home, and she's sure you will love it here too!
Give Jessica a call today to see how she can easily help you through the process of buying, selling, or building on the Outer Banks 252-722-2343.
REALTOR MARTHA HATHCOCK "Highest Sales Volume"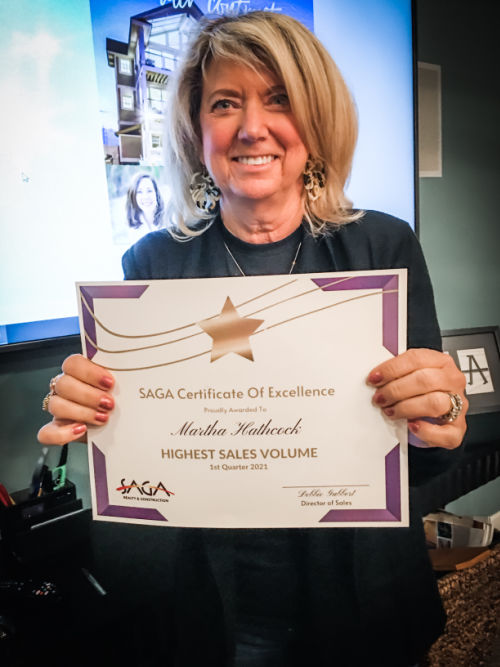 Meet Martha:
Martha Hathcock is a real estate broker with SAGA Realty and Construction on the Outer Banks. Born in Amelia, Virginia, she graduated from Randolph Macon College and settled in Richmond, Virginia to pursue her career. She also attended Virginia Commonwealth University and graduated with a post-baccalaureate certificate in Information Systems and LOVES VCU Rams Basketball!
Martha has worked in private and public sector industries as a recruiter for technology companies, assisted in the start-up of a new technology consulting company, and supervised customer relations for an agency with the Commonwealth of Virginia. She is recognized for her professionalism in dealing with her clients and going the extra mile to solve problems and provide resources. These same attributes have carried over to her real estate career and are a true asset to each of her clients.
Martha and her husband Charlie realized their dream of living on the Outer Banks in 2018. They were thrilled to move closer to their family and grandson, while living on the water to enjoy boating and all the beach life as to offer. Being part of a close-knit community and helping others is also of utmost importance and is key to her role here.
Martha is committed to helping you accomplish your goals, whether you are looking to buy, sell, build, or invest in the beautiful Outer Banks area. She brings her skills and knowledge of the industry coupled with her love and passion for the Outer Banks to assist you with a seamless and successful real estate transaction.
Call Martha TODAY so she can assist you with a win-win solution to all your real estate needs 804-920-4459.
REALTOR HOLLY BRITT "Highest Listing Volume"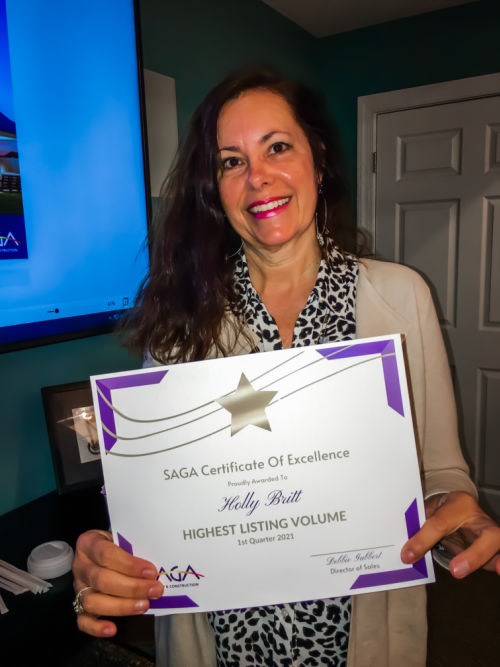 Meet Holly:
Holly Britt offers over 25 years of experience in the Outer Banks real estate market. Her professionalism and superior level of service is second to none along with her approach to a win-win negotiating style that continues to earn her high marks and respect.
Holly will stand beside you every step of the way, developing a relationship of trust through knowledge, patience and good humor. Her attention to detail and follow-through are the cornerstones of consistent repeat and referral business. Whether you are interested in selling your existing property, finding your dream home, or searching for the perfect investment property, you can count on her to get the job done, through extensive market research, cutting edge marketing strategies, and home staging assistance. From the Northern Beaches of Corolla to Hatteras Village, Holly is ready to serve you! Holly and the SAGA Team will work hard for you and will treat you as their top client – because you are.
See for yourself why Holly's clients count on her for all their real estate choices on the Outer Banks!
Call Holly at 252-207-9236 today and let her go to work for you!
REALTOR SARAH PRITCHARD "Most Homes Sold"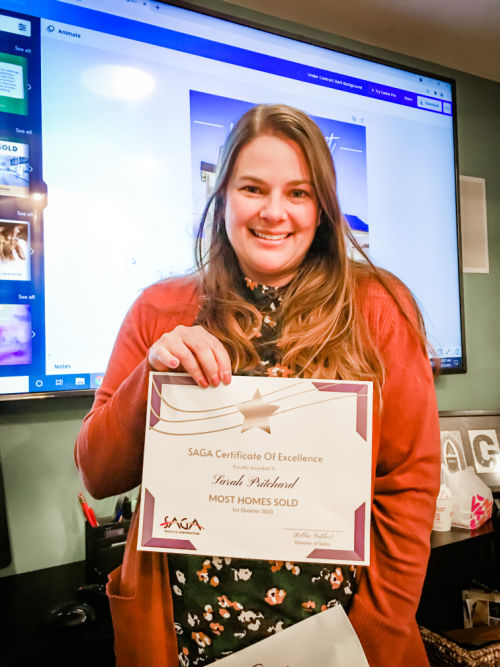 Meet Sarah:
Sarah Pritchard knows the Outer Banks! She is a native of Manteo and her family has lived on the Outer Banks for nine generations spanning from 'down the Banks' of Hatteras Island to Nags Head, and all of Roanoke Island. Growing up in a small close-knit community allowed her the freedom to roam and explore the island, leading to her love of adventure. She has traveled across the globe, and realized how truly special the Outer Banks is. She loves calling the Outer Banks home, and feels lucky to live where thousands choose to vacation.
She graduated from the University of North Carolina at Chapel Hill with a degree in Journalism. She then published her own magazine, worked in sales and marketing directly for a high-end women's clothing designer and was an advertising sales executive before deciding to make real estate her career. Her experiences have led her to work with many people of different backgrounds and to listen to her clients different wants and needs.
Whether you are looking to buy, sell, or build your forever home, second home or investment property, Sarah will help guide you from beginning to end to ensure a seamless process. She is here to do the work for you, while making your dreams a reality.
Contact Sarah today at (252) 267-5223 and put her knowledge and expertise to work for you!
REALTOR JEFFREY ROBINSON "Paperwork Pro!"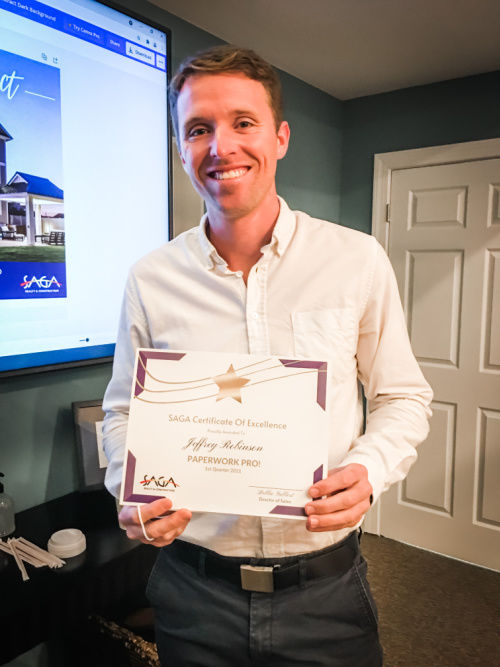 Meet Jeffrey:
Jeffrey Robinson was born and raised in northeastern North Carolina where he has spent the past 15 years working in the Outer Banks tourism and property management industry. During this time he has gained a thorough understanding of the local vacation rental market and the unique opportunities it offers in real estate. Jeffrey is passionate about sharing the knowledge and experiences he has obtained growing up in this area to help others understand what a truly special place it is.
Jeffrey has a BS in Business Administration with a concentration in Finance from the University of North Carolina Wilmington, and a master's degree in Project Management from the University of Uppsala in Sweden.
Let him put his knowledge to work for you! Whether you are buying or selling your forever home, second home, or an investment property, he will be able to confidently assist you through the entire process.
Give him a call at 252-339-5595 and let him help you discover the amazing opportunities the Outer Banks has to offer!
CONTACT US
If you're looking for one of the Outer Banks top agents to help you build, buy or sell on the Outer Banks, give us a call TODAY at 252.301.3090. Or just click the link below to learn more about our exceptional sales team.