Some communities are fond of using the word "luxury" when referring to their properties, but the reality is that they rarely provide the amenities, furnishings and finishing touches that set them apart from a standard apartment complex.
If you have been thinking about making the move to boutique style apartment living, this blog will help you identify the types of benefits to look for to maximize every dollar.
Location, location, location
When buying a home, curb appeal and location are probably the two most sought-after features. In planning the development of luxury apartment communities, the same holds true. Beautiful surroundings, breathtaking views and well-kept grounds are what put boutique-style living in a category all by itself.
Lots of green space is important. Not only does it offer an opportunity to take in beautiful views and amazing landscaping, but it also gives residents the feeling of having space without the burden of caring for it on a daily basis. It also provides opportunities to be outside and enjoy the warm weather; to socialize and entertain with space to grill and relax.
Proximity to shopping and dining are often ranked highly on the list of preferences for renters. Views of landmarks or the city skyline are also key to giving residents that feeling of being somewhere special, out of the ordinary, with the ability to see and do, all in their very own community.
Boastful Amenities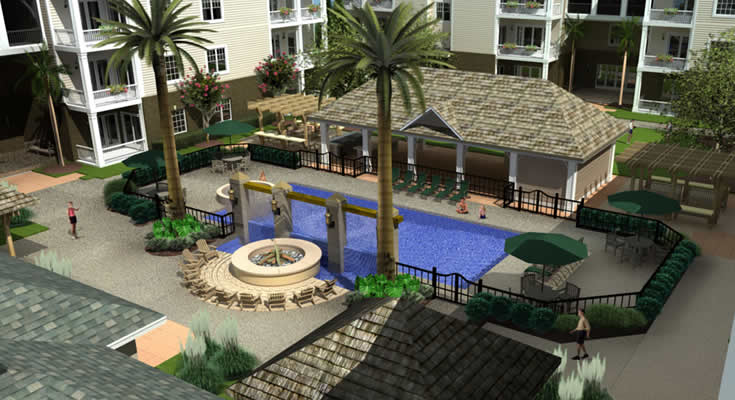 Who doesn't love amenities? Be sure to explore everything available to you as you research your options to get full value out of your monthly rent. Look for properties that offer a club-style common area complete with:
Kitchen
Game Room
Large Pool
Hot Tub
Outdoor Pavilion
Workout Facility
Theater
Many folks who are searching for luxury living are looking to downsize. They desire something low maintenance, but don't necessarily want to give up the conveniences that owning their own home provides. They may also be looking for a sense of community to fill the gap that leaving the old neighborhood creates. Access to a community room, without having to leave the building, is a super-nice feature to have. It's convenient when entertaining friends or family, or just want to get together with other residents. It offers the opportunity to have fun and enjoy a large group without the worry of hosting in the apartment space.
Open Floor Plan & Livable Space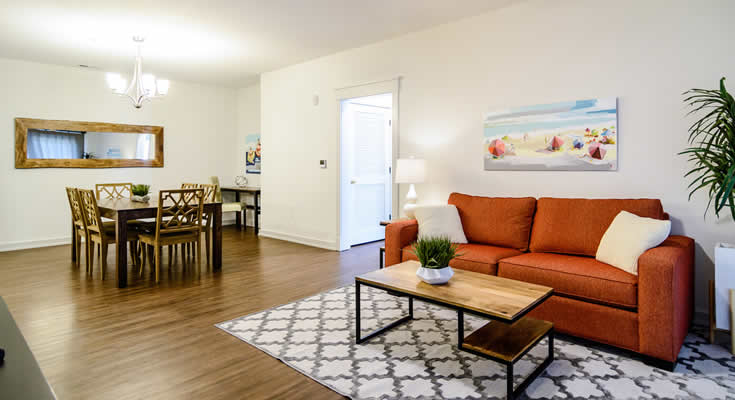 The trend continues to be an open floor plan when it comes to home design. This gives the space a very open, welcoming feel and likely means it will be a bright, airy space as well.
Although community areas are nice to have, it's also great to be able to have a private space when we want our quiet time. Choosing a property that offers its own spacious patio or deck is a tremendous plus – and also expands the overall footprint of the apartment.
Finishing Touches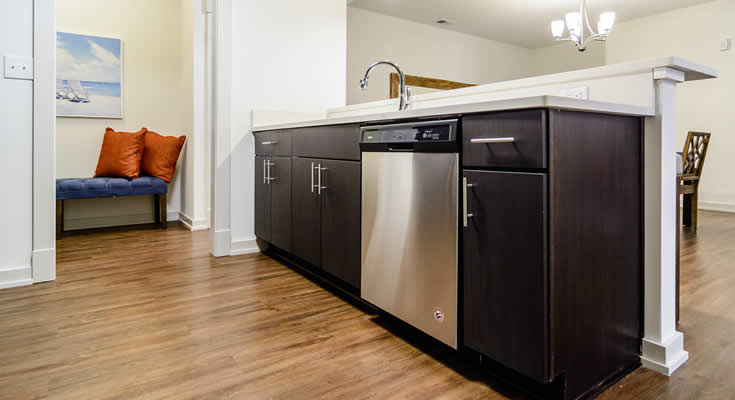 Luxury apartments are purposefully designed to be just that – luxury. They are aimed at differentiating from run-of-the-mill apartment living, making it unique in both design and layout. There are any number of things a designer can do to make a striking statement when putting together the design for a luxury apartment, but one of the most popular attributes happen to be fine finishes. From thoughtfully planned paint colors and plantation shutters, to granite or even quartz countertops, stainless steel appliances, and brushed nickel hardware, these are the types of features that are uncommon in a standard apartment rental. One other value-added feature of luxury living is hard-surface flooring vs. carpeting. Easy to maintain, this type of flooring wears better, doesn't reveal its age as easily, and adds a touch of class to the space.
Security
Last, but not least, is the importance of a secure building. Security is very important and having state of the art security in your building is priority one. If the community you are considering does not utilize a key fob or code to access your building, along with multiple ways of exiting the building (two ways to exit the building, access to an elevator, etc.) then ask the property manager if there are plans to add security measures. If not, keep searching.
Looking for luxury apartment living on the Outer Banks? It exists! Contact us today for recommendations.