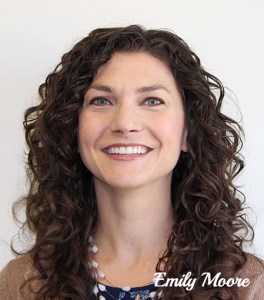 We are thrilled to kick off our Employee Spotlight series by featuring the lovely Emily Moore. Emily is an integral part of our accounting team and we have enjoyed getting to learn more about her!
Describe your role at SAGA:
I'm the Senior Accountant at SAGA, and I am in charge of consolidating and reconciling nearly 20 different partnership and subsidiary financial statements, I process SAGA's construction draws, home insurance, payroll tax filings, credit cards, bank statements, and rental house income.
Best part of your job:
My favorite part is probably processing the payroll for Masala Bay (the partner owned restaurant) because sometimes I'm lucky enough to get a free AMAZING lunch!
Tell us something interesting about your self your coworkers probably don't know: They probably don't know that I'm a closet thrill-seeker and have been skydiving….twice! Love roller coasters, scuba diving, and about to go parasailing this June!
Favorite holiday:
I would say Christmas is my favorite. Love being around family, baking up a storm, and thinking about the approaching new year.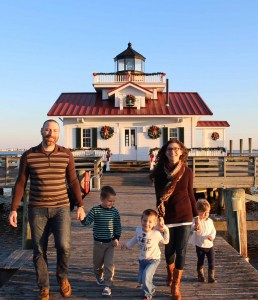 Favorite color: Green
Favorite food: Oh too hard! Lasagna, or a good curry, or chocolate!
What's on your list of things to do outside now that the weather has warmed up? Plant more tomatoes & squash in our garden.
First concert attended:
I can never remember if my first was the ABBA cover band or the DC Talk & Audio Adrenaline concert. Quite a stark difference, Haha!
Favorite place to visit:
It used to be the Outer Banks, but now I live here!
Last book you read:
The Magician's Nephew – I've been reading the Chronicles of Narnia with our kids each night.
What are you passionate about? Real Estate….whenever my husband and I are ready to buy a new property, I get so excited. I love shopping what's on the market and thinking of what we can do with fixer uppers.
Favorite family tradition: I loved camping every summer growing up. Being outside, hiking, biking, campfires, and enjoying the peace & quiet.
Where would you love to visit but haven't been yet? I love tropical beaches, have always wanted to go to Bali and have recently heard amazing things about Eleuthera.
Do you have a special talent no one knows about? Not many people know that I'm a fairly handy carpenter. Currently wrapping up a 7 ft entertainment center with mini barn doors. I learned a lot of it from my husband!
 Why did you choose to call the Outer Banks "home"? My family grew up vacationing here since before I was born, so its always had a fond place in my heart. My husband and I got married on the beach in Corolla, we bought a vacation home 3 years back, then decided we wanted to be here full time.
What do you like most about the area or about living here? I love the warm beaches of the Outer Banks and small-town family focus. The community here has been amazing and very welcoming.