We value our staff members greatly, and believe in fun that makes every moment a joy. Living and working in the beautiful Outer Banks has attuned us to the miracles of water. It surrounds and sustains us, adds beauty to our lives, and calm to our days. So when we wanted an idea for a health challenge for employees, we naturally thought of combining the two.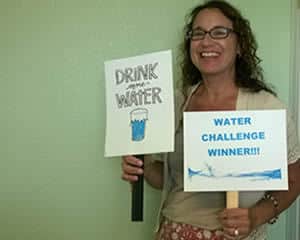 In May our team members participated in a four-week water challenge. We challenged them to drink eight 8-ounce glasses, or four bottles, of water every work day – Monday through Friday. Coffee, tea, alcohol and sodas did not count toward the daily liquid intake total. We sent out motivational emails to gain support for the program, and gave a new glass water bottle to each participant. This was our first challenge-type event, and we're proud to say that 17 of our 24 employees responded to the invitation.
We also provided count sheets to track the number of daily glasses. Progress was logged weekly on a Challenge Sheet in our office kitchen. Each successful participant's name was entered into a grand prize drawing at the completion of the challenge. We had fun with the theme, so prize choices were all water-related items, like tickets to the new H2OBX water park or gift certificate to a local restaurant or the Aqua spa.
We posted motivational signs and posters in the kitchen, bathrooms, hallways, etc. to keep the excitement going. We also sent out emails during the week encouraging everyone to drink the limit, and reminding them to post their progress. Our goals were to show employees that they can actually add more water into their daily regimen, and that they will feel so much better because of it!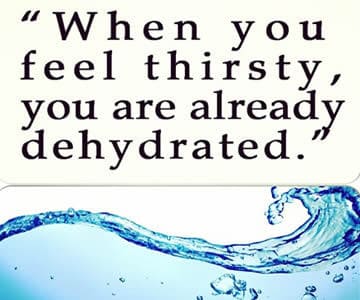 Dive into a Water Challenge of Your Own!
While our primary motivations were to encourage healthy living and have a little fun, we also wanted to provide some education, too. We're hoping that our readers, vendors and customers will learn about the health benefits of drinking water from our experience, and will be motivated to participate in a challenge of their own with fellow employees, friends or family members.  It all starts with two simple facts:
How Much Water Should I Drink Per Day? We should strive for 8 oz of water a day. That might seem like a lot of water, but it is so good for you!
What are The Health Benefits of Drinking Water? Some of the many health benefits of drinking water include:

Keeping your skin looking healthy; dehydration can make your skin look dry and wrinkly!
Doing a better job of ridding your body of toxins
Energizing muscles and preventing fatigue
Improved joint motion & digestion
We had such good participation in promoting the benefits of drinking more water that we are planning future health-related challenges for our group. We hope that your response is just as good. Stay tuned to learn more about our next plunge!