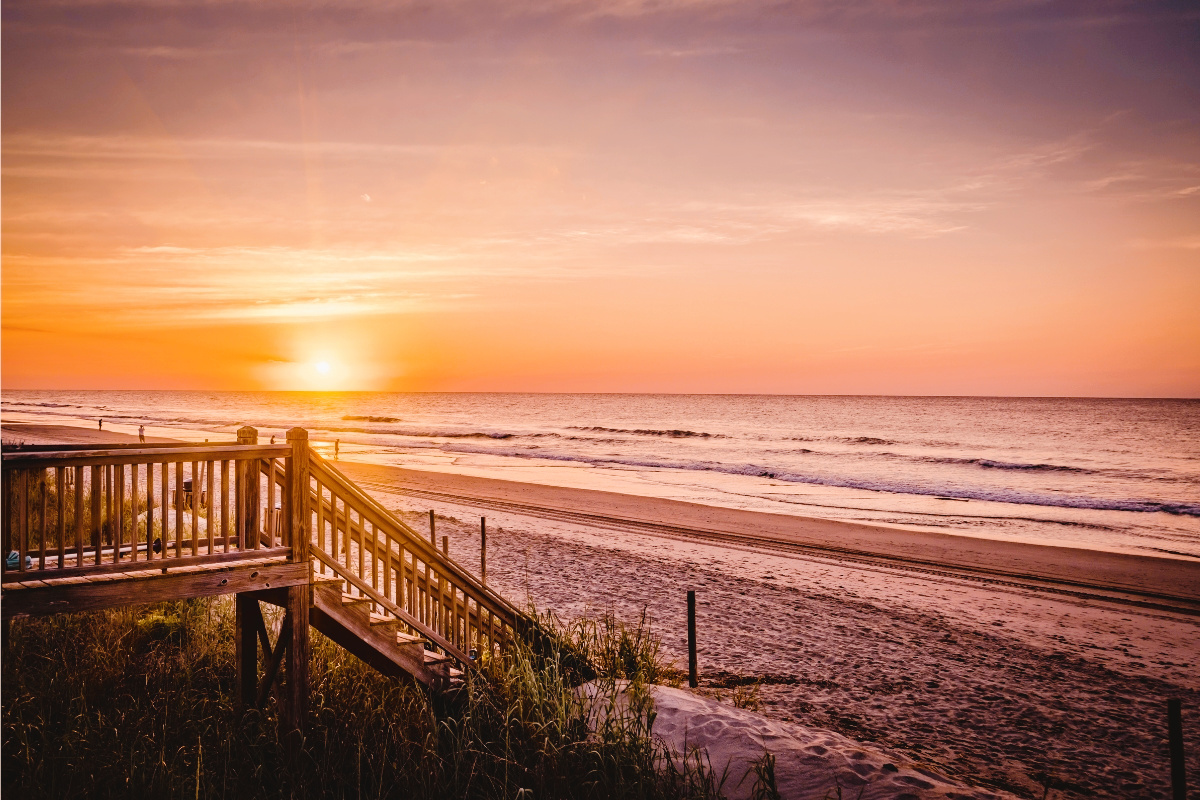 By VR Real Estate Advisors
Growing up along the Outer Banks proved certain things existed:
1.  Summers were meant to be filled with days of sunshine, salt breezes, bare feet, and sounds of cicadas as you rode your bike home for the evening.
2.  Going to school on beach days proved difficult the older we became.
3.  Taking care of the environment around us was not only important but our responsibility.
4.  Hurricanes could be fun but must always be respected, just like the ocean.
5.  Not everyone from the area likes seafood.
6.  And "tourism season" was calculated down to the day.
For most of us, it is fairly apparent: tourism season is the busiest time of the year for a hospitality industry. For Florida, it is their winter; for North Carolina, it is our southern summers. Throughout the 90s and into the early 2000s, beginning the month of June, vacationers would begin to trickle in as schools let out. Summer vacationing was in full swing by July through September and the islands became quiet after Labor Day. If you were driving around in January or February, you were likely the only vehicle on the road.
Broken into four main "seasons," the Outer Banks' 'off-season' referred to its winter months. The 'shoulder' seasons incorporated spring and fall months, while the 'in' seasons were the weeks of early June and mid-September. The 'peak-season' included the busiest weeks of late-June to late-August.
This was clockwork. For decades.
As the years passed, locals of the islands saw what many who left by Labor Day were missing: the stillness in a spring sunrise and the orange sunsets that always occur just around Halloween. This was the real Outer Banks. Yes, it is a beautiful summer spot, but in its quietness, it showed its beauty.
Fast forward to 2021 and what we had all held in our minds as any kind of seasonal guide to go by has now been completely rewritten. Through the natural growth of an area, to the interest it gains through TV shows, documentaries, books, and top ten lists, the Outer Banks has grown out of its rhythmic "seasons" to prove this to be certain: that the beach is the beach, year-round. That people will always come to enjoy its colors and the way it makes them feel, that the islands lend splendor at any point of the year, and if you can withstand a Nor'easter every now and again, you will fit right in to see its beauty too.
Ask the Pros!
So as an investor, what does this mean to you?
Longer seasons mean higher rental revenue.
Closing a rental calendar for months at a time is no longer necessary as off, shoulder, in, and peak season weeks are renting at a record rate.
More multi-week rentals.
VR Real Estate Advisors have seen more multi-week stays than ever before, including an eight consecutive-week reservation!
Many first time OBX guests are experiencing its natural beauty.
The Outer Banks is truly gaining in popularity and while the islands continue to welcome returning guests year-after-year, county data shows that continuous first-time visitors are vacationing here, too.
Time spent at the beach for you and yours.
Enjoy the Outer Banks in its truest form, at any time of the year. And while vacation rental real estate is a tangible long-term investment that adds consistent returns, it also improves quality of life.
For more information regarding sales or investments along the Outer Banks of N.C., please contact our knowledgeable SAGA sales agents at 252.301.3090 today!