Dedicated homeowners should understand that their investment property can and should be treated as a business. Contributing a portion of rental income to maintain and upgrade can result in an increase in guest retention and higher ROI's. Below you will find some ideas and tips for maximizing your homes' revenue:
Invest In Maintenance
Consider setting aside a percentage of each rental towards general maintenance and upkeep. Property managers are a valuable resource to help establish a budget and long-term maintenance and upgrade goals. Well maintained homes should see an increase in rental income over the years.
Upgraded Bedding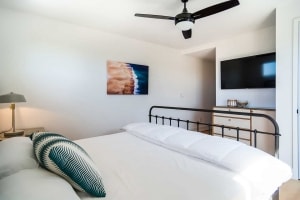 Make small improvements before and after each season to maintain a fresh, clean and upgraded home. Soft goods such as bedding, pillows and fabrics show wear much sooner than solid surfaces and are an inexpensive way to keep spaces feeling current. Create ways to make your home stand out such as high-end mattresses and linens.
Upgrade Your Interior Design
Consider hiring a professional to help asses the property. A fresh set of eyes and new perspective will help homeowners evaluate what is lacking in the home and areas for improvement. Many local companies offer free design consultations to assist with budgeting, interior design and ideas.
Technology
Consider upgrading appliances and electronics with the latest technology.  Surpass your guests' expectations with the luxuries they deserve while on vacation as well as the conveniences they enjoy at home.
Maximize Shoulder Season Revenue
There's a reason the locals love the off-season! Cooler temperatures, fun events, less traffic and calmer energy make for a relaxing vacation on the Outer Banks.
Creating incentives such as holiday/off-season and event packages will help your property stand out and book more often when there's more available rentals to choose from.
Involved and innovative homeowners are the ones whose homes are constantly rented and can raise their rates based on positive reviews, repeat business and guests having comfortable and enjoyable vacations. The first impression is one of the most important. As you upgrade your investment, be sure to always keep your homes photography up to date.