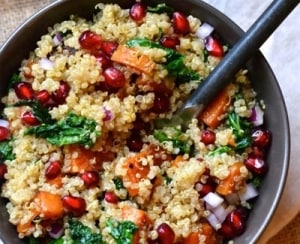 Looking for a comforting, healthy lunch – packed full of plant-based protein and vitamins? Try this vegetarian Warm Quinoa, Sweet Potato & Kale Salad tossed with a refreshing orange vinaigrette.
Prep Time: 10 min
Cook Time: 30 mins
Total Time: 40 minutes
Yield: 4 servings
Ingredients
1/2 tbsp extra virgin olive oil
1 medium/large sweet potato peeled, chopped
1 tsp sweet paprika
1 tbsp pure maple syrup
3 packed cups kale stems removed, chopped
3 cups cooked quinoa or 1 1/2 cups uncooked quinoa
3 cups vegetable or chicken stock or water (only if you're using uncooked quinoa)
1/4 cup red onion chopped
1 cup fresh pomegranate arils
Dressing
1/4 cup fresh orange juice from about 1-2 oranges
1 tbsp extra virgin olive oil
freshly cracked pepper
sea salt
Instructions
If you don't have cooked quinoa, start with that. Place quinoa in a fine-mesh strainer and rinse thoroughly with cool water for at least 2 minutes. Drain. Rinsing quinoa before cooking will remove its natural bitter or soapy taste.

Transfer to a saucepan, cover with stock, cover with a lid and bring to a boil. Reduce heat and cook for 15 minutes on the lowest setting. Turn off the heat and let stand covered for 5 minutes. Fluff with a fork and set aside. (This will make a little bit more cooked quinoa than what you will need for the salad).

Heat olive oil in a non-stick skillet. Add sweet potatoes and paprika. Season with sea salt and freshly cracked pepper, to taste. Stir to cover the sweet potatoes with the spice.

Cook on medium heat until brown on the outside and soft on the inside, about 10 minutes. When they are almost ready, stir in maple syrup and finish cooking.

Add kale and cook until wilted, about 5 minutes.

Add 3 cups of cooked quinoa, stir and cook until warm.

Turn off the heat and add onion and pomegranate.

In a small bowl, whisk together orange juice and olive oil. Season with sea salt and freshly cracked pepper, to taste. Drizzle over warm salad, toss and serve immediately.