Did you know that kindness is not only a gift you give to others, but it's also a healthy exercise for you! Putting kindness out to others can release serotonin to the brain, which acts like a natural anti-depressant. Serotonin, as you may know, is a key contributor to our sense of well-being, energy level and overall feeling of positivity.
This information gave us even more good reasons to select "kindness" as the topic of our December challenge. For 21 days, participants (employees at SAGA) were encouraged to take action by exhibiting an act of kindness each day. In the spirit of the holidays, we asked participants to share with us their daily act of kindness by writing it down on an ornament-shaped tag they would place on our conference room windows, right next to our holiday wreath. It not only helped decorate our windows with lots of fun shapes and colors, but it also gave us a way to incorporate kindness with the holiday spirit.
After the great success we had with our Gratitude Challenge, our participants thought they'd have the Kindness Challenge in the bag. However, with each passing day, they found it increasingly challenging to come up with ideas for spreading kindness. We realized it became more difficult because we were trying to 'one-up' ourselves with wonderful treats and good deeds, realizing later that putting kindness out to others doesn't have to cost a lot of money (or any money, for that matter), and it doesn't take a lot of planning. After a little pep talk, and a few motivational messages, we came up with all kinds of great ideas.
Various Ways to Spread the Kindness
Our participants had a great time giving of themselves and doing for others during this challenge. Here is a sampling of some of the random acts:
Paying for someone's lunch
Letting someone cut in line at the checkout
Spending time with residents at a nursing home
Making a special dinner for family
Paying the toll for the car behind them
Taking a meal to an elderly neighbor
Doing something special for a coworker
Baking for neighbors and non-profit organizations in the area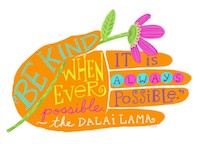 We were so impressed with the variety and number of ways our team showed kindness to others! And although we refer to them as "random" acts of kindness, in reality this challenge helped us think of ways we can show and offer kindness each and every day. It allowed us to be thinking all the time of how we could make someone else's day a little brighter, how to put a smile on someone's face, and how we could lift the spirits of a stranger. The result? Kindness becomes more natural, and easier to carry out.
To keep participants engaged and motivated throughout the 3-week period, we periodically sent out inspirational emails that would talk about the advantages of this challenge and how it can enrich their lives, as well as the lives of others. Posters with messages were displayed throughout the office as well, to remind us all of the daily challenge and encourage everyone to keep on going!
For every act of kindness, participants would hang their kindness ornament and enter their name in our drawing for a grand prize. The more acts of kindness, the better the chance of winning our grand prize. Congratulations to our Kindness Challenge winner, Kaitlin
What Participants Had to Say about the Challenge
"So much fun. The best part was seeing the smiles on the faces of those I bestowed kindness upon!"
"It was great to share ideas with the team, and hear all the great ways we brightened the days of others!. Looking at the kindness wall always made me happy and this challenge definitely made me feel a stronger bond with my colleagues"
"This challenge really put in perspective how important little kindnesses in life can be to our overall wellbeing. It made me realize how there is more "joy" in giving than receiving. I plan to continue it for as long as I can"
"This was such a terrific challenge, and it came at a really good time of year when a lot of people are stressed out, depressed, and anxious about the holidays. Each little effort helped make their day!