The holidays are here, and it's time to give your home a seasonal mini-makeover. As the air gets cooler and the nights get longer, invite friends and family into a warm, light-filled space. Take a look at our favorite holiday decorating trends to get inspired, and soon you'll be ready to turn your home into a winter wonderland — even when odds of snow are slim.
Holiday Throw Pillows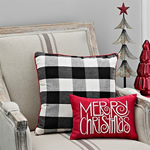 One of the easiest ways to decorate your house for the holidays is to swap your everyday cushions with some festive throw pillows. You can find them in red and green, of course, but don't be afraid to branch out into more neutral colors like black, white, silver and gray. Choose from traditional to modern designs, or mix and match by letting each family member choose a favorite.
Lighted Garlands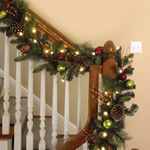 You may prefer the aroma of a fresh-cut Christmas tree inside your house, but for exterior greenery, you can't beat the durability of artificial garland. Fluffy, imitation evergreen garlands are gracing everything from lamp posts to fences this year, and the best ones come pre-lit with tiny, clear LEDs. This saves you the trouble of stringing lights around your garland, and they add a luxurious touch to your home's exterior.
White and Gold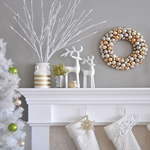 Red and green typically rule the holiday season, but you can give your home an ultra-sophisticated makeover by changing the color scheme to one featuring white and gold. The white provides a pristine backdrop for gently gleaming gold ornaments and accessories throughout the house. For a truly up-to-the-minute take on the trend, go muted instead of brassy when it comes to choosing your gold accessories.
Modern Menorahs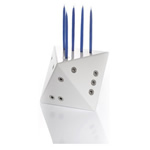 If you don't already have an heirloom menorah for Hanukkah, designers are making it easier than ever to find one that expresses your unique personality. Choose from minimalist candle holders to ones in the shape of a beloved animal. Our favorite? An eight-sided die with the right number of holes for each night of Hanukkah on each face. These menorahs are chic enough to stand alone in the place of honor, but you can also incorporate a decorative snuffer and lighter for a complete set.
Snowman Christmas Trees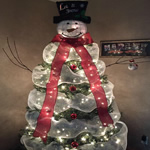 Dreaming of a white Christmas? You may have to do it yourself. Snowman Christmas trees are popping up everywhere this year, and they're as cute as can be. There's no wrong way to do it, either. Just imagine your tree as the snowman's body, whether you garland it in white ribbon or use an artificial white tree. Add a few ornaments to serve as buttons, some sticks for arms, and a topper that looks like a giant snowball with a smiling face. You can also order a pre-made topper to get the look without any crafting skills at all.
Try one of these holiday decorating trends to breathe new life into your old traditions, and you'll be ready celebrate the season with all of your favorite people.