At SAGA, we love challenges. In fact, our daily water challenge in June went over so well with our employees that we decided to try another one.
With so many disheartening and devastating events going in the world lately, we thought a Gratitude Challenge would be a great way to lift our spirits and help us find encouragement, as well as uplift others around us. We designed the challenge to encourage participants to reflect on the blessings in their lives – small or large, and to focus and remind us of all the things we are thankful for. Of course, there were prizes involved! Each participant kept track of their own progress, and those who were able to come up with 3 thoughts of gratitude from November 1st through November 21st were eligible to enter two separate drawings.
Gratitude is Good for You!
Did you know that feelings of gratitude are good for your health? It's true! In fact, studies have shown that thoughts of gratitude can decrease the negative effects of stress, improve sleep, and create positive emotional wellbeing. Our approach was to keep it simple, with a goal of having thankfulness at the forefront of our minds each day.
Keeping Gratitude Up Front
When you know the daily challenge is to write three things you are grateful for from the day, you're more likely to be on the lookout the whole day for blessings, right? Throughout our daily lives there are a variety of instances and interactions that can conjure up positive feelings of gratitude, which are very similar to feelings of appreciation. For example, even something as simple as a "thank you" from a co-worker or complete stranger can elicit positive emotions. Ralph Waldo Emerson said, "Cultivate the habit of being grateful for every good thing that comes to you, and to give thanks continuously. And because all things have contributed to your advancement, you should include all things in your gratitude."
Putting it All Together
We posted a large bulletin board in the main hallway in our office where we get a lot of internal traffic flow.
Participants were given a pad of sticky notes, and every day they would use the sticky notes to write down three things they were grateful for, and post it on the board.
To keep everyone motivated, we emailed inspirational quotes throughout the week. We also printed up pictures and quotes about gratitude and hung them throughout the office, even in the bathrooms and kitchen to create conversation and get their minds thinking.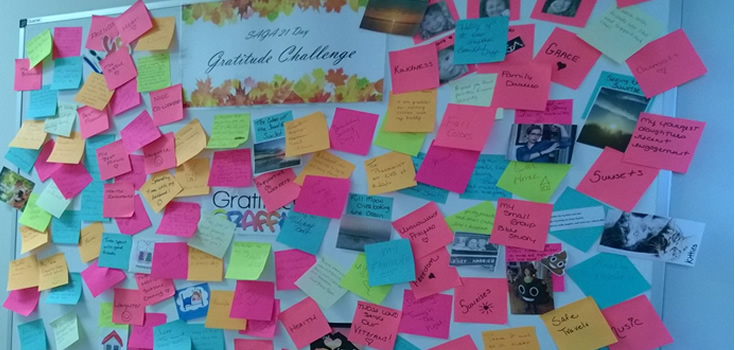 Our employees are so creative! They really made it fun – some printed pictures out that depicted their feelings of gratitude, some produced drawings! Many of them shared with us how this activity affected them, and how wonderful it was to look at the board every day and see what their co-workers were grateful for. They not only enjoyed the challenge, but appreciated the opportunity to take time out of their busy lives to experience and enjoy these positive emotions. Here are a few comments we received:
"Waking up happy and recognizing my blessings is my everyday norm so when SAGA challenged me to keep a gratitude journal for 21 days and spend a few minutes each day to write down the people and things for which I am grateful, I thought, "I got this – no problem." However, as the weeks progressed, I found myself being grateful for things which I had never given a second thought such as my grandson's smile, the ability to choose to take the elevator or climb the stairs, my love of music and the ability to hear. I was grateful for the SAGA challenge as it was an opportunity to take a few moments each day to appreciate how much I have to be thankful above and beyond my everyday morning blessings of my children, friends, and good health. Being grateful made every day a Thanksgiving."
"It was so interesting to look at the board every day to see what others were thankful for. It really made me aware of additional things I was grateful for, and made me notice and appreciate the little things even more than I have been."
"(This challenge) made me really begin to focus on the positive aspects of my life both professionally and personally in light of a lot of personal obstacles. Even on the toughest days, there were things to be grateful for if I chose to recognize them. I feel more focused on what truly makes me happy and strive to be present each day."
Our gratitude challenge went over so well in our office, several employees told us they took this idea home and started a challenge of their own with their families. That really put a smile on our faces!
Congratulations to all of our participants – and our prize winners Tammy Aycock and Brad Kovach!
What's next? Acts of Kindness, of course! Stay tuned for next month's blog to read all about it.