If you're looking for a new home that can give you that I'm-on-vacation feeling in a year-round residence, then the Harbinger single-family home is for you. This is a brand-new plan for SAGA Construction, and our goal was to be able to design a modest, yet versatile home that caters to entertaining, everyday living, and simply enjoying life on the Outer Banks!
2017 Parade of Homes Winner!
We love this model! And apparently, we're not the only ones. The Harbinger plan won this year's Outer Banks Parade of Homes People's Choice Award (sponsored by Outer Banks Home Builders Association) and we're thrilled that it was universally adored. The design of this home was a collaborative effort, and one that took much time and attention to perfect. The versatility is astonishing, offering a number of options depending on what's really important to you in a home. Maybe you're looking for a 3-bedroom, 2-bath home but would like to add a powder room, or an upstairs den or covered porch. We've designed in the flexibility to allow for changes based on the size of the home and how the space will be utilized.
Year-Round Residence with a Vacation Feel
The concept of this plan was to create a year-round residence that was completely on trend, yet able to fit a variety of needs. The flow and design elements were extremely important, because we wanted to differentiate ourselves from other new homes in our community – one that would really grab your attention and strike an emotional chord. This home design is currently in two locations on the Outer Banks: Waterside Villages and Island Woods, a new community in Manteo. The Harbinger is also perfect for your own home site!
Home is Where the Heart is….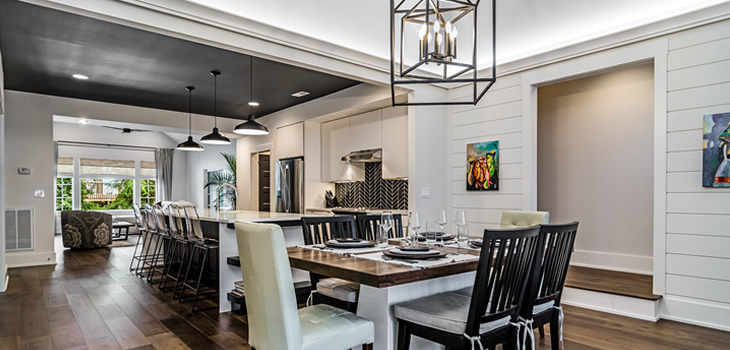 And the kitchen is the heart of the home. For those who enjoy entertaining, the Harbinger has a nice flow that works for large or small groups. The kitchen flows into a generous living room with a vaulted ceiling, and a dining room (also with vaulted ceiling) that flows back into the kitchen. The open floor plan gives this home a warm and comfortable feeling – which we intentionally designed so there wouldn't be a lot of division – just lots of flow and openness. For those that appreciate division, but not necessarily the walls, one design element we chose in some of our models was the use of different colors for the kitchen and living room ceilings. This technique offers division of rooms, without having to put up walls.
In addition to the ever-popular kitchen and living room for people gathering, this home also offers the option of a large patio or deck area; and whether you prefer a covered patio or covered and screened, you can still get that outdoor living space you need, as well as an extension of the family room.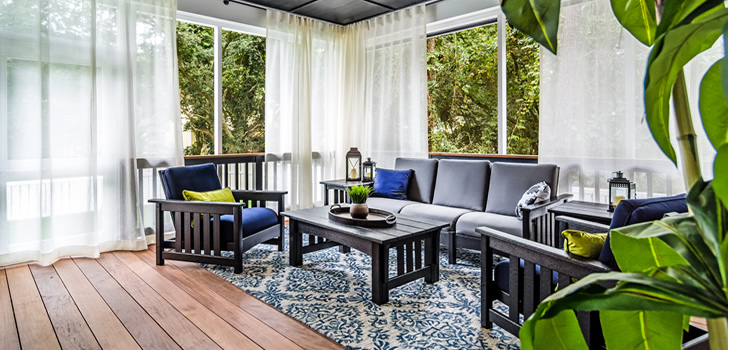 Of course, many of the design decisions can be up to you depending on personal style and taste. For example, shiplap and barn pocket-style doors are popular for those who want to turn the bedroom off the kitchen into a home office. Both offer a seamless, yet rustic elegance with subdued, cool character.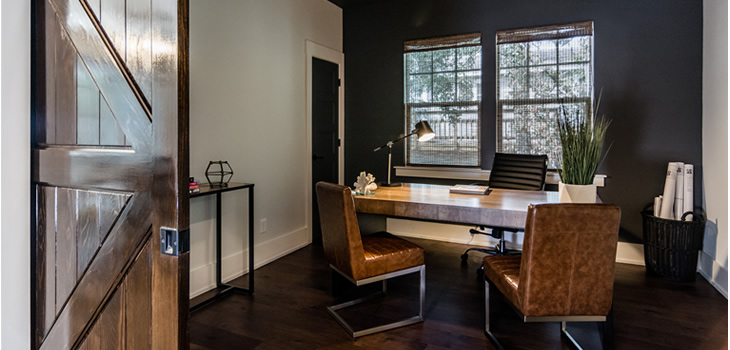 Want to see more?
Our goal is to design distinctive plans based on what appeals to our market. We are continually improving and evolving based on customer requests and market trends, and always trying to create unique homes in this area that you won't see from anyone else. If you're in the market for a new home, now is the perfect time to get started. Contact us today for more information or to schedule a walk-through of this popular model.