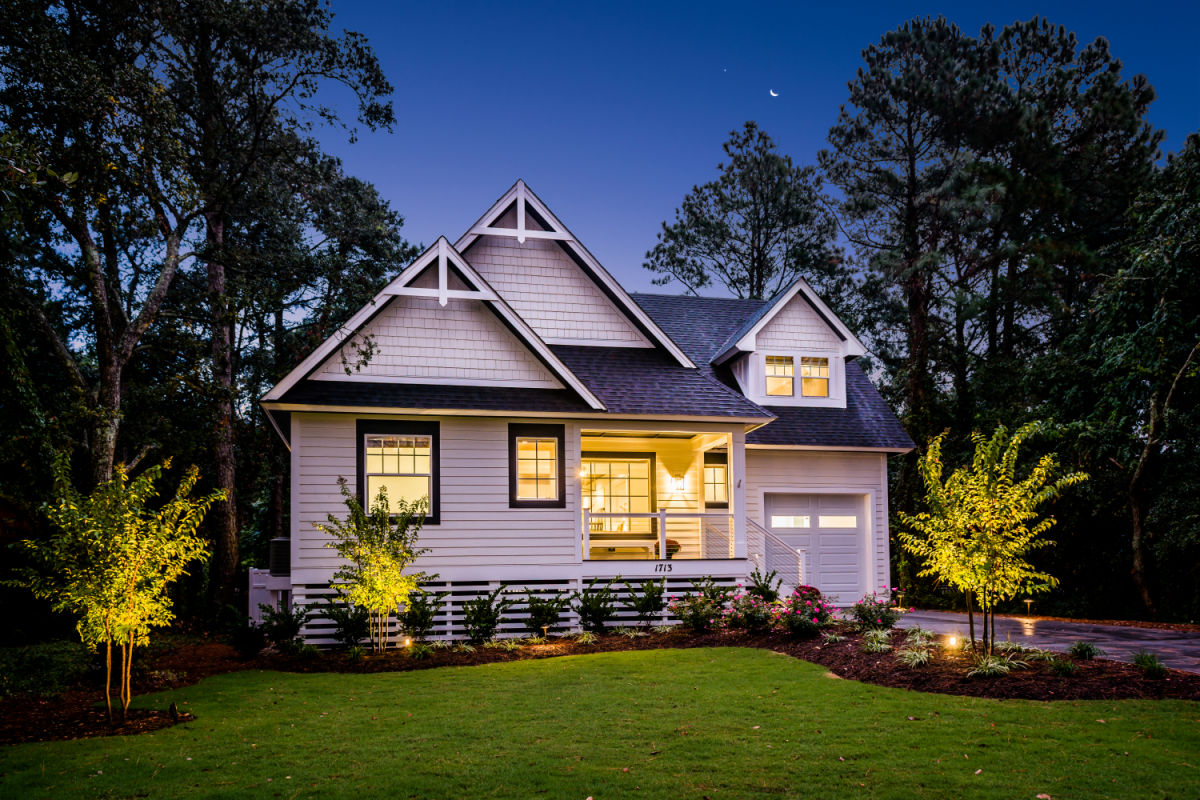 Partner with Award-winning SAGA Realty and Construction to build your dream home on your site! 
Now that you've found the perfect piece of land on the Outer Banks, you want the ease of a trusted, experienced builder to partner with. Consider award-winning SAGA Realty and Construction. Partnering with SAGA will ensure your home is built to the highest standards and exactly how you want it.
Building a custom home on your own site brings greater flexibility in the home's design, and you remain in control of the project. Why settle for a floor plan that is unproven, when you can customize to your heart's desire with confidence?
1. | LOCATION, LOCATION, LOCATION 
Perhaps the greatest benefit of choosing where to build your dream home is selecting the perfect location for your needs! There's a reason realtor's use the mantra "location, location, location." If you prefer a corner lot, a wooded site, being close to the sound or ocean, or you've fallen in love with a community, such as, Kilmarlic Golf Club and Community; the choice is yours!
2. | DREAM MAKER 
Home is where the heart is, and when you customize and build your home, you can put your own imprint and personality into it! SAGA not only builds your home, but also provides a way for your personality to shine through! We offer in-house interior design, architects and building professionals to walk you through every design choice, down to the backsplash in the kitchen! We make dreams come ALIVE.
3. | WHAT YOU WANT with VALUE
Building a custom home on your site means there is no compromise! You no longer need to settle for an older home that does not provide the storage or garage space you need, the open flow layout, or the space for your private pool. SAGA offers innovative design choices and stellar service each step of the way. If you live out of the area you can rest assured with bi-monthly progress photos from your new home under construction. SAGA ensures that their customers receive tremendous value for every dollar spent; making their new custom home a wise financial investment.
4. | NO HASSLE
Want to add custom outdoor living with a pool, or a dock? No problem. Building near wetlands and not sure the requirements of CAMA? Our expert team can do the research for you and handle all the details. We have a whole team behind your build! Leave all the heavy lifting to us, while you watch your beautiful new home materialize before your eyes! 
5. | THE PROCESS
Choosing SAGA Realty and Construction for your Outer Banks new home construction needs, ensures every detail is covered. Our simple approach, through a Four Step Process, has become invaluable to our customers. We believe our proven success is partially due to the unique relationships we build with each of our clients that go beyond their immediate needs. Listening to their goals and needs helps us craft the perfect plan for clients. The results minimize the guesswork and uncertainty that goes along with making a big decision such as buying real estate or designing a new dream home for your family.
Building a Relationship – we nurture an atmosphere of trust and respect by listening to your story and learning what is important to you.
Design and Selection – where we begin to put form and function to your dreams and ideas. Budget and timelines, overall design, selections, and interior design. 
Construction – your design and planning become a reality before your eyes. A dedicated building representative will serve as your main point of contact and keep you connected and answer all questions, along with providing Bi-monthly photographic updates. 
The Commitment Continues – with your certificate of occupancy in hand, SAGA stands by you at the finish. We see this new beginning as a continuation of our commitment to you. 
SAGA's goal is to provide our clients with a fun and rewarding experience while delivering the best value. Our experience in working with hundreds of clients over the past decade has helped us to create a simple Process, that ensures exceptional value and memorable experience for our clients. View our house plans here. 
BUILD YOUR STORY
SAGA Realty and Construction is your go to place for all your Outer Banks real estate and construction needs. We specialize in helping clients put their ideas and dreams into a reality. Our team of professionals have decades of local Outer Banks experience with a breadth of knowledge in all aspects of construction. 
At SAGA we can help you save money, build equity, and move you into the home of your dreams. We look forward to partnering with you to build your story. Your new home is waiting… give us a call to get started 252-301-3090.