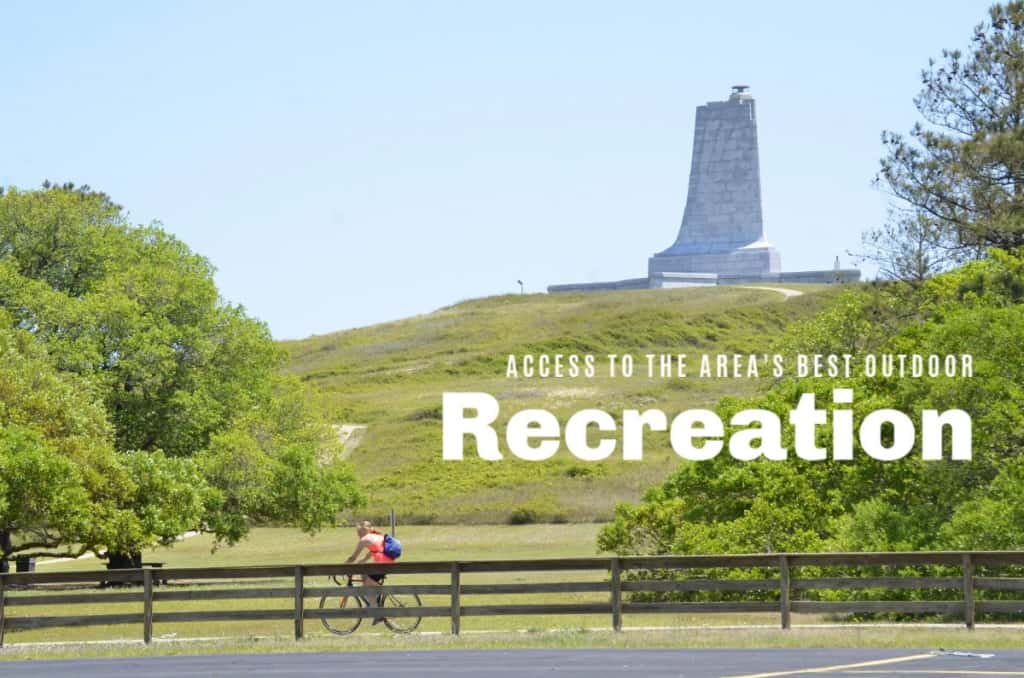 Locals walk and ride the grounds of the Wright Brothers National Memorial in Kill Devil Hills
Choosing to live in one of the Outer Banks most beloved new communities not only provides a stunning locale for its residents, but also means you are at the epicenter of direct access to exceptional outdoor recreation.
You won't have to go far from the oasis of your home to find plenty of exceptional nature inspired activities, with miles of walking trails, both paved and wooded, a disc golf course and a dramatic sand dune waiting to be explored.
Now you have found the perfect place to relax with friends, spend quality time with your family, and enjoy a laid-back beach lifestyle.
FUN PLACES TO WALK, HIKE AND BIKE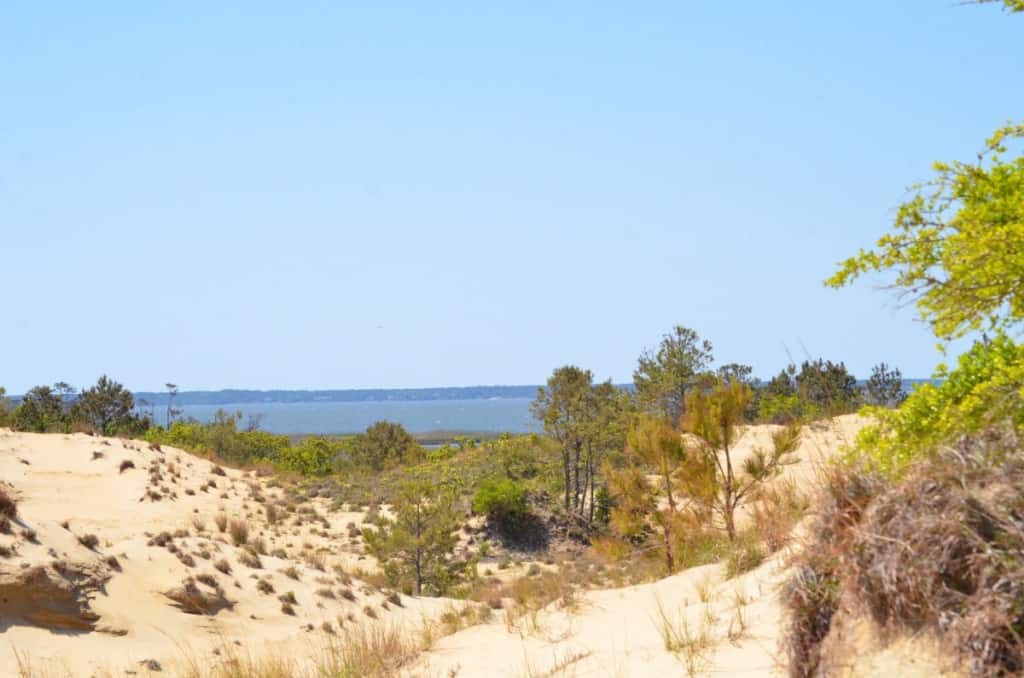 Explore Run Hill dunes that lead to the Sound (Buzzard Bay) in Kill Devil Hills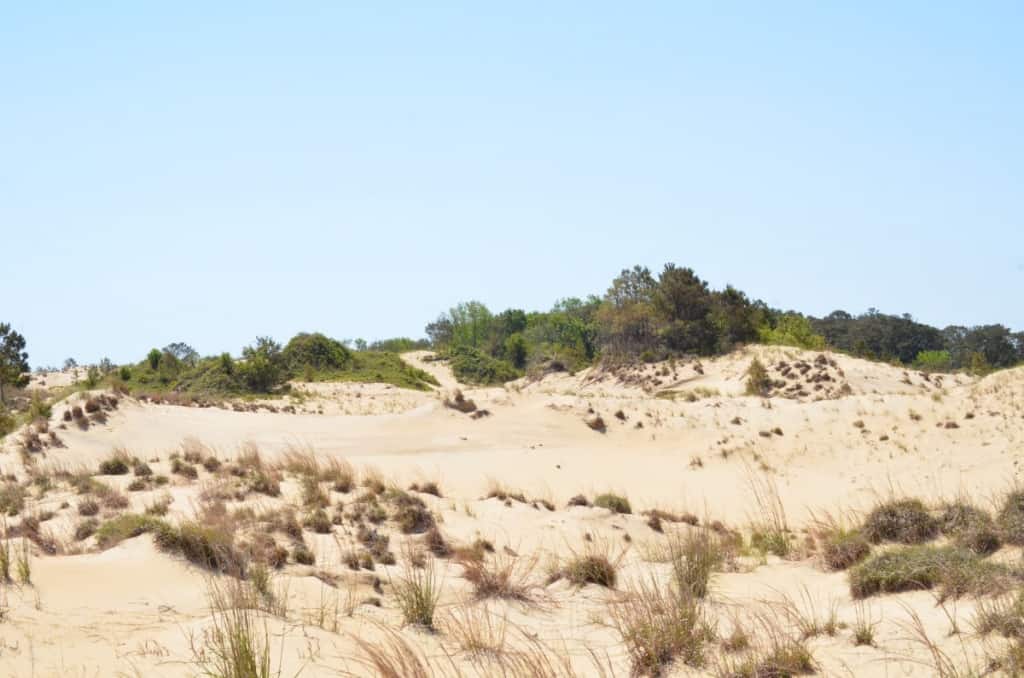 These incredible dunes are formed naturally by two prevailing winds, NE and SW. This is a hidden gem, there is no parking lot, no big sign, but it is open to the public. For those ecological minded, you will find a unique ecosystem here on this 125-acre sound front site. For the botanist, it is home to over 400 plant species, and for the birder, more than 160 bird species call it home.
Open: Dawn to dusk. Hint: Bring your camera for gorgeous views of the Roanoke Sound. Address: 901 10th Ave, Kill Devil Hills, NC 27948 (map)
Head south from Run Hill Natural Area and you will find yourself converging on a peaceful section of maritime forest in Nags Head Woods, which is in Kill Devil Hills. Like Run Hill, you won't be on a crowded trail, or an open dune, but a wooded ecological preserve that offers plentiful shade. Sweet Gum Swamp Trail is part of a gentle five-mile hiking trail, which is considered moderate, so can be enjoyed by novice and expert hikers alike.
Hint: Within the preserve, see if you can find the Norris Baum Cemetery, or ruins of old homesteaders from the 19th century.

Open: Dawn to Dusk. Address: Main entrance is 701 West Ocean Acres Drive, Kill Devil Hills, NC (map)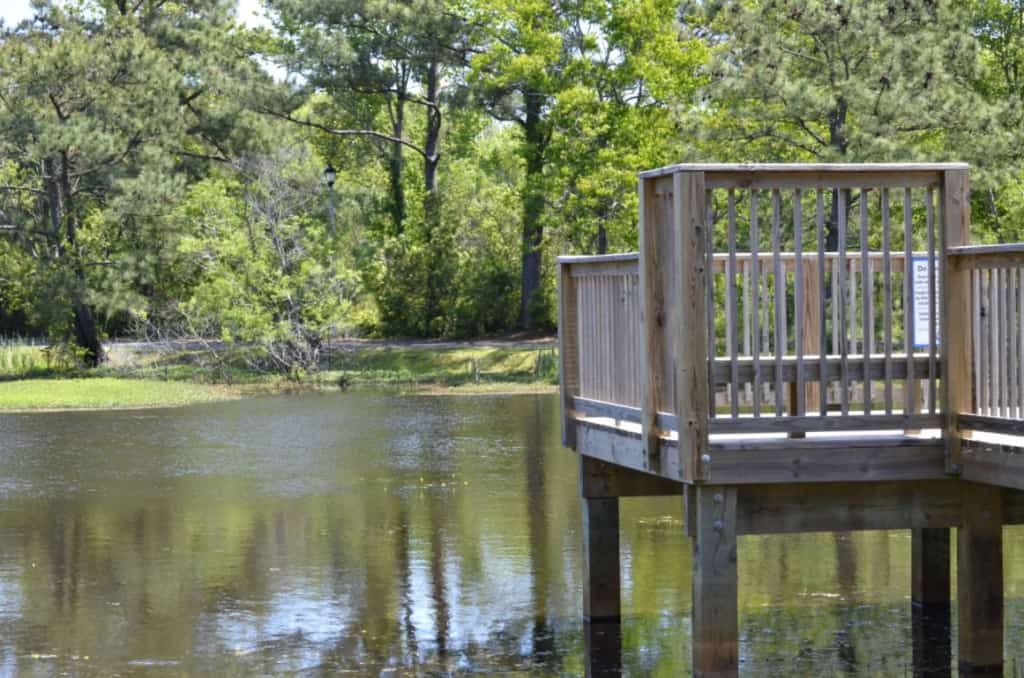 Enjoy the fitness trail that is mostly shaded and circles this scenic little pond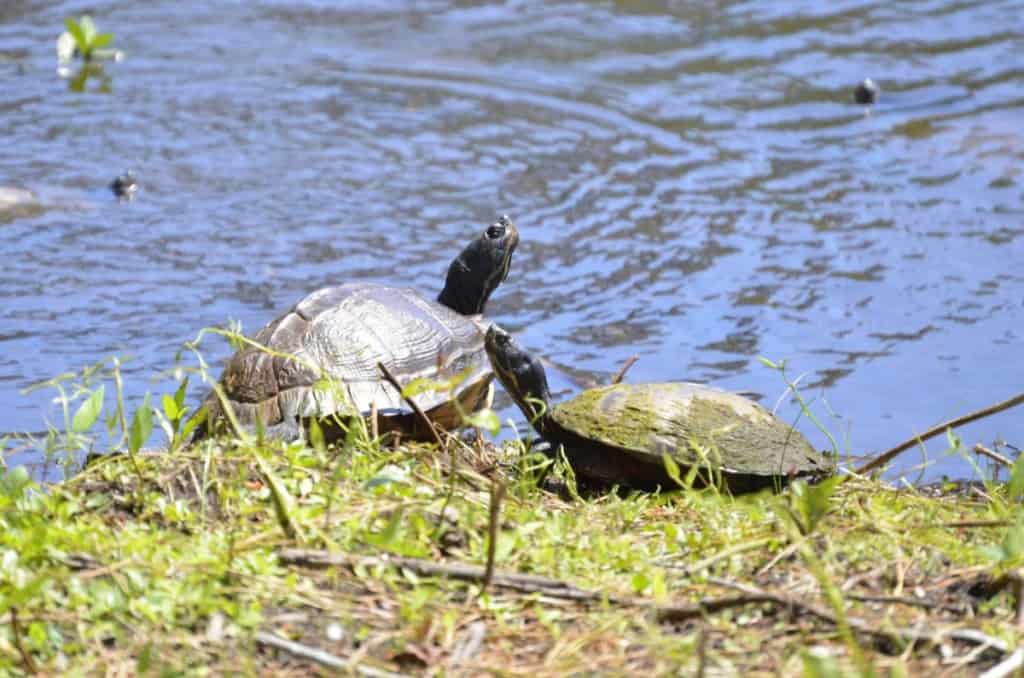 Some of the residents basking in the warm sun
Follow this paved loop as a walking trail, or utilize the fitness stops around the large pond where you'll see turtles basking in the sun along the shoreline. Also, there is a skate-park, roller hockey rink, playground and restrooms.
Hint: Bring some turtle food, they're sometimes shy, but always happy to see you.
Open: Sunrise to sunset. Address: 109 Veterans Dr, Kill Devil Hills, NC (map)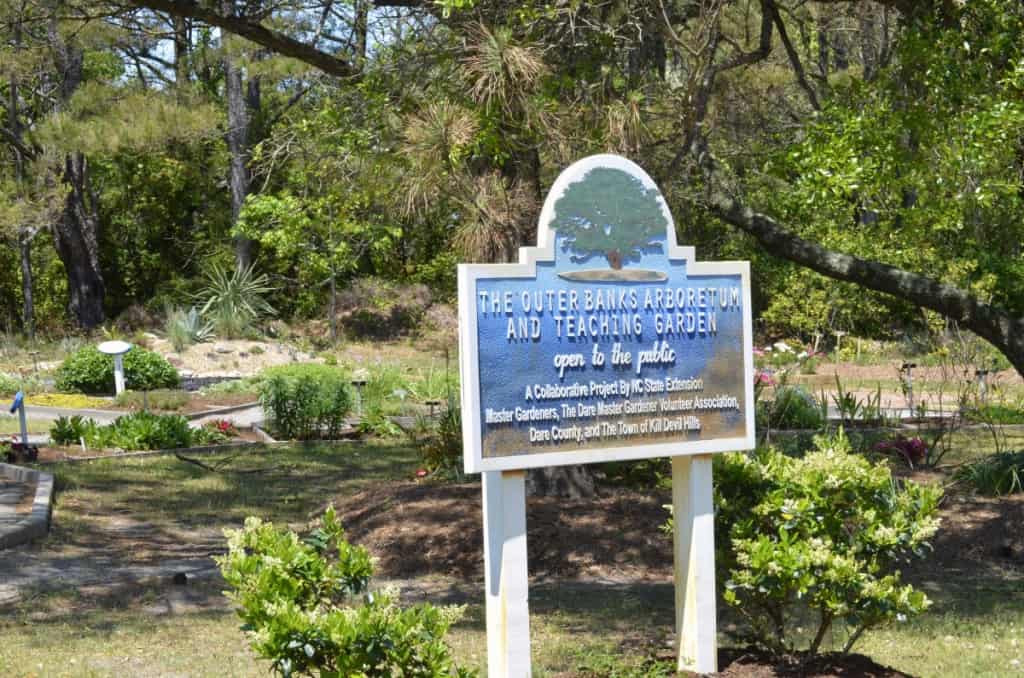 A contemplative quiet place accessible by foot or bike on the multi-use path
This hidden gem features a walking path, sculptures, beautiful flowering plants, herbs and shrubs.
Hint: You can access this secret garden via the Aviation Park. Check it out in all seasons for different blooms, and an abundance of butterflies.
Open: Dawn to dusk. Address: 300 Mustian Street, Kill Devil Hills, NC (map)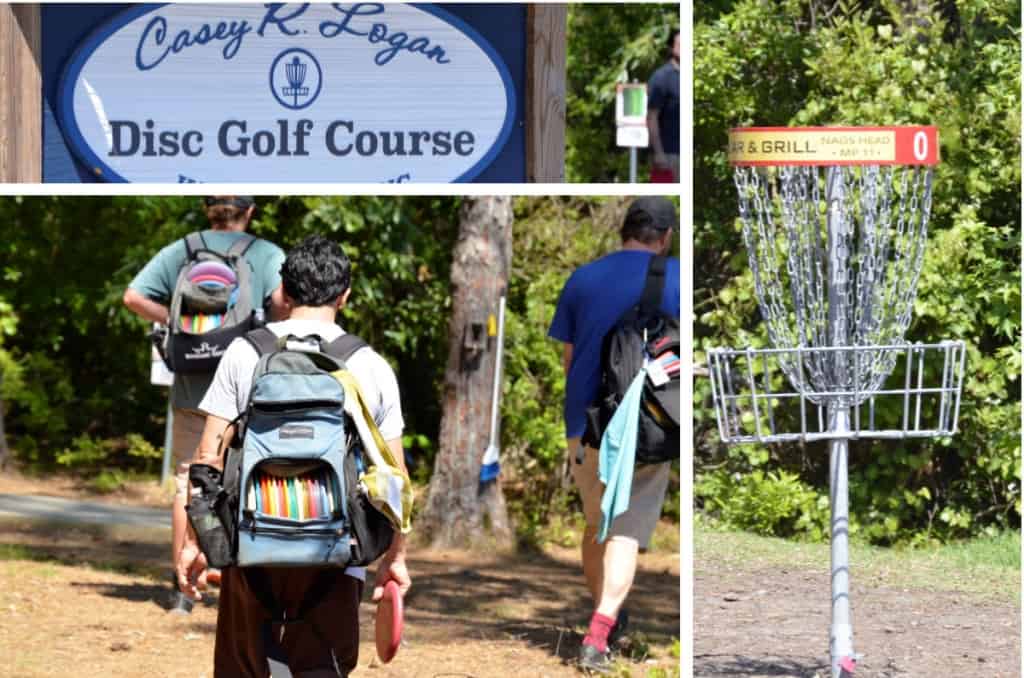 Test your skills among the pines at this fun disc golf course
The Casey R. Logan Disc Golf Course features 18-holes (baskets), with amateur and professional fairways.
Plan for plenty of walking to get great exercise, here is a sneak peek at the course map. This is open for all skill levels, so just show up and play, but be sure to bring your own discs.
Hint: See the schedule online for tournaments.
Open: Daily. Address: 120 Veterans Drive, Kill Devil Hills, NC…just off Colington Road. (map)
You may also enjoy: Hooked on golf? Get your fix on the Outer Banks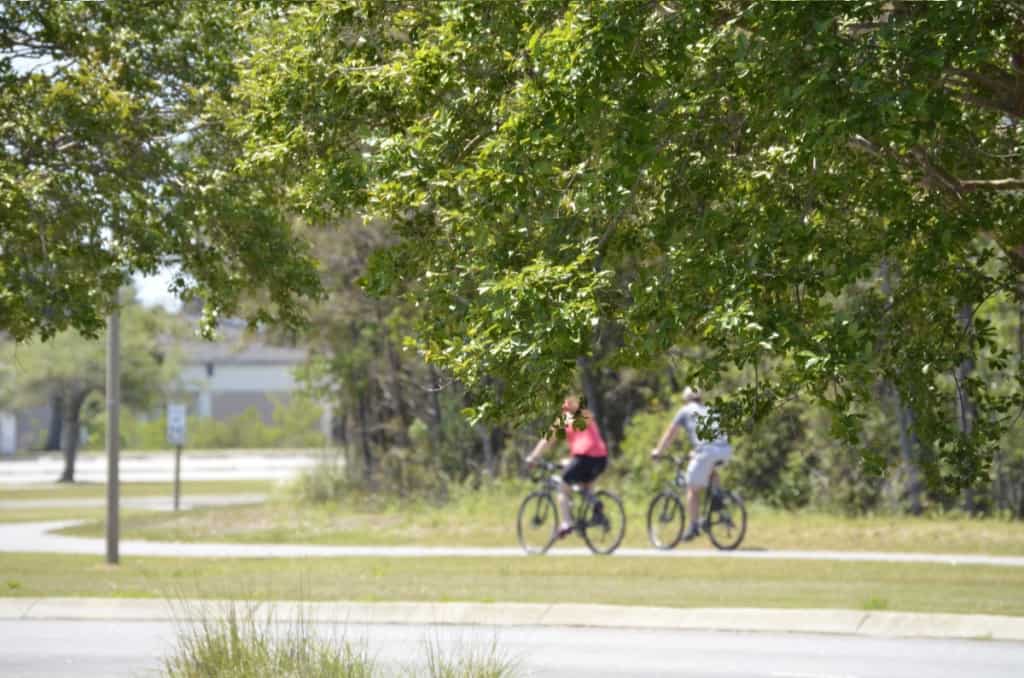 Safe from road traffic, the multi-use path is perfect for a family bike ride
The fantastic multi-use path that traverses towns and villages along the Outer Banks is perfect for exercise and water views. Generally free from vehicular traffic, you can walk, run or ride like a local, and without stopping for miles. One of the nicest sections, which also follows the edge of Kitty Hawk Bay, is the Kitty Hawk to Kill Devil Hills portion, just jump on at Sound Drive, or the southern end near Baum Bay Dr. Here's a short video about the path.
Hint: There are plenty of bike shops to rent a bike for the day or week, if you have company.
Open: Daily. Address: Map 4 on this link shows the path as it parallels Kitty Hawk Bay down to end at the beach in Kill Devil Hills.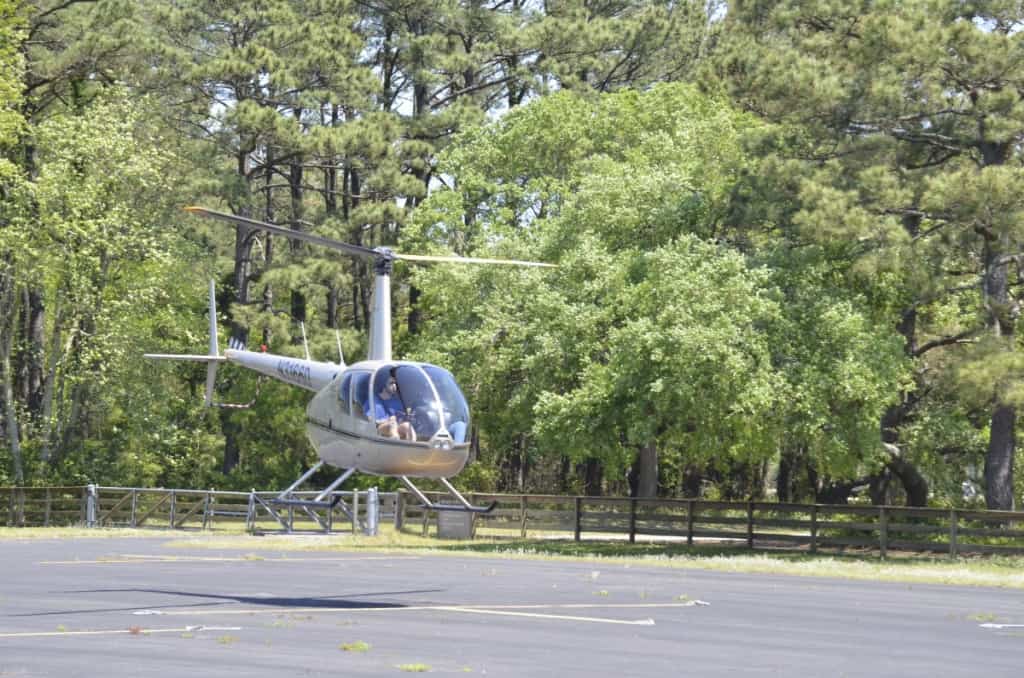 The airstrip near the Wright Brothers memorial is a popular place to see military and private aircraft land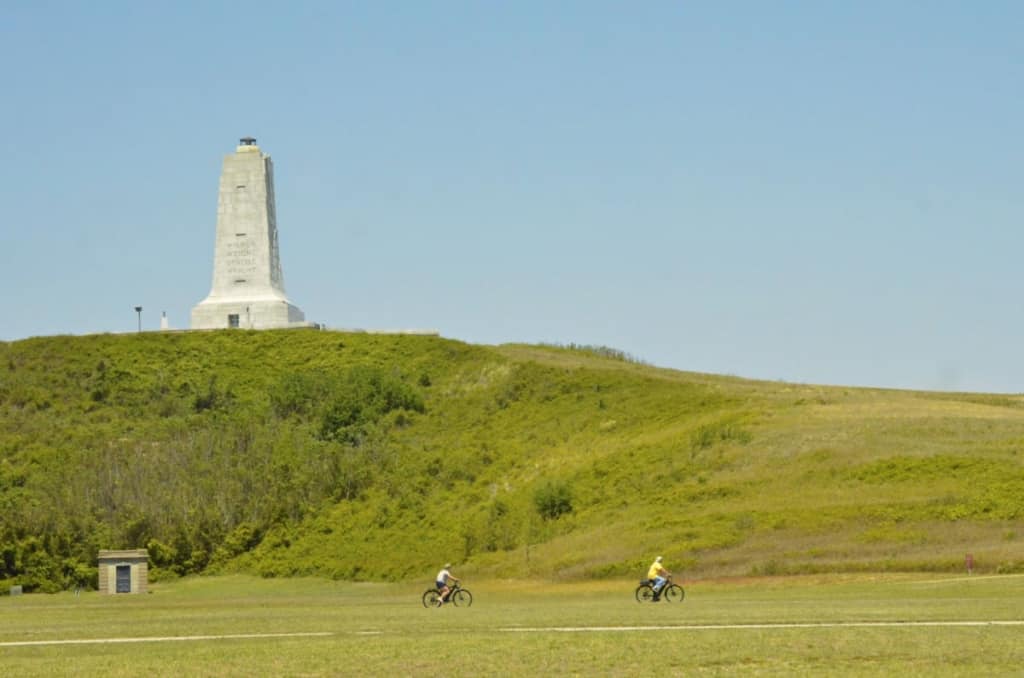 The Wright Brothers Memorial consists of 428 acres
This local favorite is the place to go for a jog, to ride your bike, or walk with the dog. In fact, it's such a huge bonus for Kill Devil Hills residents, you just can't avoid it. Climb to the top of the 90-foot dune, Big Kill Devil Hill for a magnificent 360-degree view.
Hint: Take advantage of free days when your relatives come to visit.
Open: Dawn to dusk. Regular admission *see below. Address: 1000 N. Croatan Highway, Kill Devil Hills, NC (but locals use the parking lot entrance off Colington Road to *visit for free walking and biking at First Flight Airport).
BONUS: PAWS ON THE GROUND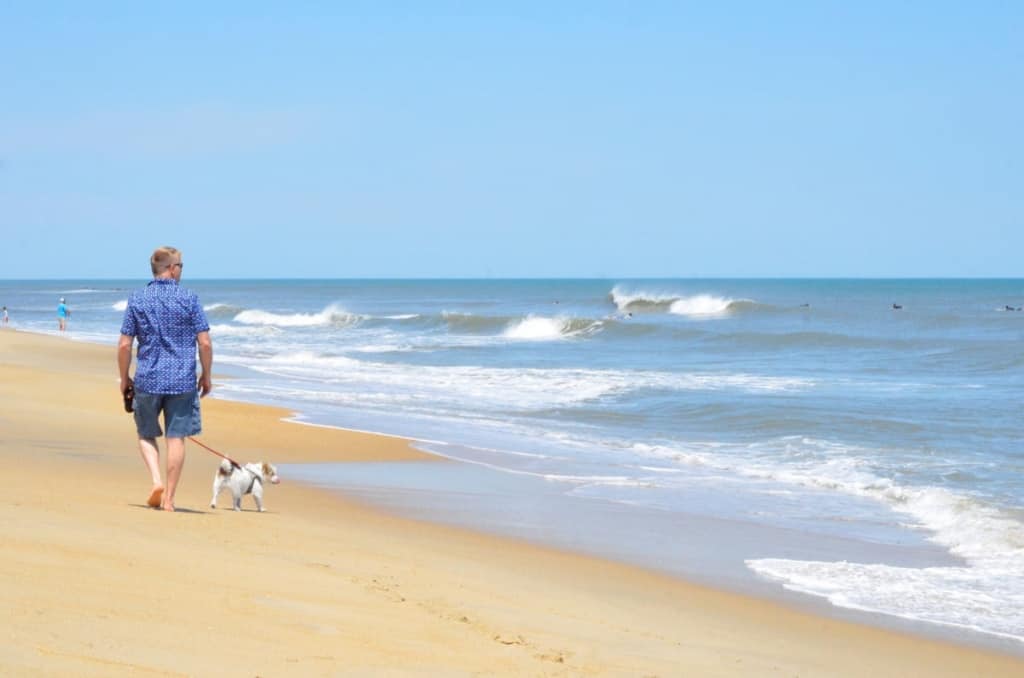 Dogs dig the beach, just like we do
Your four-legged fur-family love to get outdoors too. You probably already know that dogs are allowed seasonally on many Outer Banks beaches, and if kept under control at all times on a leash.
For Kill Devil Hills, dogs are allowed to play in the sand and water with you year-round, but between Memorial Day and Labor Day, from 9:00 am to 6:00 pm, dogs are not permitted at all. But that's okay because it's best to go early or later when the sand isn't so hot.
For more information on Outer Banks leash laws, and other beaches, click here. Your dog is allowed to hike and walk all of the amazing trails listed above, just remember to be respectful of others, and clean up after your pet. Plus, there is one more special place: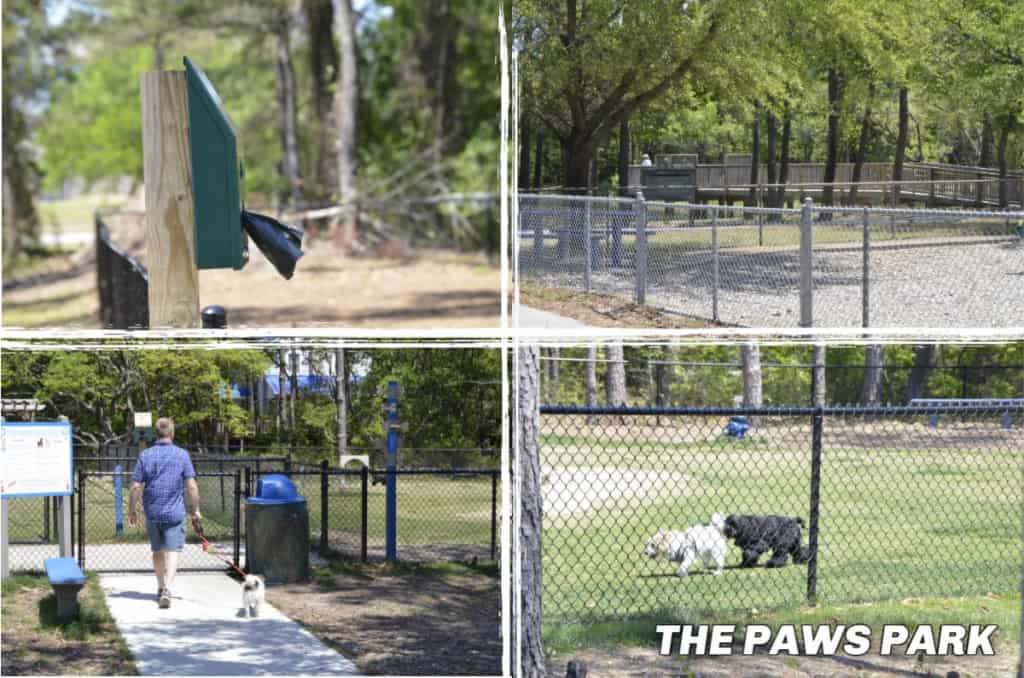 Three different fenced in areas for your dog's specific needs
New to the Outer Banks in 2019 is the 1.5-acre dog park called The Paws Park. It features three designated dog run areas with real grass and shade from the many trees: one for big dogs, one for small dogs and one for senior or dogs with special needs. There's water available, doggy waste bags and even an obstacle course for your fun with fido.
Hint: See the park rules here to make it more enjoyable for everyone. There are two pergolas with swings to enjoy in the shade.
Open: Daily. Address: 103 Veterans Drive, Kill Devil Hills, NC (directly across from First Flight High School or Wright Brothers Memorial First Flight sculpture). (map)
LIVING IN THE HEART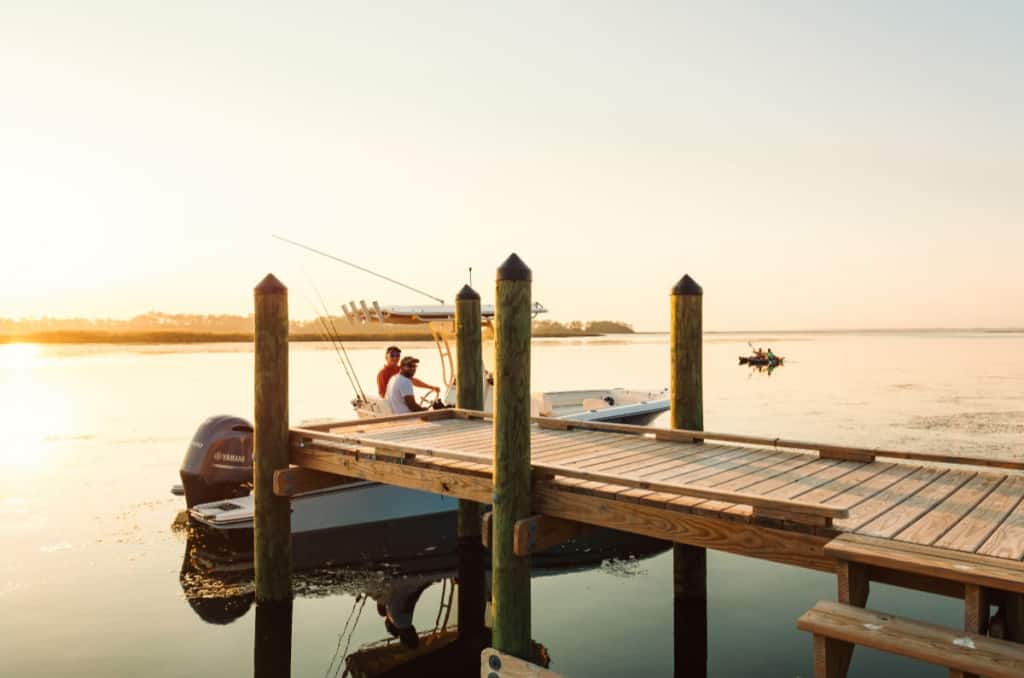 Living in the Outer Banks is all about water
If you're interested in making Kill Devil Hills, North Carolina your home, please check out SAGA Realty & Construction's these newer communities that are all within a short bike ride to the beach, or sound:
WATER OAK

: a

70-parcel

nature inspired community

on the Kitty Hawk Sound

with 6 customizable house plans to choose from

.

This waterfront neighborhood is located just North of the Wright Brothers Memorial, with s

ingle family homes

starting in

the $390's.

RUN HILL

: y

ear-round

l

uxury apartment villa

rental

s

that

featur

e

casual elegant living with an array of

first-class

amenities.

Catering to an active lifestyle, and within walking distance to

all

the outdoor amenities listed above

, plus community pool

s

and fitness

.

Pet friendly.

Starting from $1700 p/month.

CAMBRIDGE COVE AT BERMUDA BAY

:

b

right and colorful m

aintenance free living

in

thoughtfully

designed spa

ces

as

town-home style

condominiums

.

This

fabulous

master

–

planned community

features resort style amenities, like a splash park with lazy river, pool, and exercise room.

Starting from $309k.
We would be happy to give you a tour or more information about these fine beach communities, just give us a call at 252.301.3090.