Water Oak
Kill Devil Hills, North Carolina
Zen Lane Kill Devil Hills Nc 27948
About the Community
Welcome to Water Oak, where community meets artful design and meaningful living. Just one mile to the ocean, this thoughtfully designed, 70 parcel community features a manicured entry, multiple green areas to enjoy, and a community pier with kayak launch on Kitty Hawk Bay. The home sites range from 7500 to 9500 sq. ft. and are on an innovative central sewer system allowing for the preservation of many trees and low maintenance style living. Monolithic slab foundations are utilized throughout the community to provide direct access to your yard and the natural surroundings.
| Features / Amenities | |
| --- | --- |
| Private Waterfront Community | Private Pier |
| Kayak Launch with Sound Access | Wooded Lots |
| Just 1 Mile from the Ocean | Walking Trails |
| All New Homes | Access to Multi-Use Path |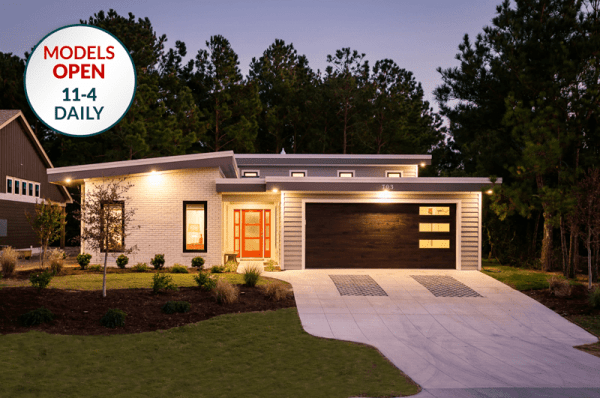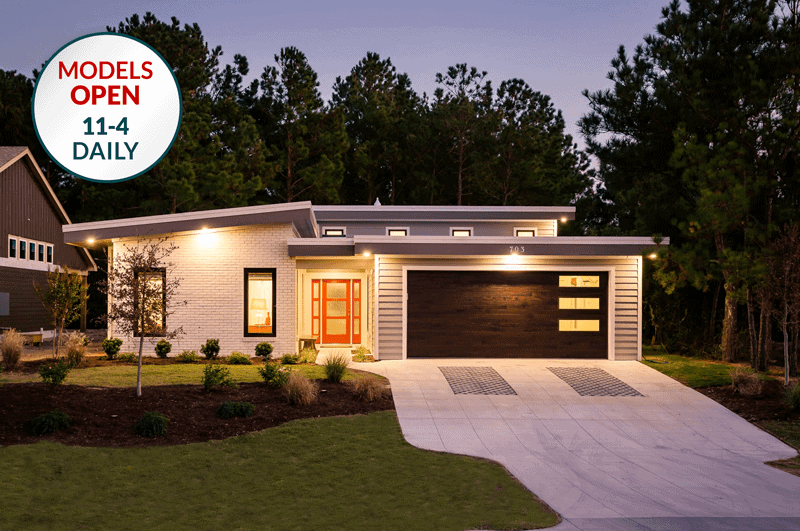 Tour our Model Homes: Open Daily 11-4
NEW SINGLE FAMILY HOMES from the $500's. Just ONE mile from the beach! Gorgeous Water Oak model homes open for you to tour.
Beautiful new homes that feature open floor plans, gourmet kitchens, dining rooms, spacious bedrooms and attached garages. Choose a one or two level plan, built on monolithic slab foundation. Enjoy this new community with pier with kayak launch on the Kitty Hawk Sound in Kill Devil Hills. Visit today!
MODELS OPEN 7 DAYS from 11am to 4pm. No appointment necessary. GPS: Zen Lane, Kill Devil Hills, N.C.
THE WATERFRONT
Find your natural side on the waterfront. With direct access to the open waters of Kitty Hawk Bay, stunning natural beauty is right in your back yard. Nowhere is that more apparent than the view from the Community Waterfront Pier and over-water gazebo. Enjoy the beauty of wetlands and wildlife, have a seat and watch the sun set over the sound. This collection of amenities makes life truly special on our side of the sound.
PRIVATE COMMUNITY PIER AND KAYAK LAUNCH
For some people, it will be a place to drop a fishing line. Others will use it as a spot to launch their kayaks. And for the rest of us, it is simply a tranquil setting to soak up picturesque views of Kitty Hawk Bay.
WRIGHT BROTHERS NATIONAL MEMORIAL
Directly in your back yard a granite monument on top of a 90-ft. dune in Kill Devil Hills honors Orville and Wilbur Wright at the site of the first controlled, powered flight that occurred in 1903. Within the National Park visitors can see full-scale reproductions of the 1902 glider that was tested hundreds of times on the dunes in the area, the historical 1903 flyer that first flew 120-ft. in a 12-second flight, a replica campsite that includes the hangar and living quarters used by the Wrights, and historical markers throughout a trail area that represent the first four flights on December 17, 1903.
CASEY R. LOGAN DISC GOLF COURSE
Enjoy this 18 hole disc golf course offering amateur and professional fairways with family and friends. It is located at 120 Veterans Drive, off Colington Road. Disc golf is good old-fashioned clean fun.
MULTI-USE PATHS
A variety of multi-use paths are available for residents and visitors of Dare County to traverse across towns and villages, providing access to businesses, beach accesses and the soundside. These pathways are generally free from motorized vehicles and separated from vehicular traffic. Right at the entrance to Water Oak you have direct access to the path……
PAWS PARK
The Paws Park is a feature of Aviation Park in Kill Devil Hills. It is located at 103 Veterans Drive, across from the First Flight High School and the Wright Brothers Memoria. The Paws Park has three designated areas for large dogs, small dogs, and senior dogs and dogs with special needs.
EASY BEACH ACCESS
Walking and biking distance to the beach with public beach access right down the road at Ocean Bay Boulevard featuring paved parking handicap access/ramps, stabilizing sand mats, outdoor showers, bathhouse, lifeguard, a wooden walkway and bike racks
NATURAL DISCOVERY
Our gorgeous wetlands setting gives our residents plenty of opportunities to explore. Bird watching, kayaking, and hiking are all ways to enjoy the natural beauty of this spectacular area.
Location
Address: Zen Lane, Kill Devil Hills N.C. 27948
Phone: 252-301-3090
Email: info@homesbysaga.com