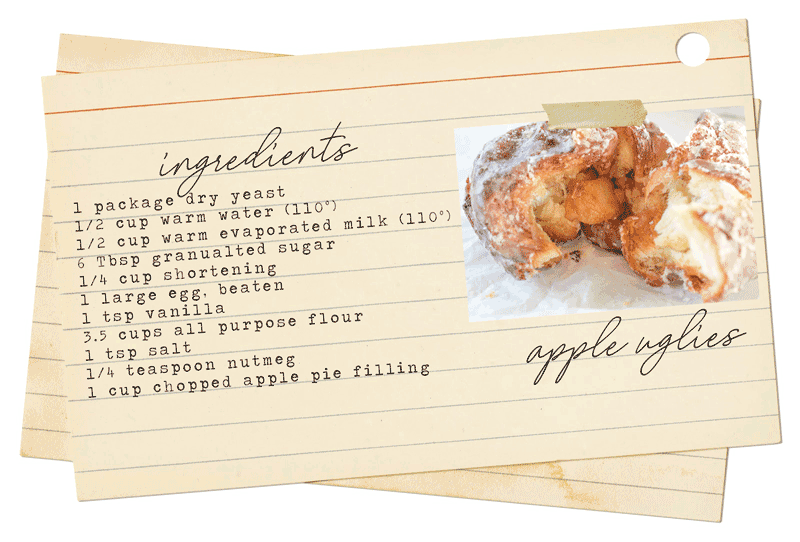 Apple Uglies
If you've ever been to the Orange Blossom Bakery in Buxton, you know how delicious their Apple Uglies are, and you're probably thinking – "There's no way these can be as good as those!" Well, while we can't say they are AS AMAZING as Orange Blossom Bakery's, they come in a pretty close 2nd!
Why we like this: At-home version of an Outer Banks Local Favorite
DIRECTOINS:
1 – Whisk the yeast into the warm water
2 – In an electric mixer, mix the sugar and shortening into a cream. Add the egg, vanilla, milk and yeast.
3 – Mix together the flour, salt, and nutmeg into the liquid ingredients. Beat for 8 minutes.
4 – Place dough in a lightly oiled bowl, cover, and let rise
5 – Remove dough from bowl and place on a lightly floured board. Roll into a sheet about 1/2 inch thick
6 – Spread apple filling evenly over the top and sprinkle with cinnamon.
7 – Using a dough scraper, chop the dough into pieces vertically then horizontally.
8 – Using 1/2 cup of chopped dough at a time, mold into oblog, irregular shapes and place 2 inches apart on large baking pan
9 – Cover with another pan, leaving enough room for dough to rise
10 – In a deep skillet, heat vegetable oil to 375º and dip a metal pancake turner into the hot fat
11 – Carefully slide the turner under the risen dough and place uglies into the skillet a few at a time, do not crowd
12 – Cook for about 1.5 minutes until golden brown underneath, turn, and continue to cook for another 1.5 minutes
13 – Using tongs to place cooked uglies on a metal rack to drain
14 – Combine 4 cups of powdered sugar with 6 tablespoons of water to create icing. Drizzle on top of uglies.
15 – ENJOY!
Don't feel like baking these yourself? Visit the Bakery that started it all!