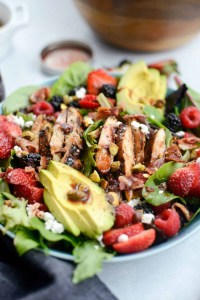 A mix of spring greens is topped with crispy bacon, sliced avocados, fresh strawberries, raspberries and blackberries, goat cheese, pistachios and the most amazing raspberry balsamic vinaigrette!
Prep Time: 15 min
Cook Time: 15 mins
Total Time: 30 minutes
Category: salad
Ingredients
FOR THE RASPBERRY BALSAMIC VINAIGRETTE:

1 (6 ounce) container fresh raspberries, rinsed
1 tablespoon granulated sugar
1 small clove peeled fresh garlic, grated
1/2 teaspoon kosher salt (more or less to personal taste)
1/4 teaspoons freshly ground black pepper
a pinch or two of red pepper flakes
1/4 cup raspberry infused balsamic vinegar
1 tablespoon honey
6 tablespoons light olive oil

FOR THE BERRY SALAD:

5 ounces mixed spring salad green
4 strips cooked thick-cut bacon, chopped
2 avocados, halved and sliced
6 to 8 ounces fresh strawberries, raspberries and blackberries (more or less to preference)
1 (4 ounce) goat cheese log, sliced or crumbled
1/4 cup chopped pistachios
Instructions
FOR THE RASPBERRY BALSAMIC VINAIGRETTE:

Place 6 ounces of raspberries into a bowl with 1 tablespoon of sugar. Use fork to combine and mashed the raspberries in with the sugar. Set aside.
In a glass jar, add in the garlic, salt, pepper chili flakes, vinegar, honey and olive oil.
Next, strain the berries into mesh strainer that's set into a clean bowl. Use a rubber spatula to press the fruit through the mesh and collecting the juice in the bowl below. Discard the seeds and pour the juice into the jar. Secure the lid and shake well to combine.

FOR THE BERRY SALAD:

Arrange the spring mix into shallow bowls or salad plates. Top with grilled chicken (if using), slices of avocado, a combination of berries, crumbled goat cheese, chopped bacon, pistachios and drizzle with a few spoonfuls of the fresh raspberry vinaigrette.
Source: simplyscratch.com