Color is our thing on the Outer Banks
According to designers, builders and the overwhelming trends on popular home design and inspiration sites like Houzz and Pinterest, color is making a huge comeback. This is a game-changer for many, but for those of us who live near the beach…color has always been our style.
While gray has been the predominant color for new homes for quite a few years now, with neighborhoods opting for gray clad exteriors, and gray/greige interiors, life on the Outer Banks tends to go against the status quo. With the help of mother nature, we do color well.
Color For Impact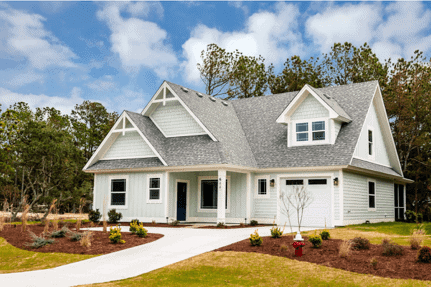 Subtle color can make a big impact
One trend we see on the exterior that we employ at SAGA Realty & Construction is a combination of different sidings for contrast; like above where we used board and batten, plus a horizontal siding like an LP Smart siding and a painted cedar shake. These different finishes amplify the look we love and gives an elegant coastal cottage feel.
This look just screams "Let's go to the beach!"
WHAT ABOUT SHIPLAP?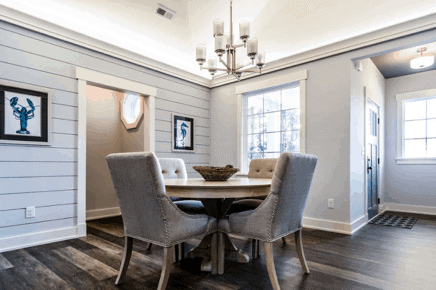 Shiplap feature walls add a nice calming quality to a room
Does this mean the days of shiplap are behind us? We don't think so, in fact, shiplap is still a popular feature in many of our construction projects, as feature walls, or to add a touch of texture here and there to the appearance of rooms. It easily brings the marriage of cottage and cozy to any home. While most homeowners install white shiplap, there is no rule to keeping it white, you can paint it any color you enjoy.
IT'S A BEACH THING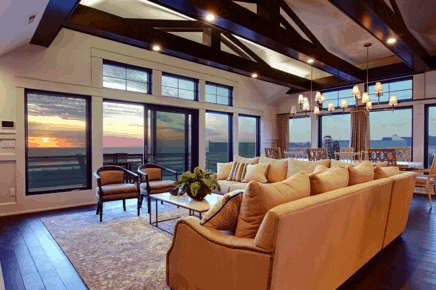 Shiplap feature walls add a nice calming quality to a room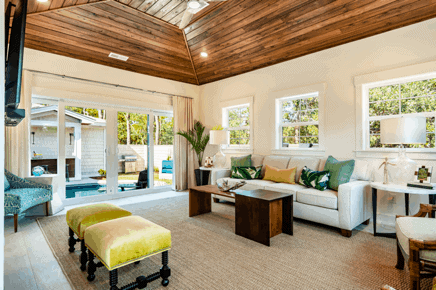 We want to complement these incredible surroundings on the Outer Banks
With the positive forecast of brighter days ahead, homes built by SAGA Construction and Realty offer an abundance of windows to let in natural light, and those sought-after fresh sea breezes. We feel that a touch of color can go a long way, so you will see many of our model homes staged in this cheerful apparel.
Pops of color that suit the home setting is important, as we would never want to compete with the spectacular natural scenery that brought us here in the first place.
FRONT DOOR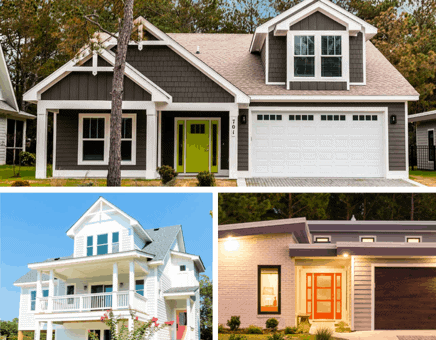 Color provides a focal point and directs guests to your front door
A cheerful front door color not only enhances curb appeal, according to Zillow it may increase your chance of a home sale. Overall a colorful front door can be a sign of hospitality, and a warm welcome…and living in North Carolina, we're all about that southern hospitality.
Adding color to your front door makes a bold statement: if you were a front door which would you be?
CLEAN AND CRISP KITCHEN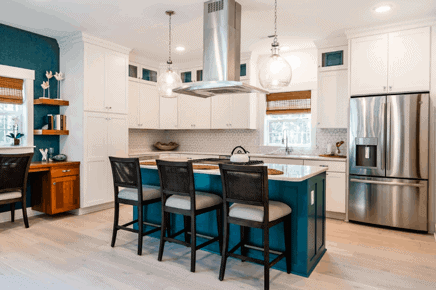 Clean design never goes out of style
Kitchens are still trending mostly white, with shaker style cabinets, and white or lighter solid surface countertops, like quartz or granite. You can add in a contrasting island, or just colorful counter stools to tie it all in with the rest of the home décor. Stainless is still king when it comes to kitchen appliances, but there are now a few different darker tones to the old stainless-steel appliances most of us grew up with. you be?
GRAY IS A-OKAY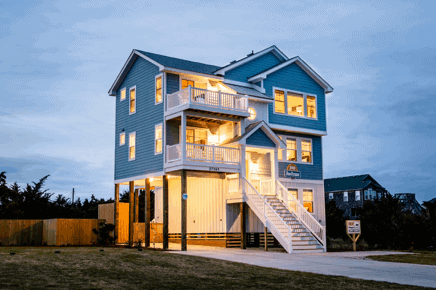 Consider your color choice with bright daylight and dusk
Gray is always going to be popular, and with so many different gray tones to choose from, going for more of a blue gray may set your home apart. Whichever you choose, consider the time of day, bright sunlight versus dusk or sunset will change the color dramatically. Drive around to find some gray homes that pique your interest, then visit at various times.
And if you still love gray for your interior, consider adding to your coastal cottage feel by using a gray luxury vinyl plank floor. It may even help cover up all that sand.
FIND YOUR HOME
One of the advantages of building a home from scratch with us is customization. You can pick your choice of finishes for every room. Our experienced design team will provide plenty of options and expertise for you.

Whether you are looking for a vacation home, an investment property or a great place to retire, we have signature communities throughout the Outer Banks, North Carolina.  Just click here to learn more, or to search a comprehensive list of our floorplans, click here.
We have a proven track record, let us know how we can help make your dream home a reality, call 252-441-9003, or visit us at HomesBySaga.com.