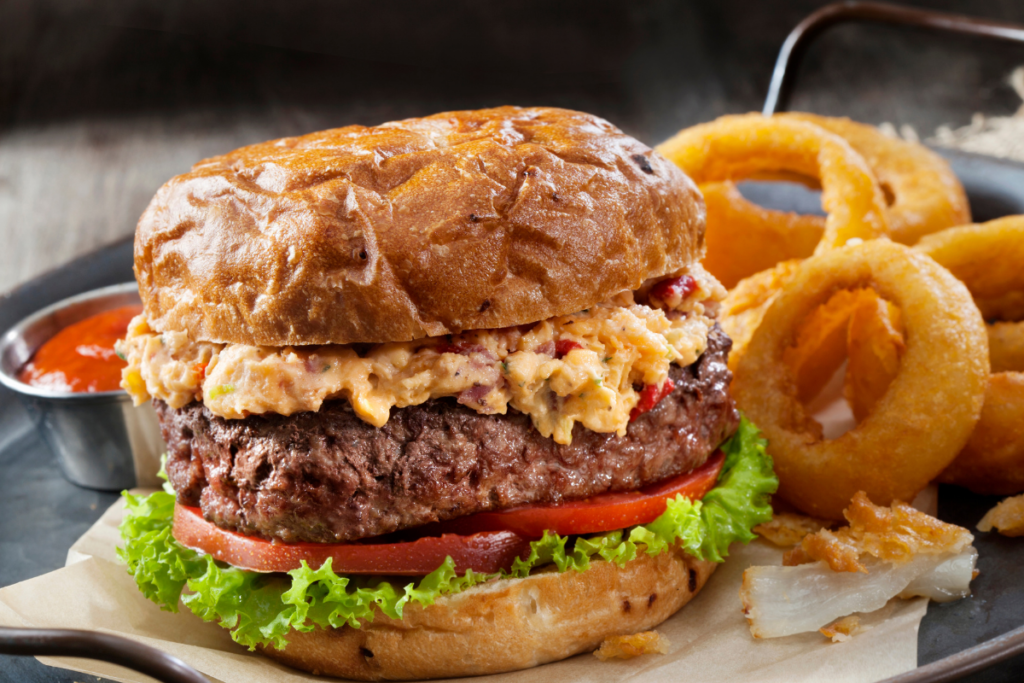 What you need: 
1 ½ lbs ground beef (80/20 works well for grilling) 

Salt & ground black pepper to taste

1 tablespoon Worcestershire sauce

1 teaspoon garlic powder

1 teaspoon onion powder 

1 tub Far Out Foods Pimento Cheese (Original Southern or Fiery Jalapeno) 

Buns

Optional toppings – lettuce, tomato slices, red onion slices, bacon 

Optional condiments – ketchup, yellow mustard 
What to do:
In a medium bowl, combine ground beef, salt & pepper, garlic powder, onion powder, and Worcestershire sauce until just mixed. Over mixing leads to dry burgers. 

Once combined, divide mixture equally into 4 and shape into burger patties. Pressing an indent into the center of the burger prevents it from puffing up in the center during grilling. 

Brush your grill grates with vegetable oil and heat to 400-500 degrees. 

Place the burgers on the grill over the heat and cook until they reach your desired doneness (generally around 6 minutes for medium and up to 10 for well done) flipping as needed to ensure even cooking. 

Place on buns and top with a generous scoop of Far Out Foods Pimento Cheese and other optional toppings & condiments and serve immediately. 
About Far Out Foods: 
Far Out Foods is a local company that makes pimento cheese. According to an article by The Outer Banks Voice, one of the owners, Brandon Leavel, created the recipe for the pimento cheese while working at Manteo's Food-A-Rama where the pimento cheese can still be purchased today. Instead of being made with a base of mostly mayonnaise, Far Out Foods' pimento cheese starts with cream cheese. This cheesy spread makes the perfect addition to your burger this grilling season! 
Need a New Place to Grill? SAGA Can Help: 
Ready to find the perfect patio for grilling out? SAGA Realty & Construction can help! Our expert team can help you sell your home, find the perfect existing home, or help you build a brand new home. Learn more: homesbysaga.com