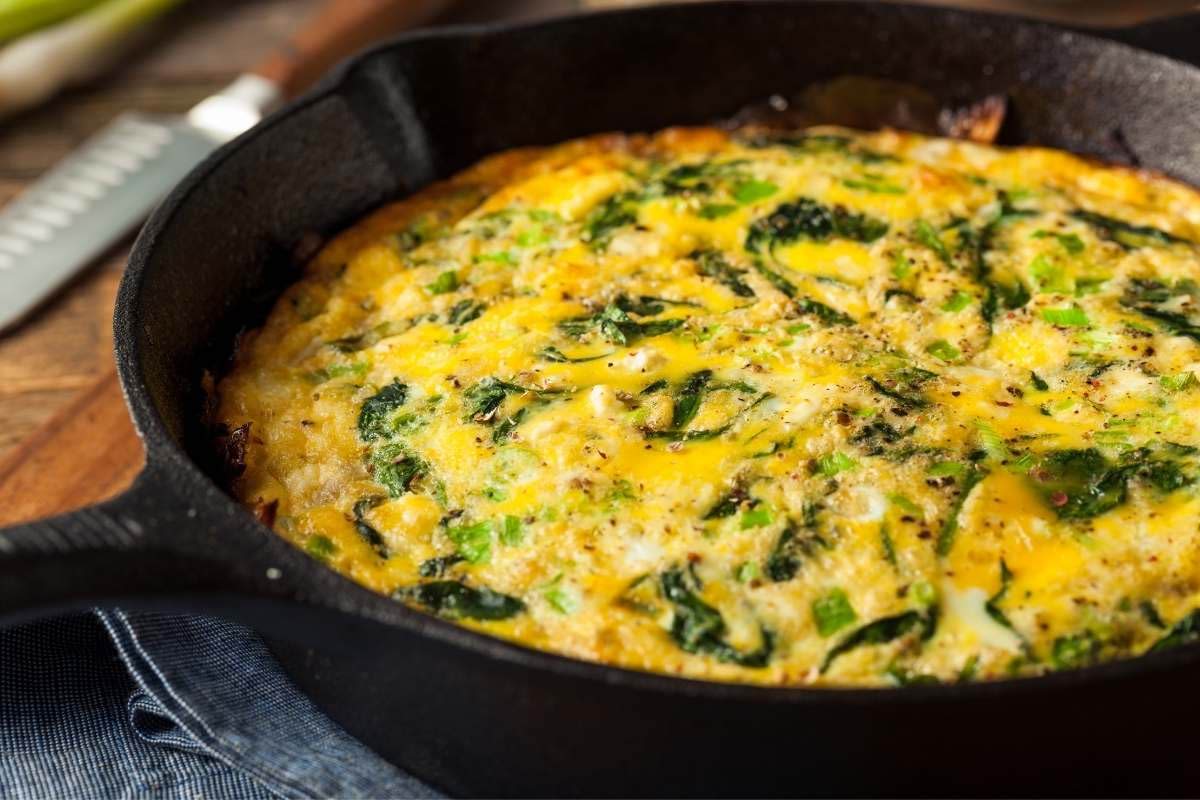 Deck the halls with the savory smells of a delicious frittata on Christmas morning
Christmas morning is often a time to watch the wonder in the eyes of our children as they eagerly arise to see if Santa Claus has come, or to greet those we love with a warm embrace. There might be plenty of cooking going on… so let's keep it simple for breakfast.
A frittata may be the answer to a hot homemade breakfast on Christmas morning that's sure to please everyone.
WHAT IS A FRITTATA
Frittata is an egg-based Italian dish similar to an omelet or crustless quiche, with additional ingredients such as meats, cheeses, or vegetables. You can bake it or make it in a cast iron skillet on the stove top to get a really nice crispy edge. This recipe will be for the oven version.
The best part of a frittata is that you can make it with whatever you have on hand… whatever cheese, whatever vegetables and it comes together quick and easy, and is super delicious.
WHAT YOU'LL NEED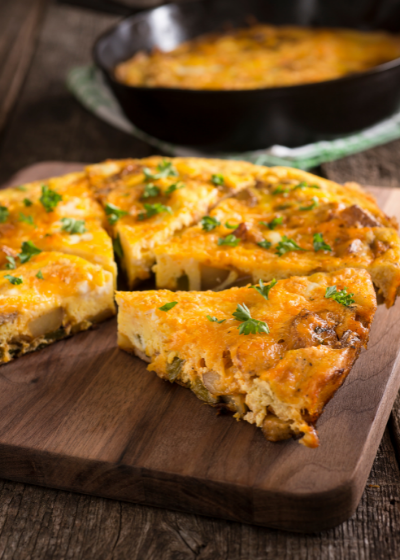 The list below are suggested frittata ingredients, these are all up to your tastebuds and what you have in your fridge. The best frittatas are kept simple, less is more.
Prep: 15 minutes
Bake: 25 minutes
Serves: 6-8 servings
5 large eggs
1/4 C of cream or milk
2 C shredded mozzarella
1 medium onion, chopped
1 medium red or green bell pepper
1 garlic clove, minced or chopped fine
1/2 C diced mushrooms
2 TBSP butter
1/4 C chopped cilantro (or parsley)
1/2 soft bread crumbs
1 TSP Worcestershire
1/2 – 1 TSP salt
1/2 TSP ground pepper
*Add or remove vegetable ingredients that you like or dislike. Some additions could be fresh basil, grape tomatoes, avocado slices, diced potatoes, chickpeas, feta cheese, goat cheese, gorgonzola, parmesan cheese, spinach, broccoli, zucchini, artichokes, asparagus, chives, arugula, corn, red onion, etc.
Meat or meatless: For a vegan version omit cheeses, creams, Worcestershire sauce, and use an egg substitute like JUST Egg  and almond milk. For meat lovers add in diced ham, precooked crumbled sausage or bacon. Here is a Low Country Shrimp Frittata that you may enjoy.
Spice it up: Add fresh jalapenos, or a few dashes of your favorite hot sauce into egg the mix.
WHAT TO DO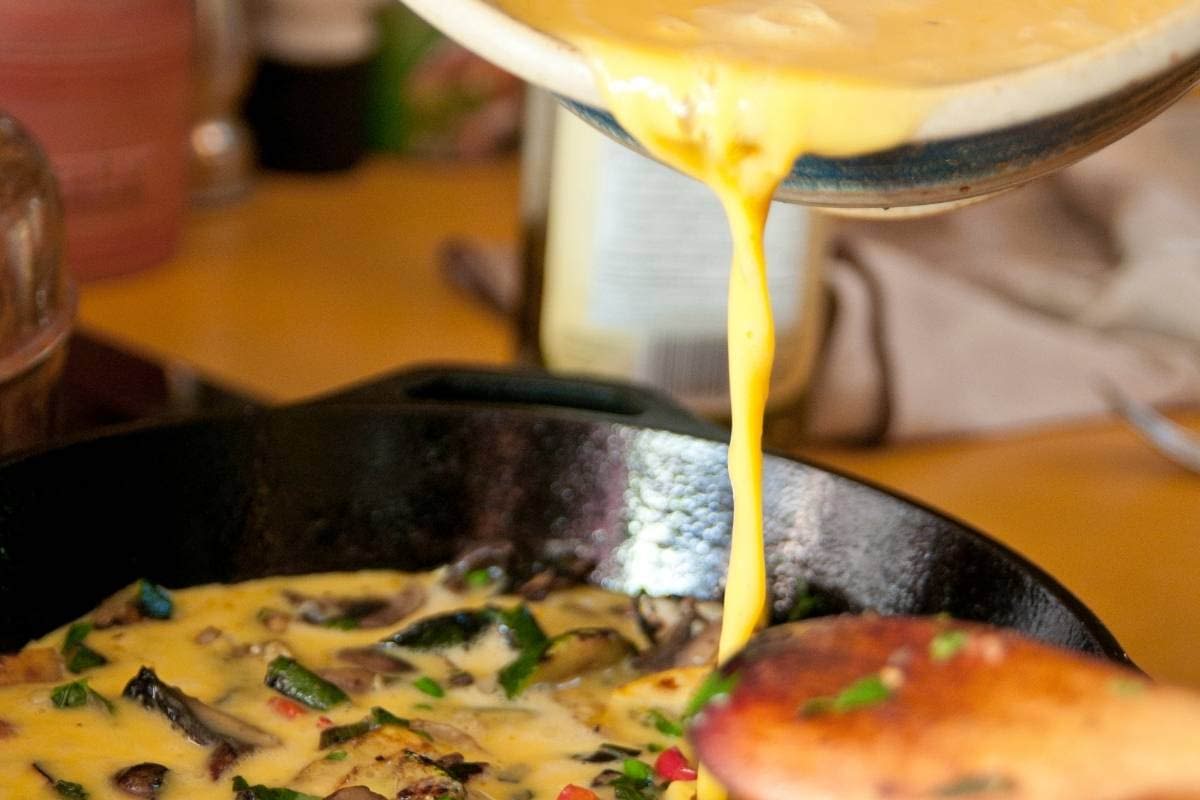 Heat the oven to 350 degrees Fahrenheit (180 degrees C).
Dice all vegetables and prepare garlic.
Whisk the eggs gently with cream or milk in bowl (try not to overbeat eggs or they will poof in the oven, then fall into a dense layer when cooled). Add salt and pepper and set aside.
Cook any meats and break up into smaller pieces, and sauté or steam vegetable to soft.
Spread the vegetable, garlic and meat mixture evenly in an oven safe skillet or ungreased casserole dish. Sprinkle cheese over mix.
Pour your egg mixture into the skillet/dish.
Bake frittata in oven uncovered for 25 minutes until eggs are set. Cut into middle to make sure eggs don't run. For a crispier top, place under broiler for a minute or two at end of cooking.
Cool 5 minutes, then cut in wedges like quiche or squares to serve.
If you're opting for brunch, your frittata pairs well with overnight sticky buns, here's a great recipe you may like.
If you love cooking for your family and would like to share your holidays with those you love in your own vacation home on the Outer Banks, reach out to us any time at 252.301.3090. SAGA Realty & Construction has a simple approach to income producing beach houses which allows you an average of 15% – 20% return on your investment. We can also can build any of our beautiful home plans on your site.