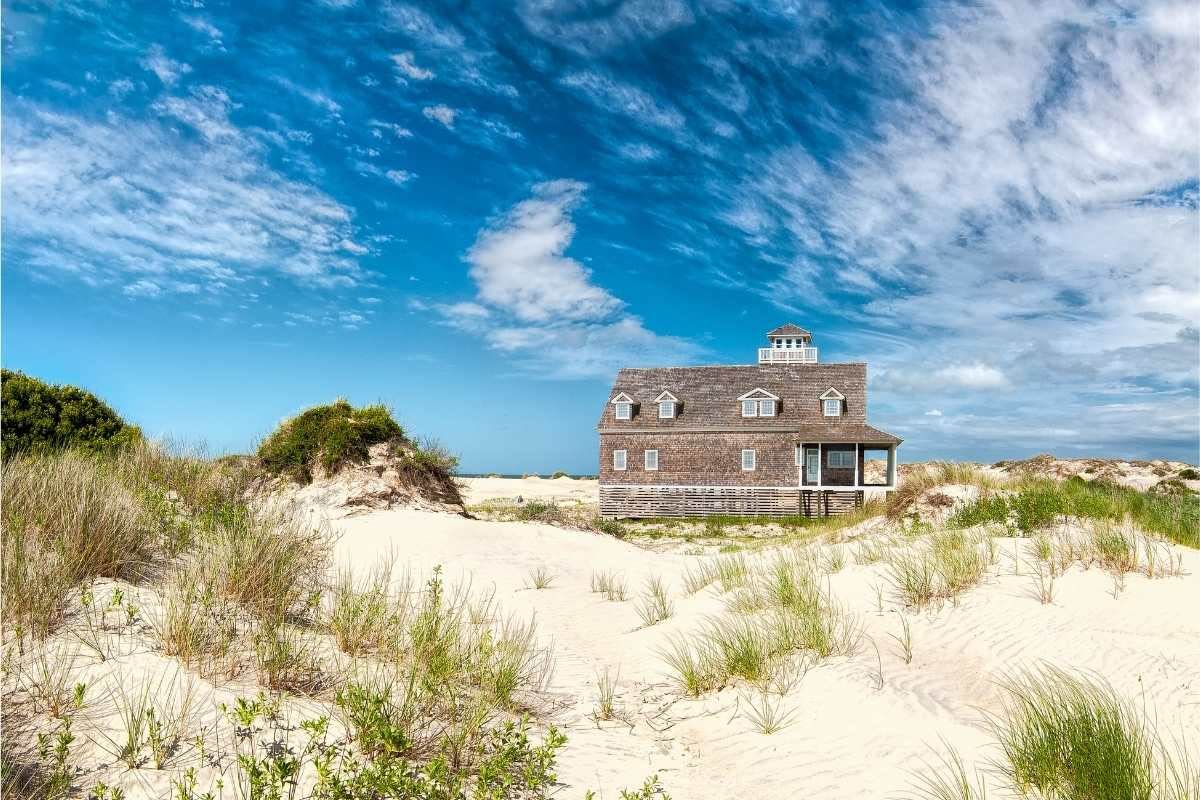 Just across the new Basnight Bridge sits the Oregon Inlet Lifesaving Station. This piece of history was built in 1898 and is no longer occupied, but sits gracefully amongst the dunes.
The Outer Banks is a legendary place, full of tall tales of adventure and filled with mystery. From the pillaging of Blackbeard the Pirate to one of the world's deadliest coastlines giving it the well earned nickname "Graveyard of the Atlantic." It's also riddled with hidden treasure, not the kind found washed ashore from a sunken ship, although we sometimes have that too…
FAVORITE HIDDEN PLACES
All of the Outer Banks is unique, but let's explore a few of the lesser known gems along this 175-mile chain of barrier islands:
Futuro House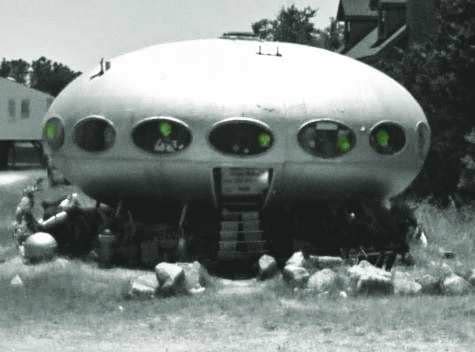 Head to Frisco on Highway 12 for this special gem, the Futuro House. This actually is not a one-of-a-kind flying saucer shaped house, it's a plastic prefab house that was one of 100 made, but it is one of the few left, and the only one on the Outer Banks and in North Carolina. You can't go inside, but it's fun to try to spot it as you drive past. It's a little tricky…but you may catch a glimpse. 35.2488, -75.6087
Buried Putt Putt Castle on Jockey's Ridge
Jockey's Ridge hosts the tallest living sand dune on the Atlantic coast. In fact, as it keeps growing they have to continue to remove sand or it will bury the nearby homes or even a local church. It's also known as the most visited state park in the NC park system, and one of the unique sites is the barely visible Putt Putt Castle. Since it can be hard to find, you might ask a ranger so they can point you in the right direction.
You can access Jockey's Ridge State Park for free from the main parking lot or via the crosswalk from Kitty Hawk Kites at Milepost 12.5. Bring a kite, or buy one nearby, it's great for flying!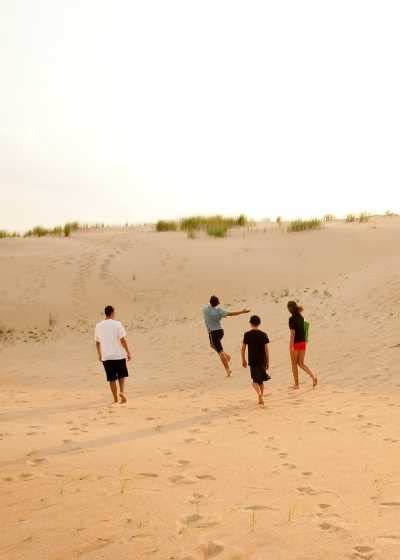 First Child of English Parents Born in America
The historic marker for the First English Colonies Explored in 1584. Site of first English settlements in new world, 1585-1587. Birthplace of Virginia Dare, first child born of English parents in America.
US 64 at Fort Raleigh Rd., north of Manteo on Roanoke Island.
Sky Dive OBX
See the Outer Banks from above in a tandem jump from a plane. We are the home of modern aviation, so why not step a bit further and make a bucket list skydive and see the Outer Banks like never before.  No experience necessary. Take your first flight with Sky Dive OBX. Location is the airport in Manteo.
Project Nutmeg: Almost A Nuclear Outer Banks
There is a small sign behind the NC Aquarium waterfront that explains how the Outer Banks was almost the site for nuclear testing. Why not? No one really lived here… did they?
Outer Banks Coastal Life reports "There is irony, of course, in the fact that one government agency looked into destroying the coastline while another – the National Park Service – created the Cape Hatteras National Seashore in 1953."
Wright Brothers Telegram
If you've ever been in the very popular Black Pelican Restaurant in Kitty Hawk… "The Black Pelican originally served as historic Lifesaving Station # 6 which was constructed in 1874. Station #6 and its crew served to provide aid for boats and their crews that were stranded along the oceanfront. The building also served as an active weather bureau. The Wright Brothers used information garnered by the weather bureau to plan their experimental flights. In 1903, after their successful First Flight, the Wright Brothers sent the telegraph announcement from Station # 6." Plus, they have great food! Get directions and more info about the Black Pelican here.
Wild Horses on the Beach in Corolla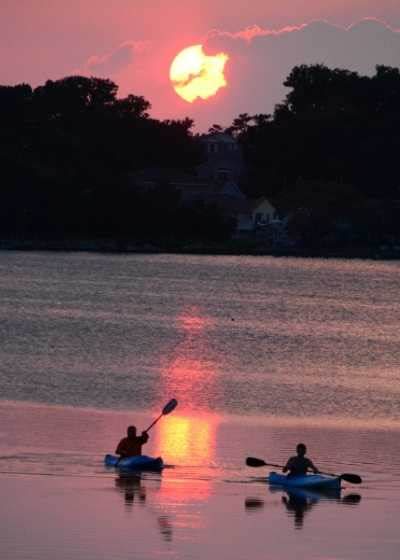 "Descended from the Spanish Mustangs brought to the Outer Banks by early explorers, the Corolla Wild Horses have roamed across the Currituck Outer Banks for approximately 400 years. These horses are such a significant cultural and historic resource to our area that the Spanish Mustang was designated as the official state horse of North Carolina in 2010.
These wild horses roam freely in Corolla and are most commonly found in the four-wheel-drive areas of the beach. It is illegal to intentionally come within 50 feet of the horses, so that means no petting or feeding, but they can be appreciated from a distance on one of our wild horse tours. We have several tour companies that can get you within picture-taking distance while also giving you a great history lesson about the horses and the area itself." From Visit Currituck Outer Banks. Click here to find a wild horse tour, these are worthwhile as you will almost always see the horses, learn about the area and have a nice shady spot and experienced guide.
Paddle with Alligators, Venomous Snakes, Huge Bears and Rare Wolves
You may not see any of the above when you go for a paddling adventure at Alligator River National Wildlife Refuge, but they can see you! Plus otters, bobcats, wood ducks, owls, turtles and more. Paddling is a great way to explore the refuge, but bring plenty of insect repellent. If you want the safety of a guide, go on an eco-tour —click here and here, both of these are great for groups, and no experience is necessary.
Alligator River NWR has what is believed to be one of the largest concentrations of black bear found in the southeast, and some of the country's largest black bears! If you're lucky you may even see their super cute cubs. If you drive through this refuge, you have a better chance to see the bears just before sundown when it starts to cool off and the bears are out looking for dinner. See some amazing photos of the wildlife on Instagram here.