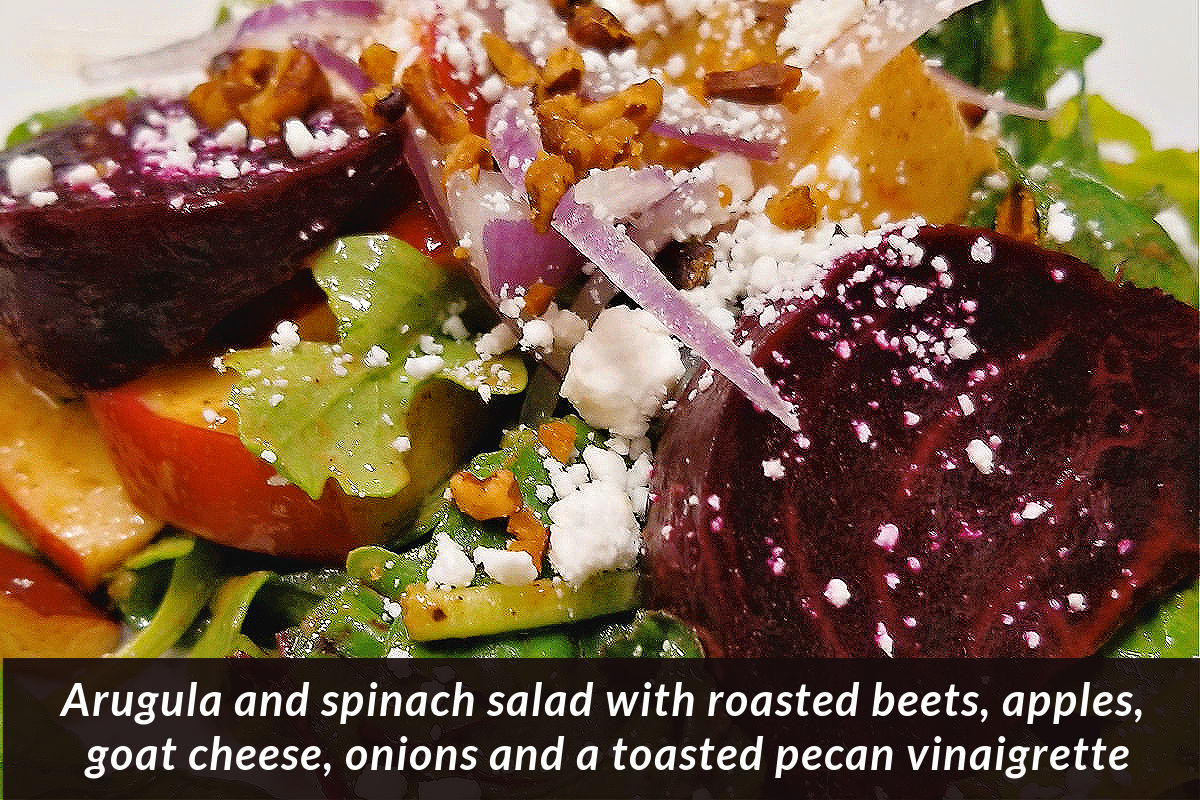 A delicious fall salad from Chef Tony Duman at the Outer Banks Brewing Station
We've asked one of our favorite local chefs for a fall recipe to feature in the month of November, Chef Tony Duman from the Outer Banks Brewing Station, is always serving something special… and per his usual style, he gave us a refreshing salad that is easy to make at home and enjoy with family and friends.
Outer Banks Brewing Station in centrally located on the OBX in Kill Devil Hills. Besides being the first wind powered brewery in the state, they also craft top-notch brews, feature live music and events, plus they offer a tremendous THURSDAY NIGHT *TAPAS! The recipe Chef Tony shared with us is from their recent Veggie Tapas Night, which also includes tasty dishes to share like: Vietnamese Veggie Pho with grilled Portobello with a Thai basil salad and Elote Brussels Sprouts with a roasted corn puree.
The tangy goat cheese mixed with the spicy arugula and beets roasted to the perfect richness make this salad a keeper! Roasting the beets condenses the sugar which allows you to enjoy all the earthy sweetness of this fabulous root vegetable.
FALL ARUGULA AND SPINACH SALAD WITH ROASTED BEETS, APPLES, GOAT CHEESE, ONIONS WITH A TOASTED PECAN VINAIGRETTE
Roasting beets is super easy, buy them farm-fresh or in your local produce section at a grocery store
WHAT YOU'LL NEED
4oz arugula and spinach blend
4oz goat cheese crumbles
3 medium beets, topped, washed, and peeled
3 Fuji apples
1/2 red onion, thinly sliced
Toasted Pecan Vinaigrette
1/4 c red wine vinegar
1 shallot, finely chopped
1 tsp Dijon
1/2 tsp salt
1/4 tsp black pepper
3/4 c evoo
1/3 c toasted pecans, finely chopped
Whisk the first 5 ingredients in a bowl, slowly drizzle in the evoo while whisking. Stir in the
pecans just before serving
Roasting the Beets
Peel beets, toss with olive oil, season with salt and pepper, wrap with aluminum foil and
bake for 50-60 mins at 375. Once fork tender, remove from oven and allow to cool.
Slice the apples and beets and add to salad.
Toss the salad with desired amount of dressing then top with remaining ingredients and
enjoy!
UPCOMING OUTER BANKS BREWING STATION TAPAS
If you would like to sample Chef Tony's Thursday Night Tapas, here is the lineup:
Nov. 05  – Indian (North vs. South)
Nov. 12 – Veggie (includes Vegan dishes)
Nov. 19 – Joey
Dec. 03 – Spicy
Dec. 10 – Cristina
Dec. 31 – NYE
You can also see which OBBS Brews pair well with these, like the new Ocracoke Porter or Crystal IPA.
TRIVIA
Did you know that the Outer Banks Brewing Station also makes their own rootbeer, ginger beer and orange creamsicle soda? They also offer brewery tours every Wednesday, see their calendar of events here, or give them a call at 252-449-2739.
ABOUT THE CHEF
Chef Tony Duman's innovative cuisine is driven from his multiculturalism and enjoyment of the ever-changing food culture. His passion is to produce inspired culinary creations utilizing fresh Outer Banks seafood and locally farmed ingredients. He grew up in the Hampton Roads area of Virginia and got his culinary degree from the Art Institute of Atlanta. After graduation in 2003, Tony moved to the OBX and worked at a couple restaurants before ending up at the Brewing Station in 2010. He loves cooking all kinds of food and learning new things, hence the reason tapas season is his favorite season, where he gets the chance to push the culinary boundaries a little more. Asian and Hispanic are definitely my top choices though.
Follow Chef Tony on Instagram @cheftonyd and Outer Banks Brewing Station on Instagram @obxbrewingstation.  You can learn even more about Chef Tony here. Be sure to click the link below for more information about the Outer Banks Brewing Station in Kill Devil Hills.
*What are Tapas?
Wiki: A tapa is an appetizer or snack in Spanish cuisine. Tapas may be cold or hot. In some bars and restaurants in Spain and across the globe, tapas have evolved into a more sophisticated cuisine. Tapas can be combined to make a full meal. In some Central American countries, such snacks are known as bocas.