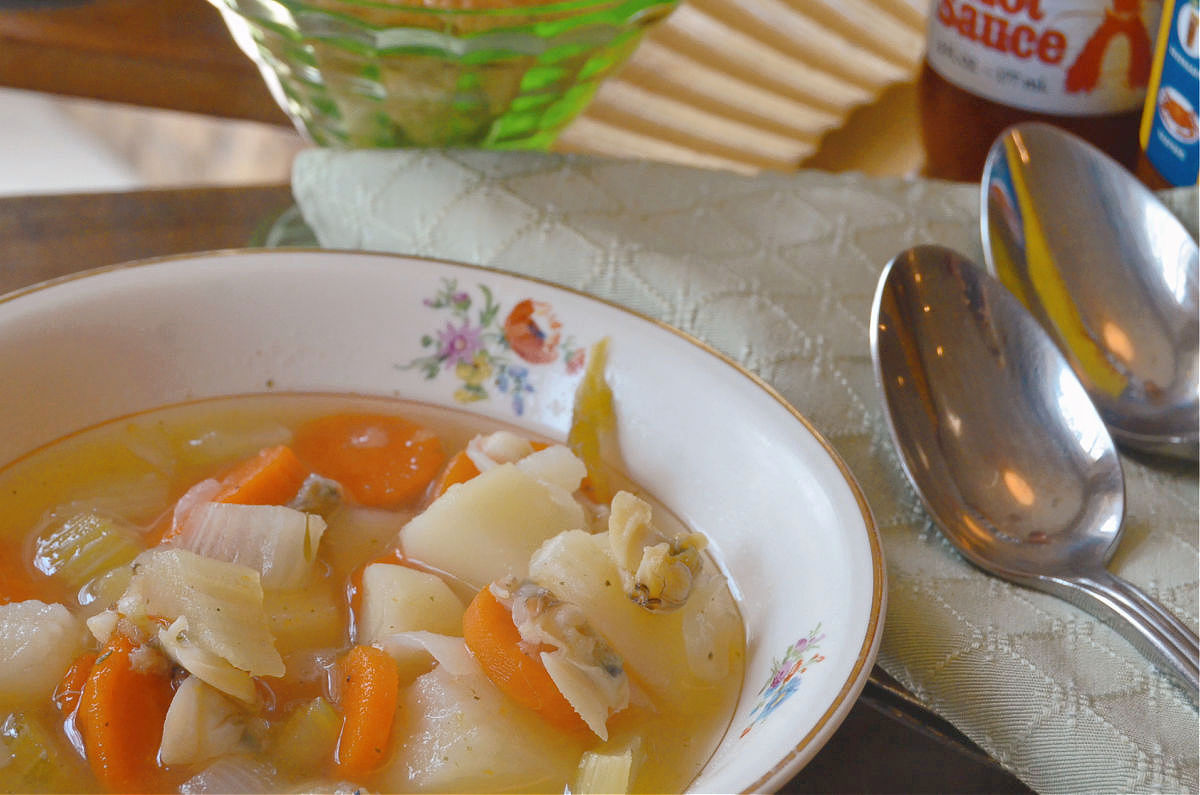 There is nothing more comforting when the weather changes than a bowl of hearty soup
We find ourselves yearning for cozy soups and hearty stews on these crisp fall days. And if you've ever enjoyed a steaming cup of Hatteras Style Clam Chowder while on vacation to the Outer Banks, then you will love this easy to make-at-home version.
The more famous chowders are the creamy New England Clam Chowder (made popular on Fisherman's Wharf served in a San Francisco sourdough bowl) and the tomato broth veggie heavy Manhattan Clam Chowder. So of course being here in North Carolina we have one that we love, the Hatteras Clam Chowder. Ours  is neither creamy, nor tomatoey, but is heavy on root vegetables.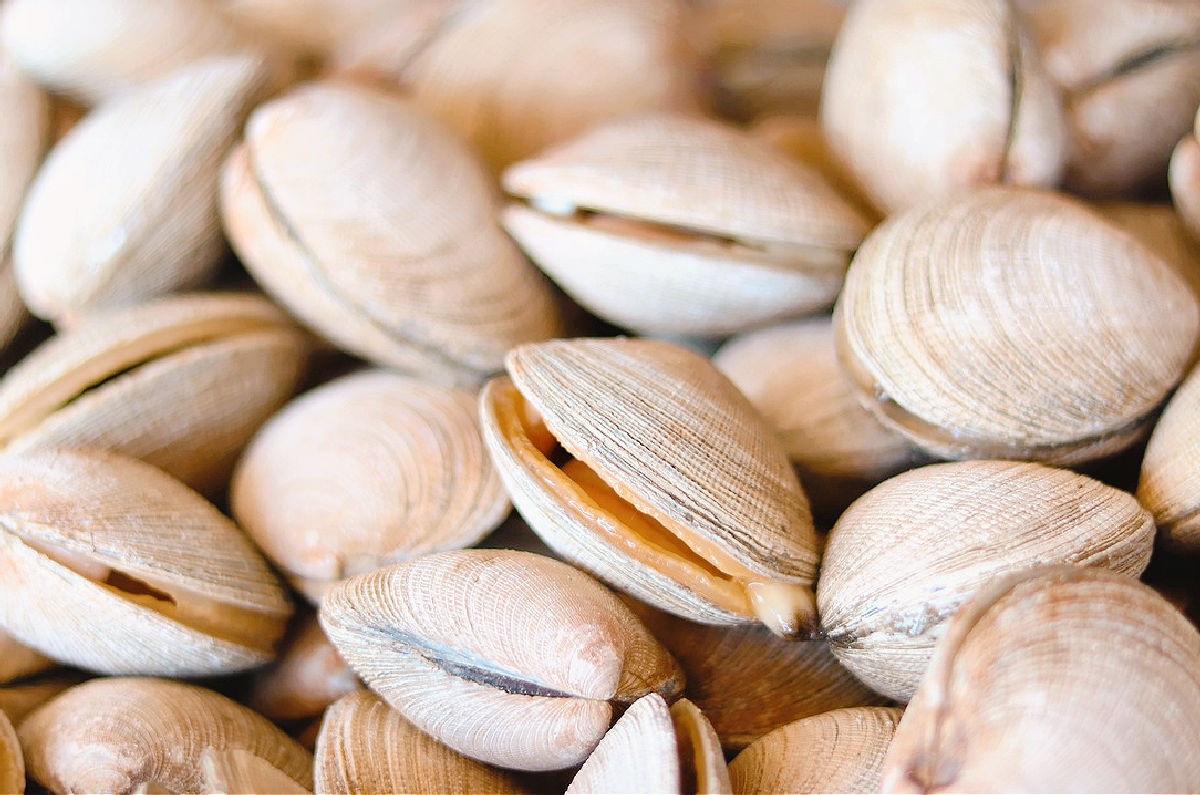 Little Neck: The smallest size of clam, amounting to 7-10 clams per pound. Cherry Stone: A little larger, you'll get 6-10 cherry stone clams per pound. 
HATTERAS STYLE CLAM CHOWDER RECIPE
Prep Time: 20 min 
Cook Time: 30 min 
One of the perks to living on these barrier islands of the Outer Banks is that we can go clamming any time we choose and use this bounty from the sea (or seashore as it is) to make a comfort food that is outright delicious. Or alternatively we can easily buy them in the freezer section or in a can at the grocery store. 
INGREDIENTS 
2 LG Onions

 

4 

LG 

Stalks 

C

elery

 

4 Carrots

, peeled

 

4 LG 

White

 

P

otatoes

(Russet

 or Yukon Gold preferred)

 

4 Dozen Littleneck or Cherrystone Clams 

(these are the clams you'll find clamming here on the Outer Banks)

 

or 

1 

p

ackage frozen baby clams, or

 

i

f you must: 

2 x 

16 Oz cans minced clams with juice

. 

 

3

 Bottles Clam Juice

(or large 46 oz can)

2-4 Strips Salty Bacon* diced

 

1 TBSP 

Thyme

 (dried or fresh)

 

2 shakes of a Fisherman's Seasoning Salt (like Old Bay or similar)

½ TSP Cracked Black Pepper

 
DIRECTIONS
Dice up celery, onions and sauté with diced bacon with rendered fat over medium heat (or a little vegetable oil if you prefer a bacon-free version). Stir in diced potatoes and carrots and pour in chicken broth, the thyme, seasoning salt and the cracked pepper – bring to a gentle boil and simmer until vegetables are soft. 
Then pour in clam juice and bring to a boil. 
Finally, add clams (with juice if from a can) and cook for a short few minutes (but don't overcook or clams will be rubbery). Serve hot with a dash of hot sauce like Texas Pete and some oyster crackers.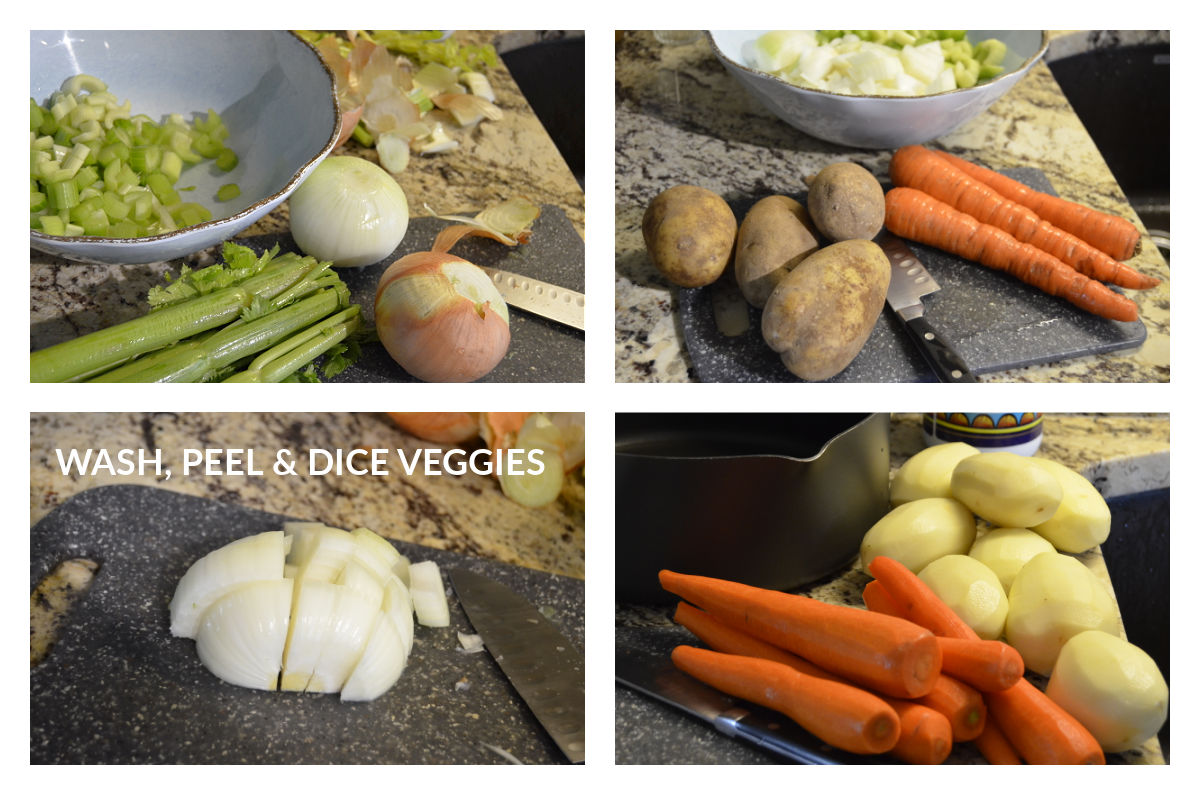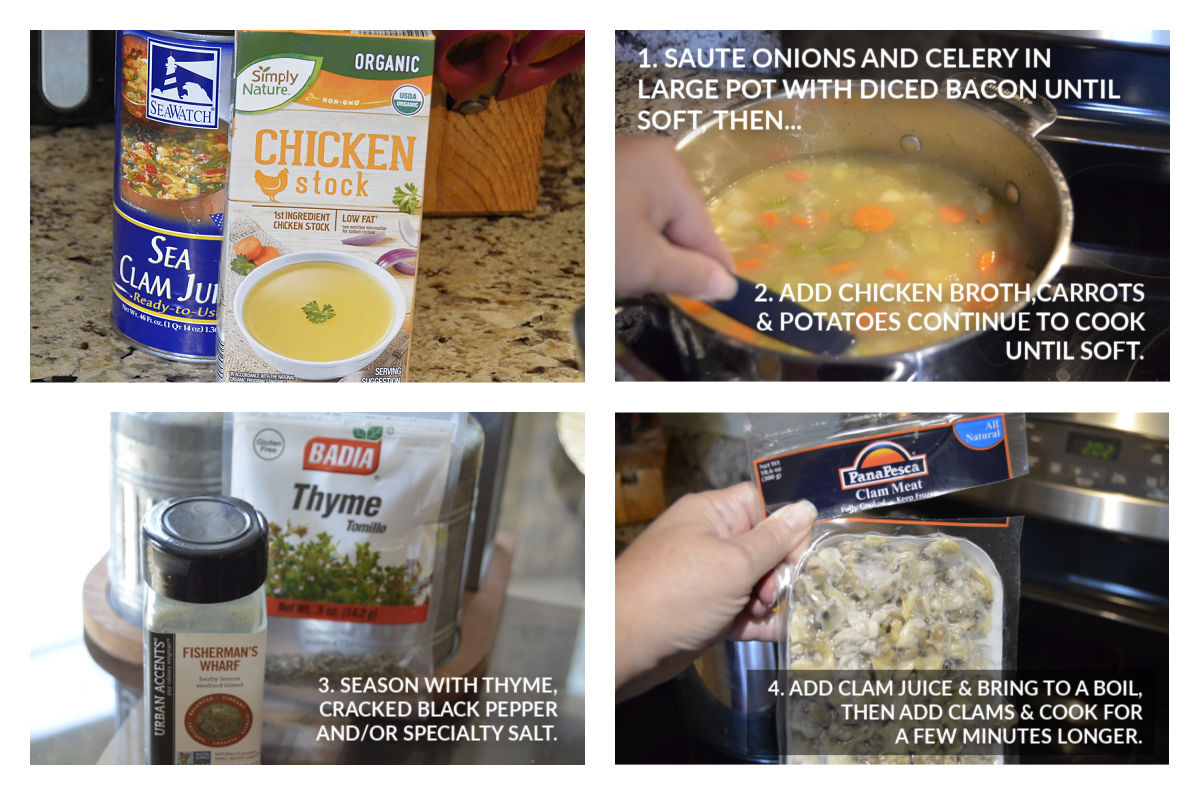 OPTIONAL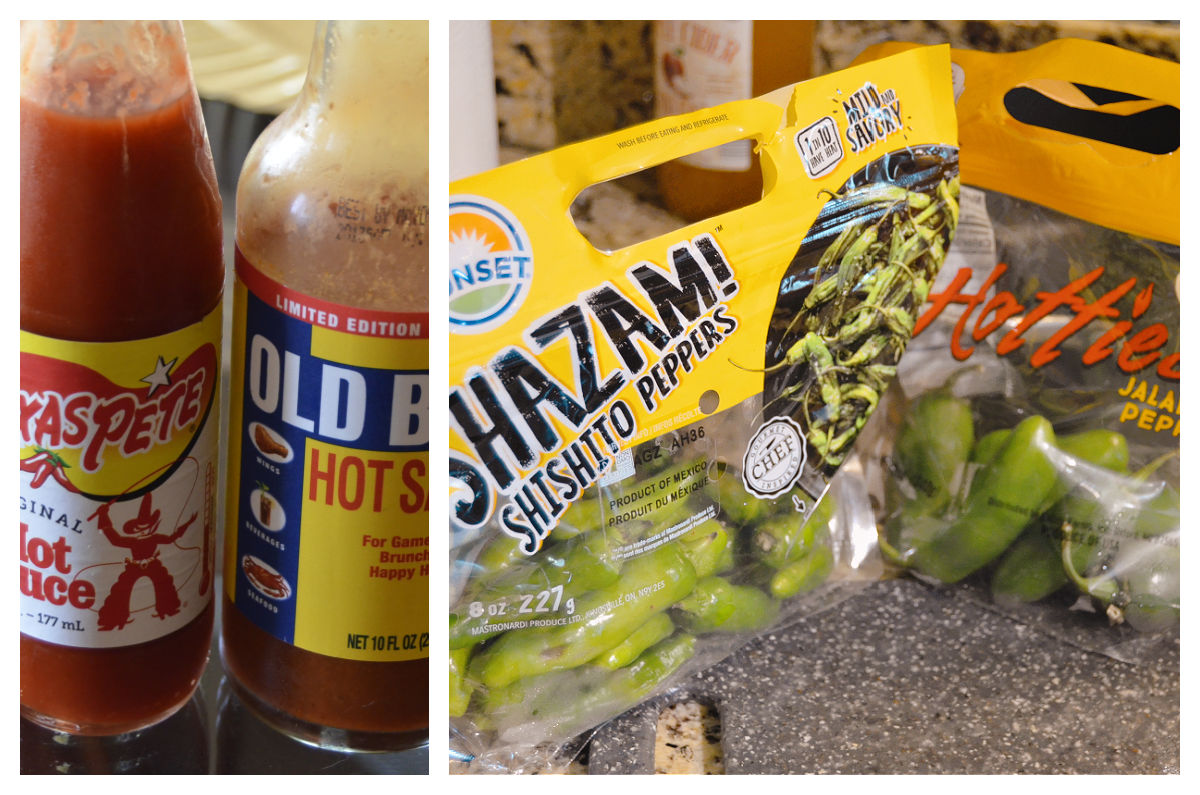 If you'd like to spice it up a little, dice up some fresh jalapeno or shishito peppers, or add a dash of your favorite hot sauce.
HOW TO FIND CLAMS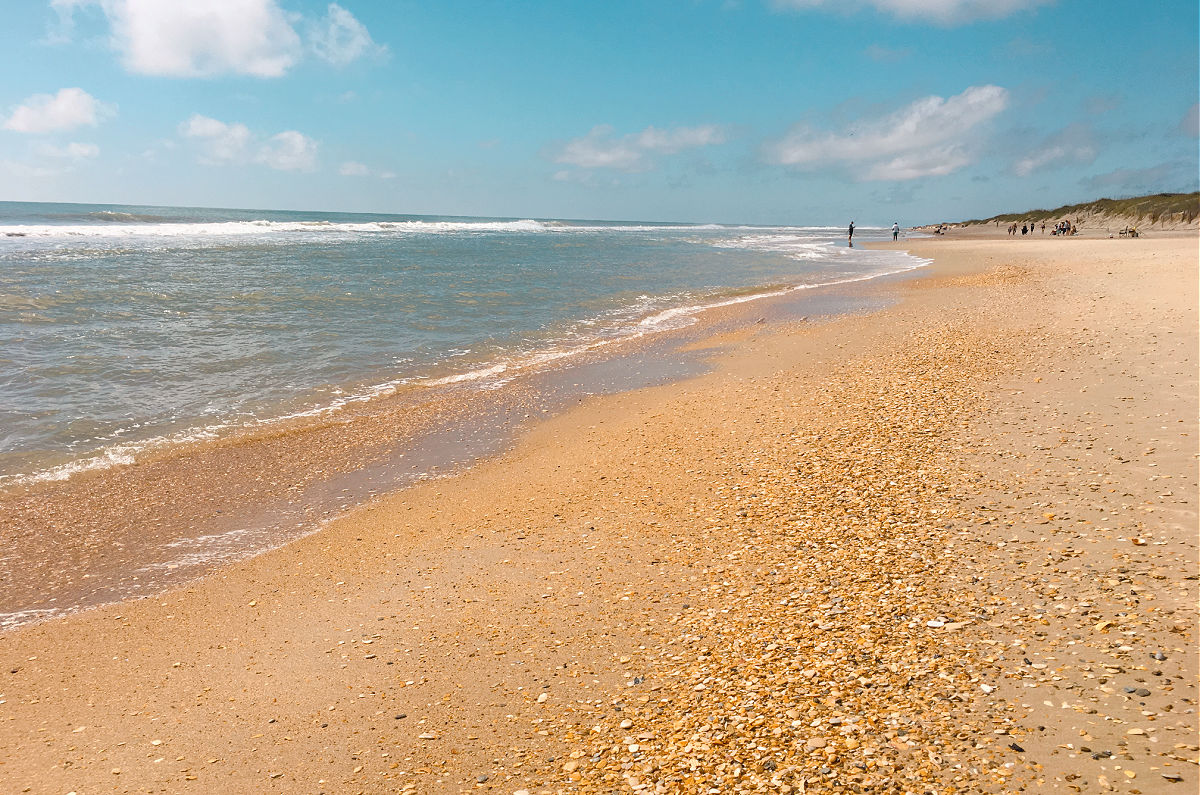 We can go clam digging on the Outer Banks year-round and use this bounty from the sea (or seashore as it is) to make something delicious. Or we can easily buy them in the freezer section or in a can at the grocery store. 
If you've never gone clamming, then here's the trick – go at low tide. You don't need a license to dig up and harvest your own clams, and it's a family favorite for fun on the shore. It won't take long for you to find what you need for your chowder. They sell clamming rakes at the local stores on the Outer Banks, or your friends, or vacation rental may have a few for guest use. 
RULES AND REGS 
But there are a few rules to keep what you find: Just pinch the fat part of the clam with your pointer finger and thumb and if the clam is one inch thick or larger, you can keep it and up to 100 a day per person. Now that's a lot of clam chowder! 
It's best to go clamming in the summer months to find the biggest and best clams. If you find you have so many clams you don't know what to do with them, no worries, they freeze well. Find out how to freeze raw clams here. 
Learn more about clamming here "A Bushel Full of Fun." 
HOW TO OPEN FRESH CLAMS
For fresh clams, follow Anne Burrell's method to cook and extract the meat here. *For vegetarian or a healthier version, simply omit the bacon and use 2 TBSP vegetable oil.  
Makes 8 Servings | Gluten Free | Dairy Free 
SERVE IT UP HOT AND ENJOY!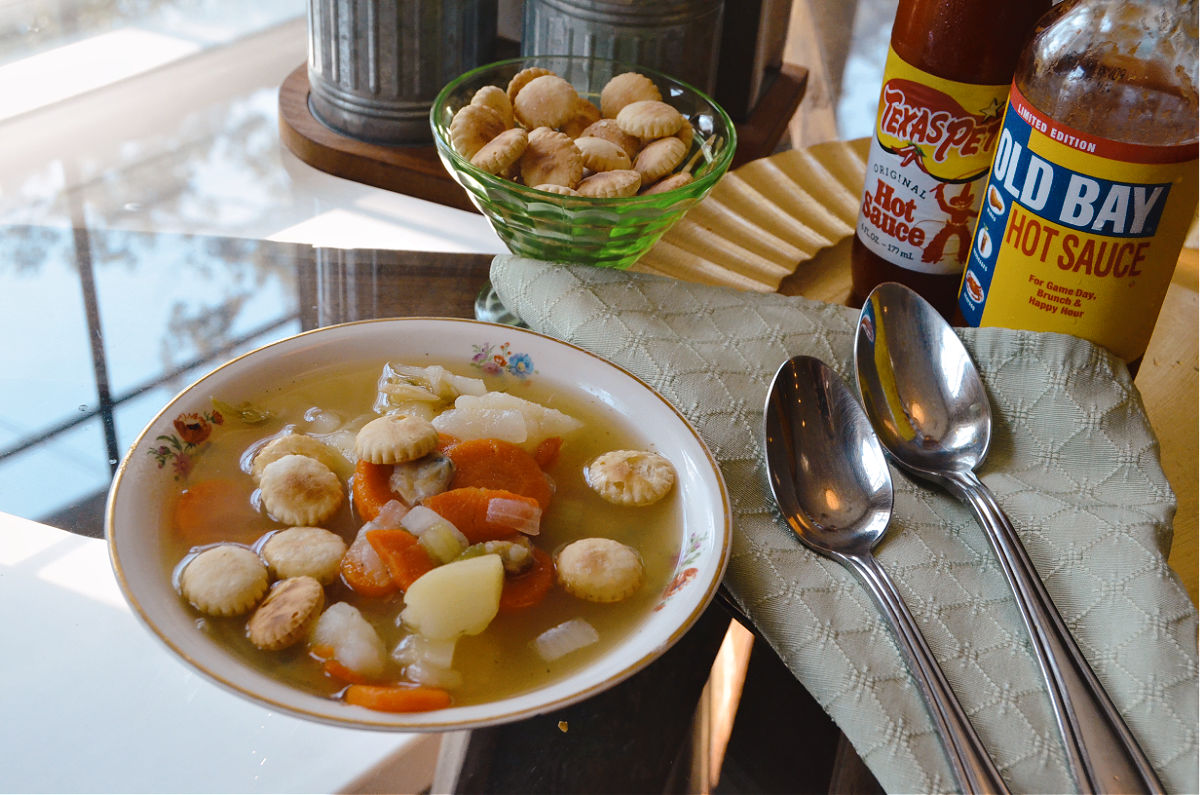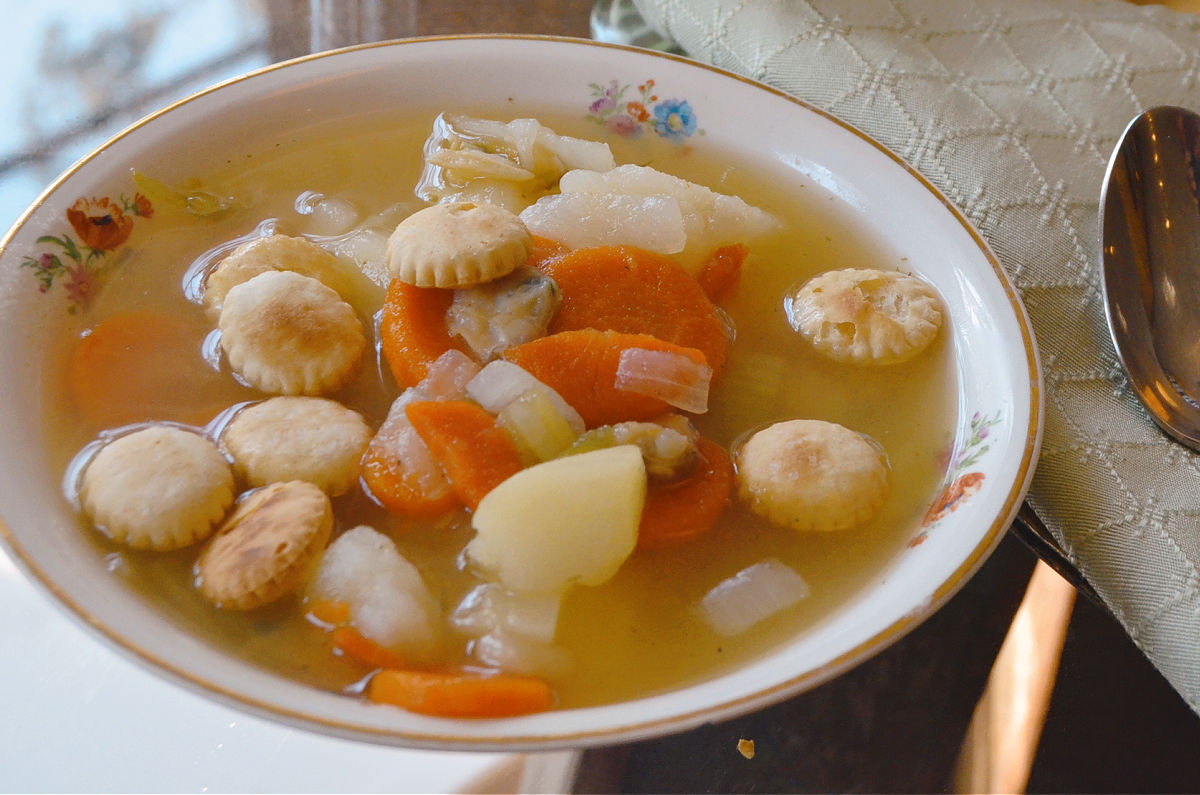 Hatteras Style Clam Chowder, like all meals on the Outer Banks is best enjoyed with family and friends
If you dig fresh seafood, clamming and all that a beach lifestyle offers, then you might consider moving to the Outer Banks full time, buying a weekend or investment home that allows you to vacation for free. Find out more below, or by calling the expert sales team at SAGA Realty & Construction 252.301.3090.