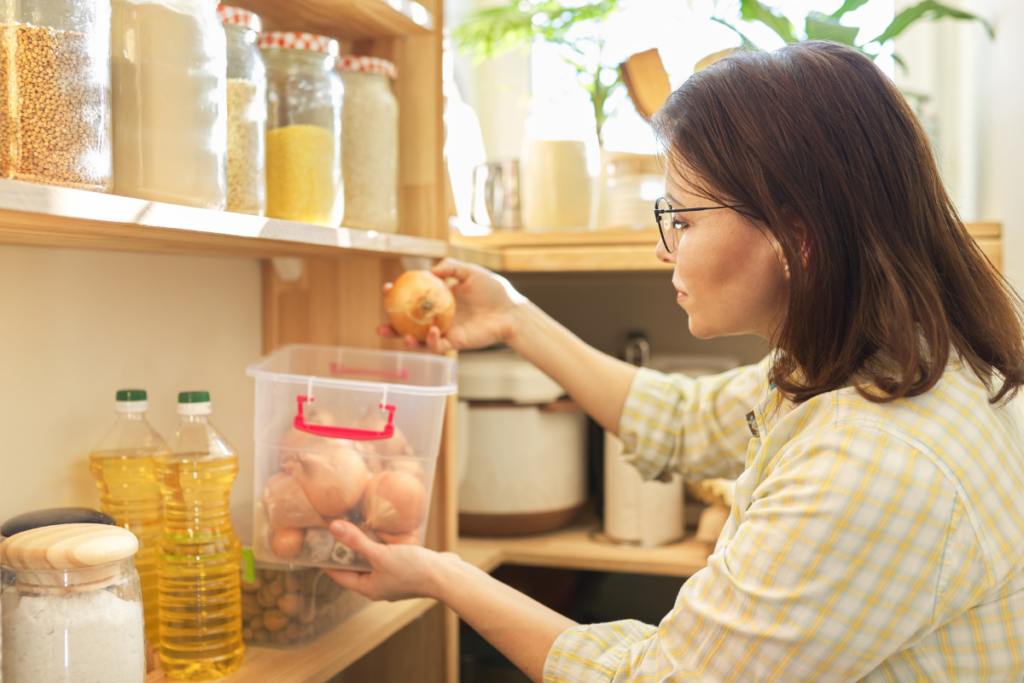 Start right:

The first step may feel like a challenge but it's going to be worth it! Take everything out of the pantry. There's no way around it, the best way to start is with a clean slate. As you take everything out, take note of expiration dates and throw away anything that's expired. Set aside anything you think you won't use. If it's unopened and still good, donate it! Once you have that done, give the pantry a good cleaning.

Take stock: When you have everything out of the pantry, look at what you have and consider what kinds of storage pieces you may need. If you have lots of canned goods, you may want special bins for them. If you have a great deal of baking supplies, you may want to place them in airtight containers with matching labels. There are lots of options for templates available online – both for free or on Etsy for a small fee. Baskets can be an easy and attractive way to store snacks.
Add storage: If you have extra space to add a spice rack to your pantry door, that can be a great way to add some additional storage that makes your spices more accessible. If you struggle to reach the back of your pantry, pull-out drawers can help a lot. Lazy susans can also help to keep everything within reach. Add hangers to store cleaning supplies like brooms or to hang reusable shopping bags.
Don't overcomplicate it: The most important thing when you're deciding what kind of storage pieces to use is picking things you're going to be willing to keep using consistently. There's no reason to place all your pasta and rice into pretty glass canisters if that's not something you want to restock each time you buy new.
Keep it clean: You did the work to organize your pantry; don't let it go to waste! Spend a little time when you cook to put things back where they belong. Make sure to place new items in the storage pieces you chose whenever you come home from shopping.
If you're cleaning this Spring in preparation for selling your house or your pantry organization project has you realizing that you NEED a bigger pantry, SAGA Realty & Construction can help! Our expert agents have the knowledge you need to sell your home and find your dream home. Call today: 252-441-9003