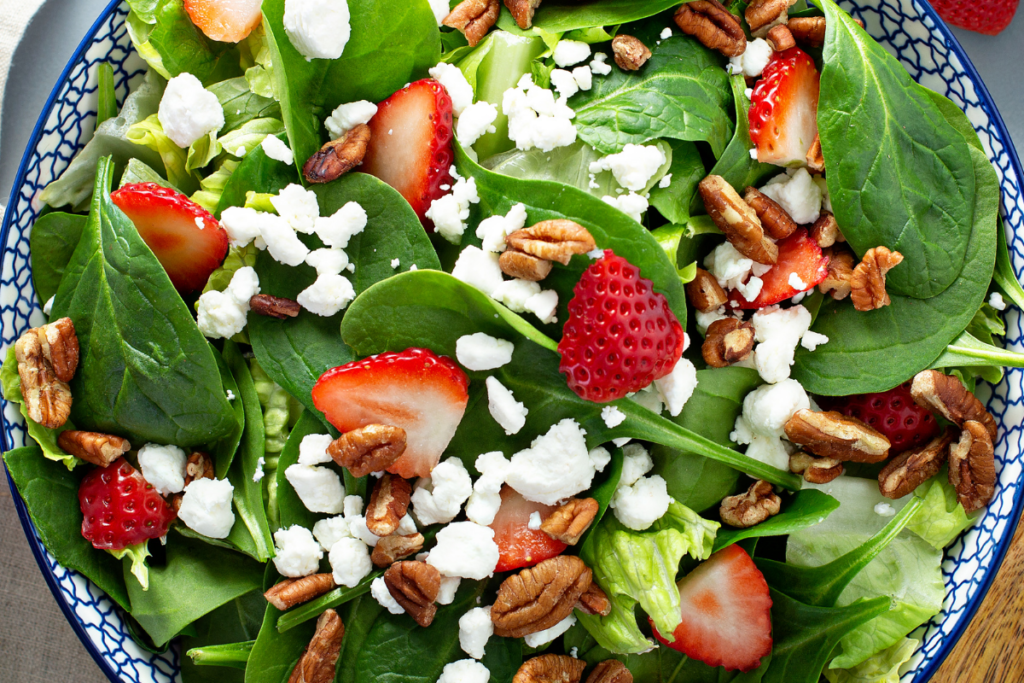 Spring means strawberries! Spend a sunny day outside picking your own bright, juicy strawberries at Point Harbor and then come home and make this fresh, delicious salad. 
Strawberry Salad
6 cups spring greens

1 pint strawberries

½ red onion 

Candied walnuts

Roquefort or goat cheese 

Salt 

Freshly ground pepper

Balsamic vinaigrette of your choosing 
To make the salad
Wash and dry the greens 

Wash the strawberries, remove the tops, and and cut them into quarters 

Slice onion into slivers 

Add greens to chilled bowl, season to taste with salt and pepper

Top with strawberries, onion, candied walnuts, cheese

Serve immediately with dressing on the side 
Tips for enjoying a restaurant quality salad:
Chill your bowl in the freezer for at least 20 min before serving your salad

Add salt (and freshly ground pepper) to your salad 

Make your own salad dressing
Balsamic Vinaigrette 
½ cup extra virgin olive oil 

¼ cup aged balsamic vinegar

1 teaspoon honey

1 teaspoon dijon mustard

1 clove finely minced garlic 

Salt 

Freshly ground pepper 
To make the dressing
Combine ingredients – you can whisk by hand but it will get combined better if you put it in a blender. 
This salad is the perfect side to be served with grilled steak or chicken right off the grill!