Whether you're a coastal resident or a frequent visitor, there's a feeling of fun and relaxation with this spring's design trends for your home. With fabulous blues and lovely sea greens, the choices are endless to give your home the easy, breezy feeling of a charming seaside cottage or three-story gem. Here are some ideas to get your creative juices flowing:
For the kitchen: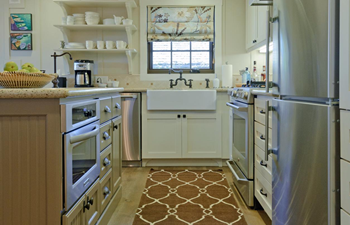 Bring a 'lazy days of summer feeling' into your home all year long with designs that bring out the fun-in-the-sun feeling you get when you're vacationing. Rustic furniture is a start, with a wooden Cape Cod inspired table for casual breakfasts or morning-paper hot spot. An ocean-blue palette is a fun choice, keeping things bright and airy in a room that boasts tons of natural light. Hardwood flooring tastefully ties the room together to give it that warm, cozy, beach cottage feel. Other great colors include bright aqua, corals and yellow hues.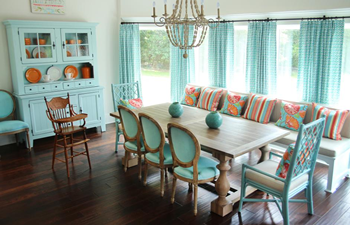 For the dining room:
Using a bright color palette with lots of textures and fabrics, you can bring that beachy look inside your dining room with a casual flair and flaunt-that-lobster-bib feel. Or maybe you're looking for a sleek, elegant look? If that's the case, then the trend this year is all about the chandelier. As the focal point, your lighting choice can be as ornate as you wish to dress up an otherwise casual space overlooking the sea. Stick to blueish hues and accessories that speak to the beach for a crowd-pleasing design that guests and family will adore.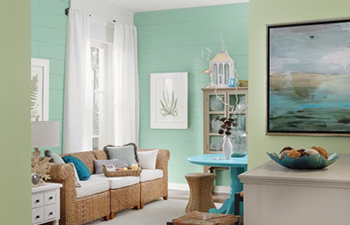 For the living room:
If you're looking for seaside inspiration to liven up your living room, then the trends for this spring are on point. Maritime blues are soft and flowing, giving the room an easy-going, smooth flow feel. Regardless of whether or not you have tons of natural light in the room, you can brighten it up with lots of white – from window treatments to wall art or a soft and fluffy area rug. Another option involves a mix of patterns in blue and sandy beige with accents that are a bit whitewashed. If your view involves water, then you'll definitely want to show it off with minimal accessories and unobstructed windows.
The possibilities are endless! Choose the tranquility of the sea, or a more nautical feel. You can't go wrong if it's a style that suits you – trend or not. And you'll want to take advantage of all the fun that seaside accessories can provide. Think sea shells, beach glass, seagrass and more!
For more beach home design ideas, please visit our houzz page
Photos courtesy of HGTV.com