Whether you're a resident of Nags Head (or surrounding areas) or just planning some beach vacation time, you and your family must visit the newest attraction in Nags Head: Dowdy Park.
Dowdy's Amusement Park Lives On
For years, this space was home of Dowdy's Amusement Park, filled with rides and games and everything in between, but in 2005 the park closed. It was an area icon for sure, and many (now adults) have fond memories of enjoying Dowdy's. In 2014, the Town of Nags Head bought the land, with plans to develop a beautiful park for both residents and visitors to enjoy. Funding came from several sources, including a Trillium Health Resources (a government agency in eastern NC), Dare County Tourism and a portion of the Town of Nags Head capital fund. Recently completed earlier this year, this project was well-planned throughout the process, including surveys and input from the Nags Head community to create something everyone could enjoy.
With a playground theme throughout, Dowdy Park features include:
Event plaza (for events like farmer's market, or craft fair)
Stage/Pavilion for small-scale events/concerts
Walking trails
Picnic Areas
Restrooms
Seating and Game Tables
Multi-use turf area
Multi-use playing field (phase II)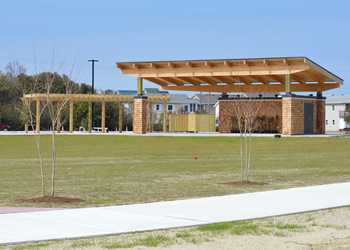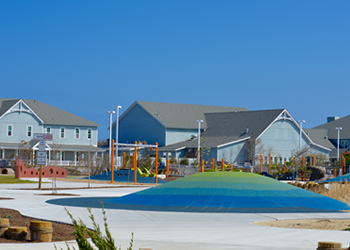 The park is a great attraction. Whether you're an adult or child, there's something for everyone at Dowdy Park. There are a lot of opportunities for creative play at Dowdy Park, with a liberty swing (with wheelchair access), a peek-a-boo wall, hopscotch, a number of different types of swings and climbing equipment for all ages. They are planning beautiful landscaping with trees, ornamental grasses and flowering plants to really tie it all together. This park offers visitors an opportunity to explore, get some exercise, play, relax, enjoy some entertainment and gather with friends and family. And this is only phase I! We're proud to have such a great space in town to enjoy. Pencil in the grand opening on May 13, 2017 from 10:00 a.m. to 3:00 p.m. with a concert later that evening. Learn more about Dowdy Park in this video.