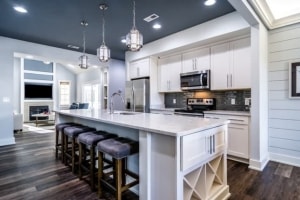 The kitchen is the heart of the home, and designing a beautiful and meaningful space will help you create the healthiest and happiest environment possible. The modern kitchen is more than just a space to cook meals in, but also a place to create memories.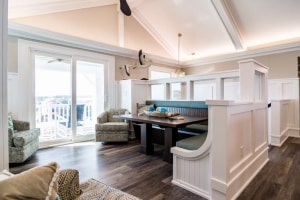 Redefining the Space
While our kitchen's main use is to cook meals and store food, we are now redefining this space as a place to also enjoy a glass of wine or a cup of coffee, get some work done, or have a quick meal. Consider adding an island or a small breakfast space as a comfortable hangout spot within your kitchen.
Choosing the Right Countertops & Cabinets
When it comes to choosing countertops and cabinets, you should consider factors such as aesthetics, budget, and your lifestyle. Choosing a marble countertop is more aesthetically pleasing, but requires more maintenance. Composite stone can be a more economical option that will require less maintenance. Choosing glass cabinet fronts will create a more spacious look in your kitchen, but be aware of the visual upkeep that should come along with that.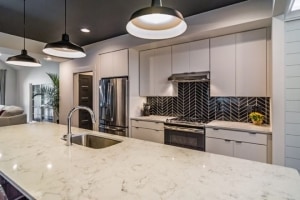 Optimal Lighting
Keep your kitchen feeling balanced by using a variety of lighting options, and layering your look. Choose the proper point to focus the lighting on to bring attention to the right areas, and avoid areas that will draw a mess such as the kitchen sink.
The Perfect Color Scheme
Here at the beach, we love soft, sea-inspired tones in the home, especially in our kitchens. If you are looking for something a little more bold, try a classic navy or a deep ocean tone. Opt for a sea blue, soft gray, or paper white to bring calm, mellow vibes into your kitchen, a place that can sometimes feel full of chaos.