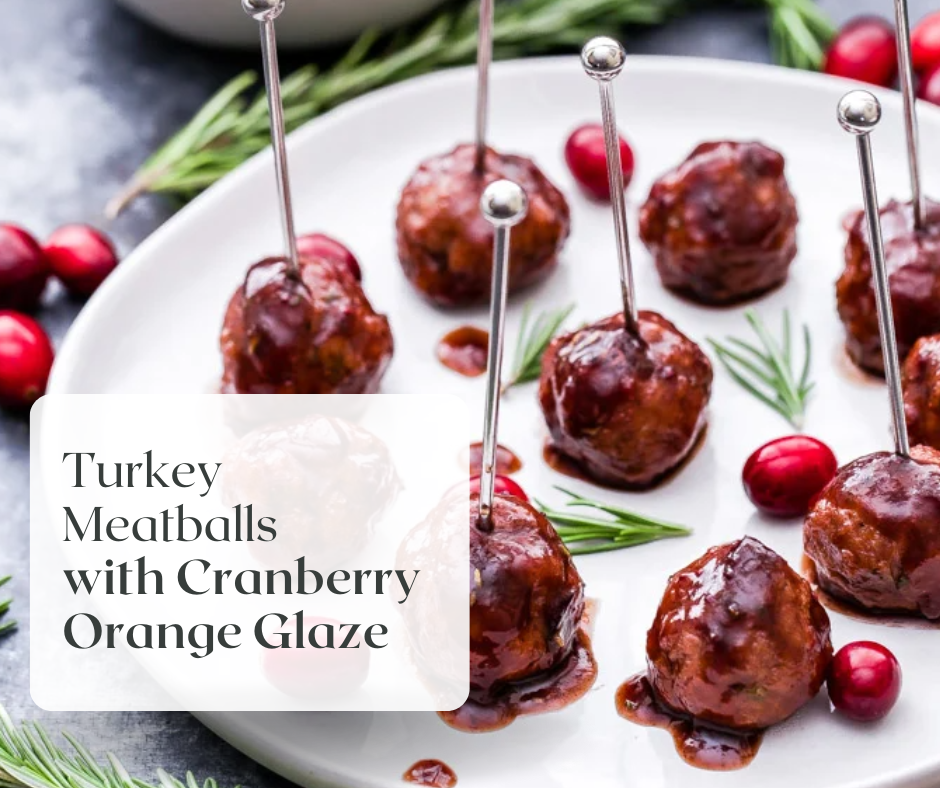 INGREDIENTS – TURKEY MEATBALLS:
· 2 pounds ground turkey 93% lean
· 1 cup bread crumbs or panko or rolled oats
· 2/3 cup onion minced
· 1/2 cup fresh parsley minced
· 2 large eggs
· 3 cloves garlic minced
· 2 teaspoons Worcestershire sauce
· 1/2 teaspoon dried basil
· 1/2 teaspoon dried oregano
· Salt and freshly ground black pepper
· 1/4 cup olive oil
INGREDIENTS – CRANBERRY ORANGE GLAZE:
· 1 cup orange juice
· 1 cup packed dark brown sugar
· 1 (16 ounce) can jellied cranberry sauce
· 1 (3 inch) cinnamon stick
DIRECTIONS:
1. Preheat Oven to 400 degrees. Lined a rimmed baking sheet with foil for easy cleanup. Coat a wired rack with nonstick spray and set on prepared baking sheet.
2. In a large bowl, combine ground turkey, bread crumbs, onion, garlic, Worcestershire sauce, basil, oregano, salt, and pepper.
3. Gently mix and shape into 1-inch round balls.
4. Arrange meatballs on rack, brush with oil, and bake until golden on all sides. About 15 – 20 minutes.
5. While the meatballs cook, combine orange juice, brown sugar, and cranberry sauce in a small sauce pan over, stirring to dissolve the sugar. Bring mixture to a boil, drop in the cinnamon stick, and reduce to simmer. Continue stirring frequently until the mixture has thickened into a nice glaze. About 10 minutes. Remove from heat and let cool.
6. Once the meatballs are done, glaze them with the sauce and ENJOY