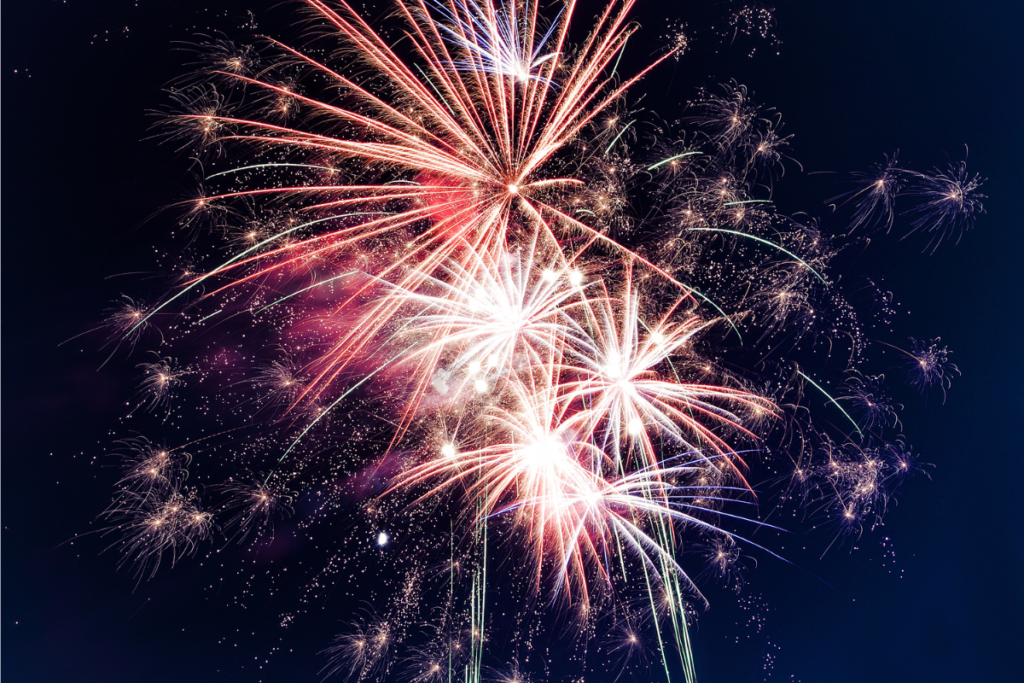 There are many fun 4th of July events planned throughout the Outer Banks this year!
Places to watch fireworks on Independence Day: 
Hatteras Island
Avon Pier – Fireworks at Avon Pier begin at 9:15 on July 4. The fireworks will launch off the end of the pier. The fireworks will be visible all along Avon beach. 
More info: https://islandfreepress.org/hatteras-island-features/4th-of-july-fireworks-show-in-avon-is-returning-for-2022/ 
Corolla 
Historic Corolla Park – Starting at 5 PM on July 4th, Currituck County Department of Travel & Tourism will host an Independence Day celebration that includes live music, fun activities, food vendors, and ends with a fireworks show around 9 PM  
More info: https://www.visitcurrituck.com/events/independence-day-celebration/ 
Kill Devil Hills 
Avalon Pier – On July 4, the Town of Kill Devil Hills will present its annual fireworks show starting at 9:15 PM. 
More info: https://www.kdhnc.com/CivicAlerts.aspx?AID=14 
Nags Head
Town of Nags Head – starting at 9:25 on July 4th, the Town of Nags Head will be launching fireworks off the ocean pier at milepost 11.5 on S. Virginia Dare Trail. Viewers will be able to see the display from all local town beaches. 
More info: https://www.outerbanks.com/town-of-nags-head-fireworks-spectacular.html 
Manteo 
Downtown Manteo Waterfront – starting at 3 PM on the 4th, the Town of Manteo is kicking off the fun with an apple pie contest followed by an evening of fun activities, with an 80's music cover band at 5:15, and live patriotic music at 7:45, finishing with fireworks around 9:15 
More info: https://www.manteonc.gov/departments/community-and-economic-development/special-events/town-sponsored-events/fourth-of-july-celebration
Ocracoke 
Ocracoke – Note: If you want to see more than one fireworks show this weekend, make sure to go see the show in Ocracoke on Saturday since all the other shows are on Monday, July 4th. The fireworks start at 9:15 on July 2. 
More info: https://www.visitocracokenc.com/calendar-event/independence-day/ 
More than just fireworks! If you're looking for some other ways to enjoy the festivities of the 4th in the Outer Banks, here are some options: 
Watch a parade: 
Town of Duck 4th of July parade – The town of Duck is hosting its annual parade starting at 9 AM on July 4th. This leaves plenty of time to enjoy the parade and most other events on our list. 
More info: https://www.townofduck.com/recreation-special-events/4th-of-july/? 
Celebrate all weekend in Ocracoke:
July 2 through 4, Ocracoke is hosting fun events to celebrate the holiday. These include an island-wide scavenger hunt, square dancing, an opportunity to learn about the wild ponies, a sand sculpture contest, a 4th of July parade, and a community beach fire where you can bring your own marshmallows & s'mores supplies to enjoy . 
More info: https://www.visitocracokenc.com/calendar-event/independence-day/ 
Go for a run:
1 Mile Beer Run – this fun run on Sunday, July 3 is your chance to grab a brew, get a short run in, and show off your best patriotic gear. 
More info: https://www.theobxrunningcompany.com/outer-banks-beer-mile.html 
Freedom 5k – for those who want to take their 4th of July weekend run a little more seriously, the Freedom 5k is happening on Monday, July 4 at 7:30 AM. More info:  https://www.theobxrunningcompany.com/5k-run-july-4th-outer-banks.html