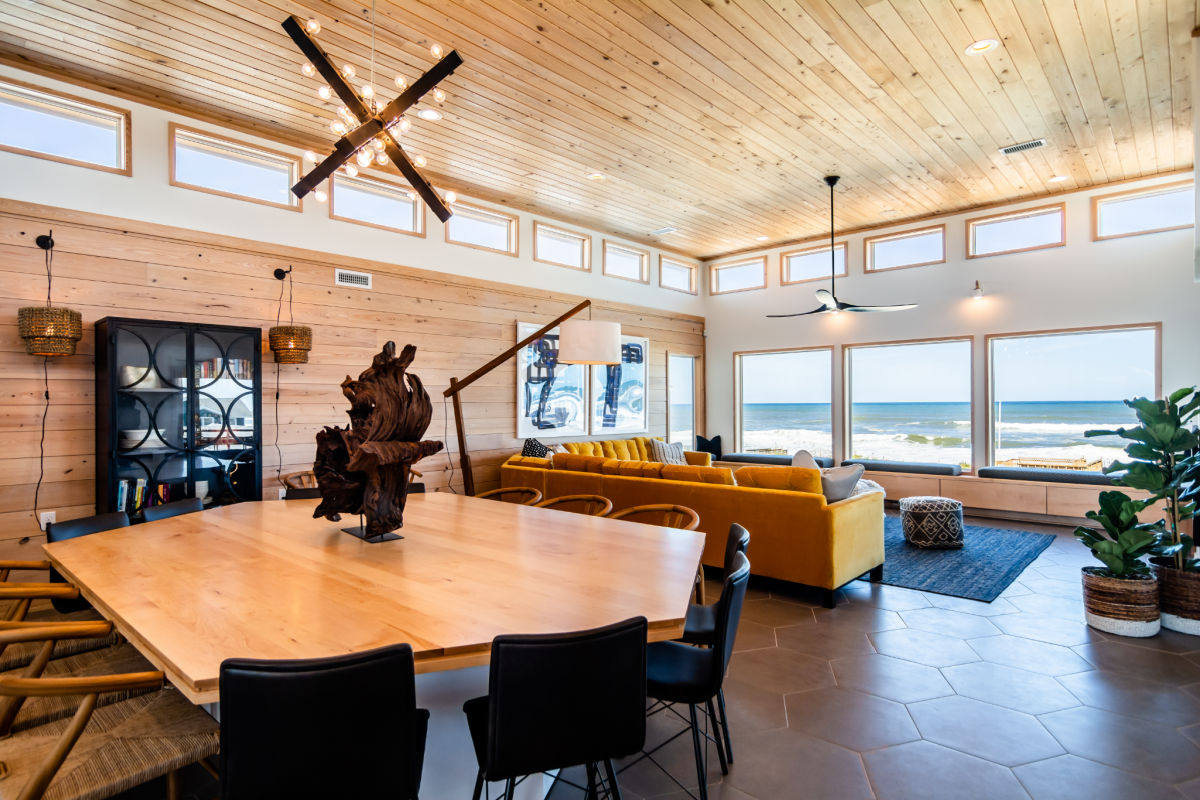 It's easy to see why we love open floor plans on the Outer Banks of North Carolina
Open floor plans are only natural on the Outer Banks of North Carolina. They're super popular and the number one must-have for new home buyers.
Open floor plans have always been our thing at SAGA Realty and Construction, especially in the gorgeous beach houses we build. Our clients want to not only relax, but spend quality time together when they're at the beach.
Beach houses don't need large bedrooms, because, after all, you're at the beach and want to be out and about having fun. That means your common areas, entertaining areas and outdoor living areas pull rank. Who wants to sit inside a bedroom reading a book when you can enjoy ocean breezes from the deck or covered porch?
What is an Open Floor Plan?
An open floor plan refers to two or more spaces such as kitchen, living and dining room joined together to form a much larger space. We used to call the big living room a "great room" but now we vault the ceilings, add an abundance of oversized windows and sliders to make sure there is room for everyone to be in the same place enjoying their vacation home together. Old-school style homes had walls cutting of the kitchen from the living room and the dining room. But ideally, we want a communal place that includes everyone. Aesthetically open floor plans create a smooth flow from room to room, and being at the beach, the view outside your window is very important.
These are some of the benefits and reasons why Outer Banks homeowners love open floor plans. Let's look more closely at them below. 
1. | MAKES ENTERTAINING ENJOYABLE 
Open floor plans create a seamless flow from living room, dining room and kitchen. On the Outer Banks we are all about entertaining. Hosting your whole group or family can be overwhelming with walls in between these spaces. An open plan allows you to not miss out on the fun in whichever role you choose with your family. This is one of the most important reasons OBX homeowners love open floor plans.
Having an open floor plan in the "entertainment" space such as a game room also makes sense. This allows the outside in through large windows, and inside back out as it flows onto the pool deck. There is no maze of solid walls to hinder the amazing spaces that you share together.
2. | IT'S ALL ABOUT THE VIEW 
Why cut off the incredible views by blocking the scenery in rooms with walls, doors and other dividers like small windows and long hallways. Right outside your window is a mind-blowing view, whether it's seen from an ocean-front beach house, or salt marsh view. We're here for the beach and island lifestyle, and we welcome it shining in from every window. 
Window design plays an integral part of every SAGA built home, we make sure that placement, size and style accentuate the view. When it comes to windows, we've decided that less is not more.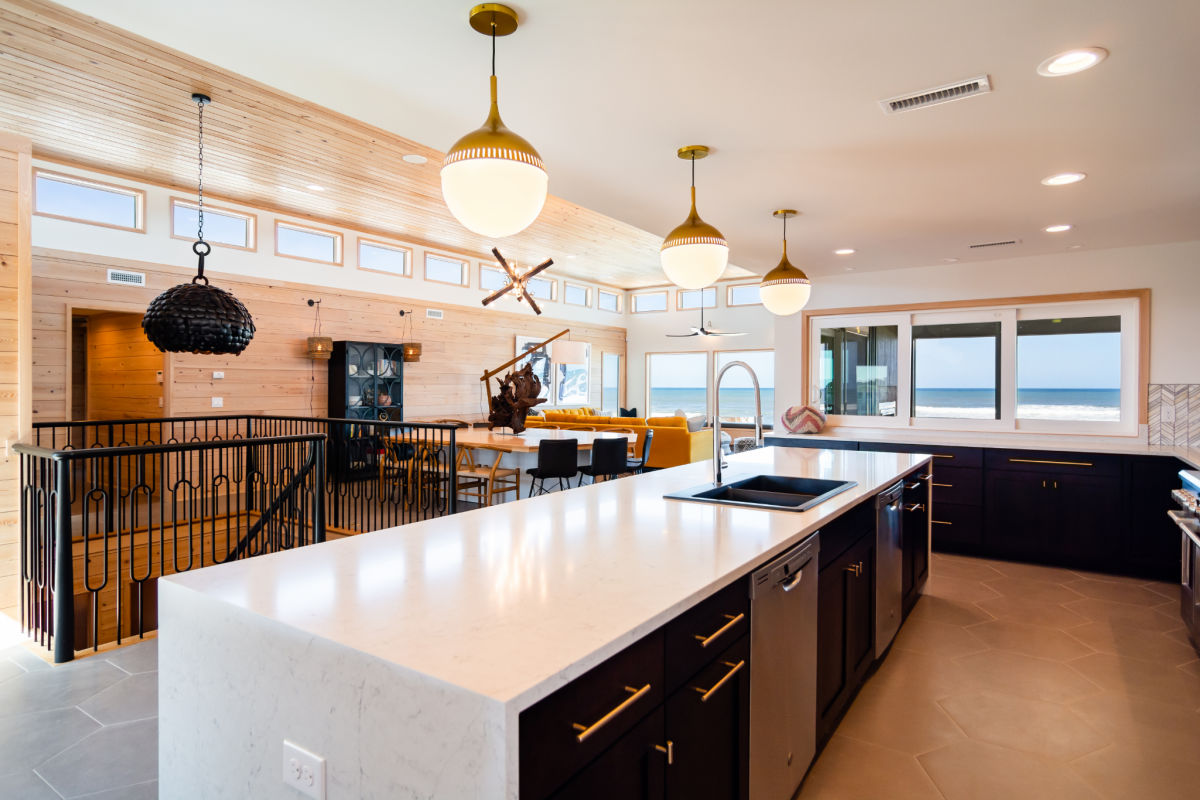 Go with the flow is a saying we like, and a better flow is found in an open floor plan at the beach
3. | BETTER FLOW 
Great design is all about the flow, and fewer barriers are crucial to bringing an overall calm to a home. From day to day living or a large holiday gatherings, the openness and ability to reroute the traffic versus congestion at doorways can be a breath of fresh air in the peacefulness of your home. It also promotes cohesiveness, as you can all be in one area enjoying board games, cooking a meal, and watching a ball game.  
4. | MAKES THE HOME FEEL BIGGER 
Layout is everything when you build a beach house and can really help make your home feel more spacious. You don't need a ton of square footage, but you do want every inch to count. While foyers and entryways can be a fantastic welcoming point, that space might be better utilized as a bedroom. Since we build most of our homes on pilings at the beach, you will most likely not enter the home on the lower level, that may be a game or movie room.
Whilst the middle levels are bedrooms, and the top may be a reverse floor plan to take advantage of the views and salty sea breezes, as the home's common living areas. The house may be segmented by level and use, but open living is maximized on each one.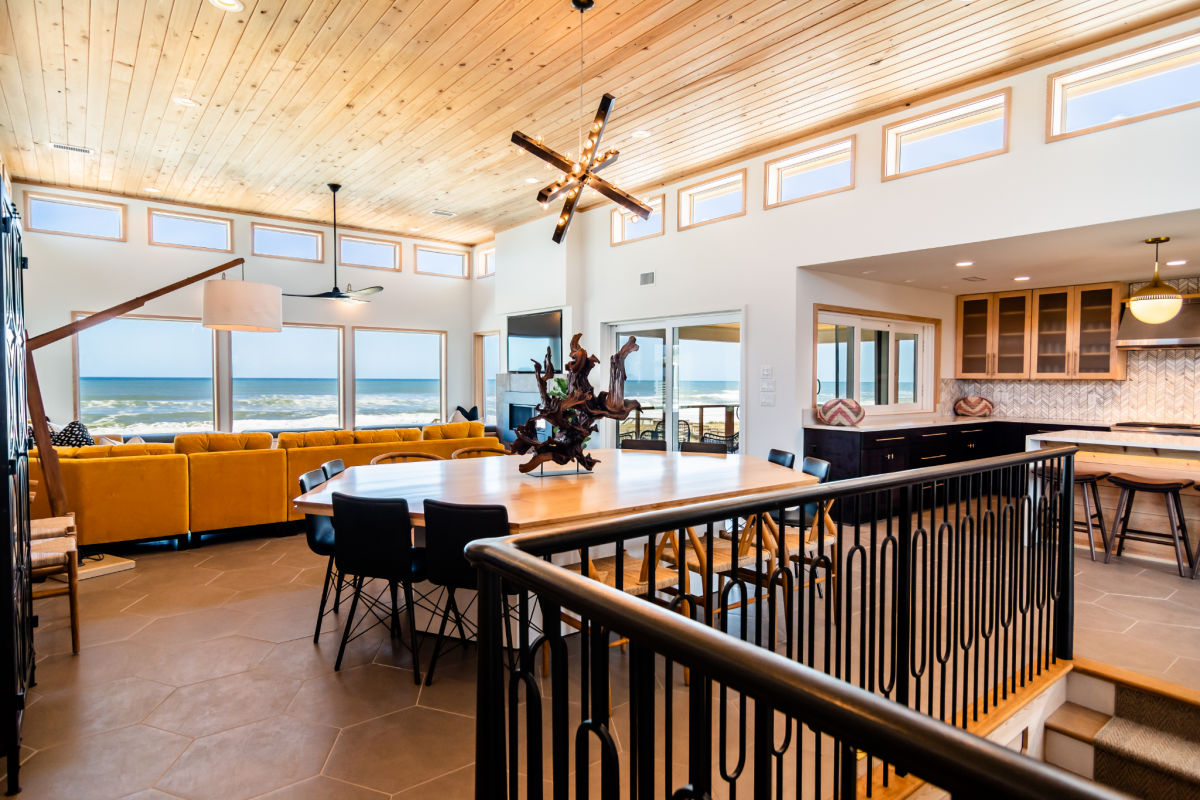 Light makes all the difference in an open floor plan on the Outer Banks by SAGA Realty & Construction
5. | SHARED LIGHT 
Let's face it, being at the beach is all about the sun… well, and the sand, and the surf. With more openness and less barriers, the healthy sunshine continues from room to room without hinderance in an open floor plan. This bright and airy feel is part of the ambiance that is the end goal in all the homes SAGA builds. Window placement, and light fixtures enhance the sunny vibe, and are placed subtly as natural light filters throughout the home.   
6. | CONNECTION TO OUTDOOR SPACE 
One of the favorite features of Outer Banks SAGA homes is the abundance of outdoor living space. We love tying it all together, from the many private decks and bedroom balconies, to the patios, and outdoor lounge area near the pool and cabana. But how does this equate to an open floor plan? Access from the large open space inside naturally flows onto covered porches, creating design elements for relaxing outside, yet sheltered from the direct sun.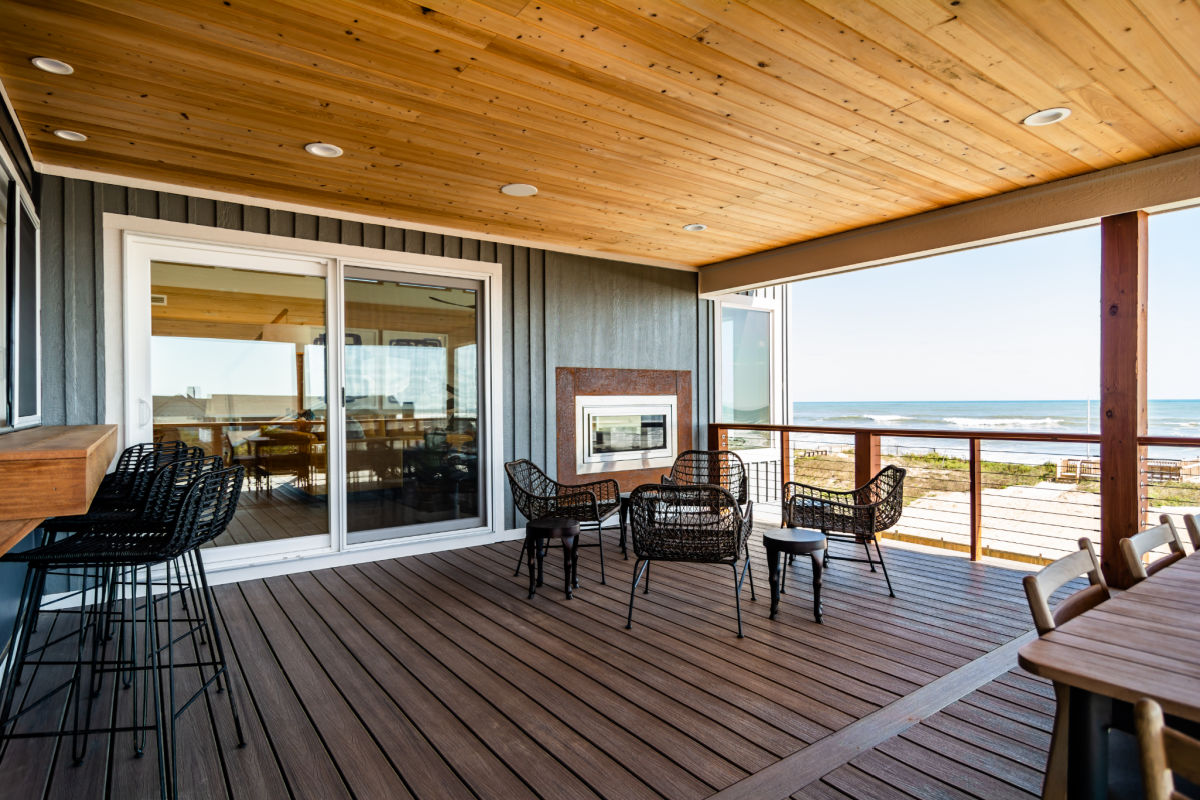 Find a better connection with each other and the great outdoors in a home with an open floor plan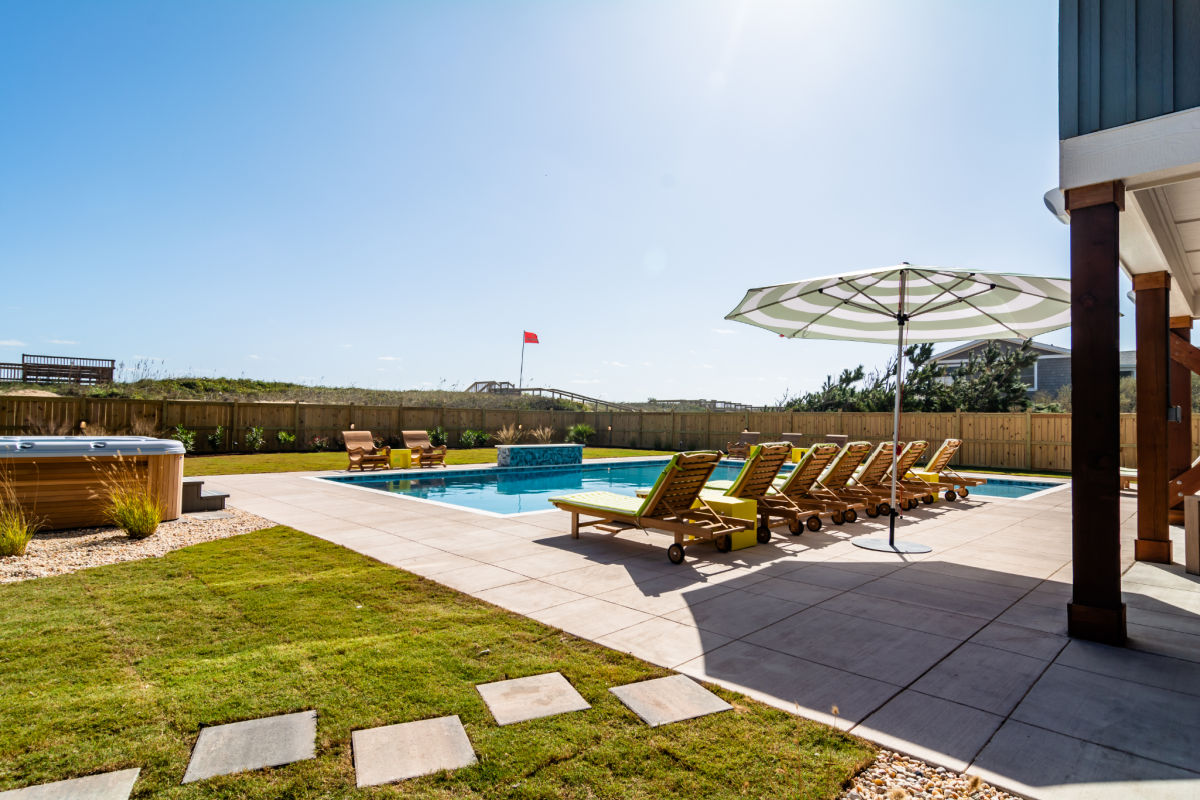 Good design is all about inside and outside melding together in an open floor plan
7. | IMPROVED ENERGY EFFICIENCY 
Our goal at SAGA is to make the homes we build as efficient as possible. Extra steps are taken at the construction level to save energy later. Natural light will cut down on your energy bill as you won't need to keep switching lights on and off.  An open floor plan allows the opportunity to see from one side of the home to the other, so from sunrise to sunset, your home will have plenty of light.  Also, some believe that too many walls may constrict air flow making it harder to heat and cool year-round. 
TAKE A TOUR – MODELS OPEN 7 DAYS
If you're interested in seeing some of the ways SAGA Realty and Construction designs their award-winning homes with open floor plans, We have beautiful model homes for you. They are open daily from 11-4pm.
Water Oak Community in Kill Devil Hills, N.C. || New homes from the low $400s. Start looking for your affordable dream home today!
This nature focused, quaint small-town community atmosphere, on the quieter side of Kill Devil Hills, in the shadow of the Wright Brother's Memorial makes this a highly desirable location. Soundside water access with private pier and kayak launch, plus you are just one mile to the ocean and beautiful Outer Banks beaches. Multiple models to tour on your own. One and two level plans, with garages. Get directions here.
Corolla Shores & Soundfront at Corolla Bay || New beach homes from the $500's. Your vacation or investment property is waiting for you!
Salty breezes, sunshine, community pier and private beach walkway to access the North Outer Banks most beautiful beaches. With an abundance of upscale luxury features, these new coastal homes showcase multiple decks, spacious floor-plans and views from every window. Six+ beautiful new floor-plans to choose from! This home won a "People's Choice Award" in the Outer Banks 2020 Parade of Homes. Take a virtual tour here. Get directions here.
Give us a call to learn more at 252.301.3090, or click below.