Have you always wanted to be the envy of the neighborhood with a stylish and inviting backyard? Or, perhaps you want to create the ideal backyard oasis for your investment home to keep guests returning year after year. Our designers rounded up some great custom SAGA projects for inspiration, creating the most gorgeous and envy-worthy outdoor spaces.
Lighting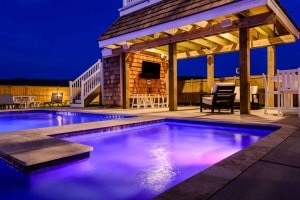 Any type of lighting can add great fun to an outdoor design. In addition to bistro lights, pool lighting can set a cool mood! Especially during warm weather, these lighting options add great ambiance as well as needed light for fun summer backyard nights.
Landscape Design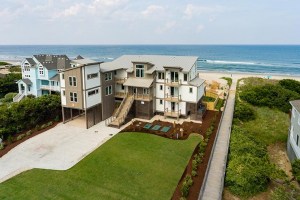 Not just for the backyard, landscaping enhances your curb appeal and creates a grand entrance when guests arrive. From edged mulch beads to interesting and unique vegetation-consider consulting with a professional landscape architect for projects like these. For a gorgeous backdrop, think beyond just beautiful plants and flowers. Consider adding a cool lit walkway with stones or pavers.
Outdoor Fireplaces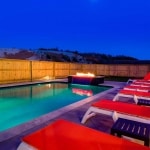 Whether your style reflects funky and fun like a chimenea or a custom fireplace out by the pool, outdoor fireplaces can transform an outdoor gathering into night – just about anytime of year!
Outdoor Furniture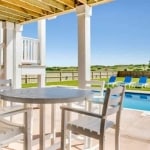 Hanging out around the pool is always a blast in the warmer months. Invest in some quality, weather resistant outdoor furniture for hanging out by the pool. Check out our blog on quality and stylish outdoor furniture here.
Cabanas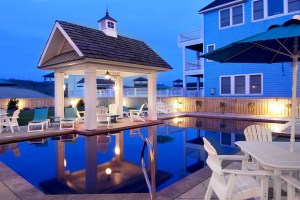 A custom built pool cabana with surround sound, the perfect seating and even an outdoor bar is ideal when designing a vacation rental. Your guests will love enjoying the ultimate OBX vacation in your custom built outdoor space.