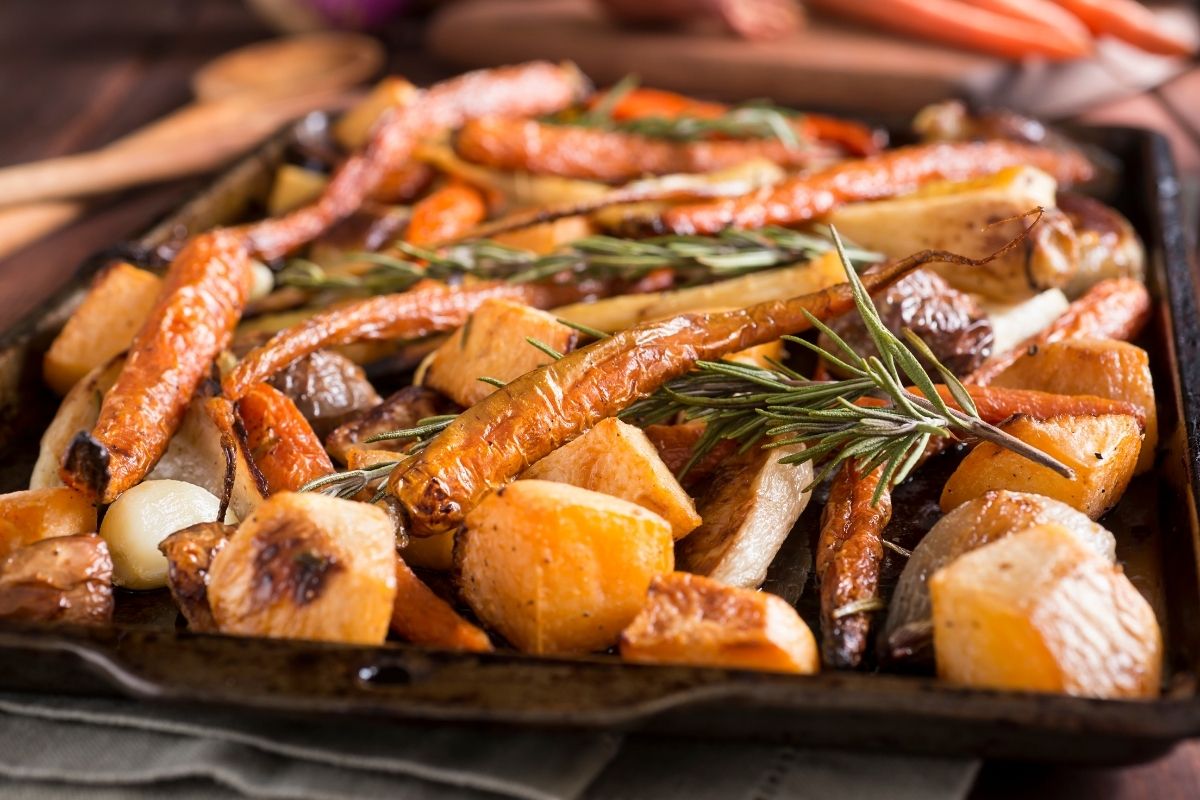 Enjoy the rich flavors and healthy benefits of roasted root vegetables
A commonly seen slogan on fitness billboards and diet websites is "NEW YEAR NEW YOU," and there might be something to that. Starting out 2021 on the right foot is admirable, but maybe taking baby steps is best.
Part of the appeal to living on the Outer Banks, and enjoying a beach lifestyle is health and wellness. So eating healthy can play a nice part in that, and is a wise choice for heart health and overall vitality. Root vegetables are plentiful in the winter months, and are known for being packed with antioxidants, fiber, plus vitamins and minerals. Roasting root vegetables not only brings out the woody richness, but caramelizes the natural sugars, which makes them simply moorish! If you keep the salt and oils to a minimum, then you are eating pure earthy goodness.
1. | PICK YOUR VEG
The beauty of this recipe is you need no culinary training to roast vegetables, and you can choose any assortment of root veggies and it will be delightful. Use whatever you have on hand, why clean out your vegetable drawer in your fridge? If you don't like parsnips, then add more carrots, or a butternut squash, this dish is that easy to make. You can't go wrong with whatever veggies you choose.
Here are some favorites to incorporate:
Beets
Potatoes
Turnips
Rutabagas
Yuca
Sweet Potatoes
Daikons (white radish)
Parsnips
Carrots
Jicama
Celery Root
Horseradish
Jerusalem Artichokes
Ginger
Because root vegetables grow underground, they absorb a great amount of nutrients from the soil, so they are a win win.
If you don't have enough root vegetables to complete the dish, then you can always substitute Brussel sprouts, cauliflower, eggplant or asparagus. Green beans and broccoli don't roast as well in this amount of time.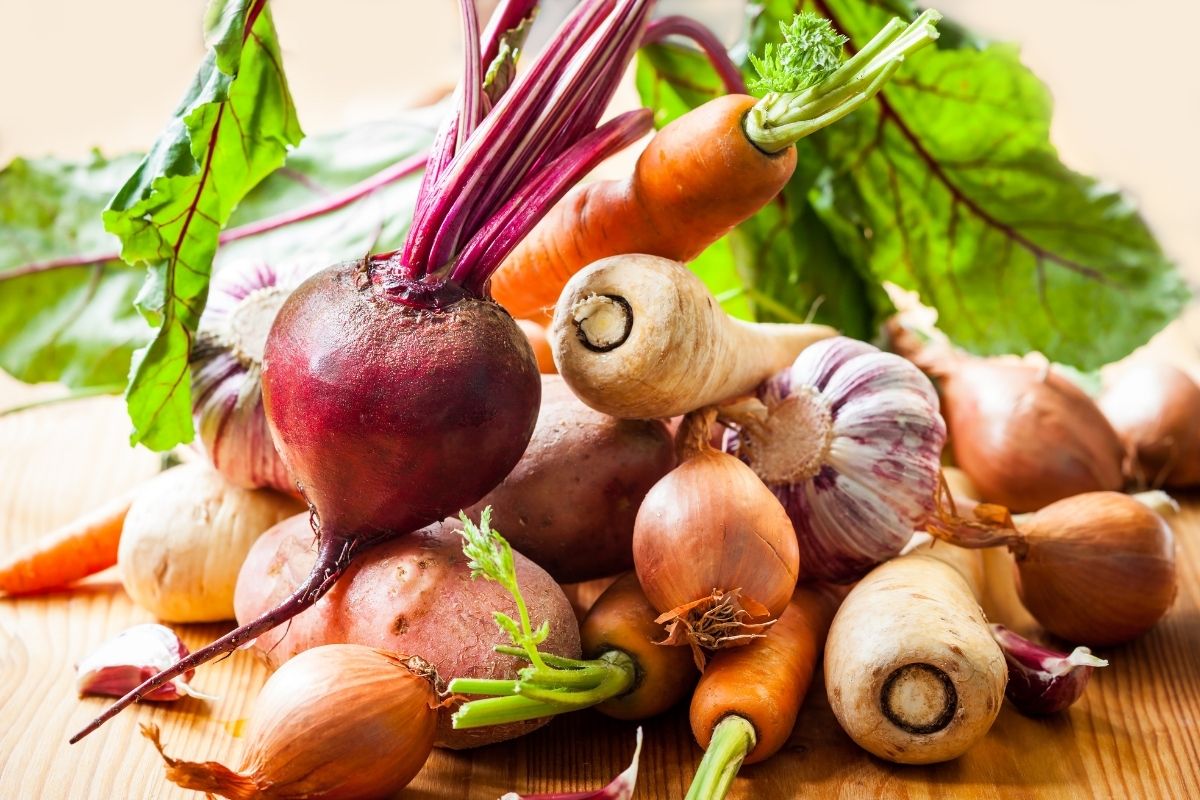 Pick your root vegetables, and slice or dice them however you like (trying to keep them mostly uniform)
2. | BULBS
Bulbs like onions and garlic are also considered root vegetables. If you like garlic, then you will love adding it to this roasted root vegetable dish. You won't even have to dice it. Here is a shortcut you may like for fresh garlic: place the entire bulb in microwave for 30-60 seconds. Let cool for a 30 seconds then easily peel skin right off cloves without the sticky mess. You can then chop the garlic or place whole cloves into dish, it will be simply delicious.
Onions are also fabulous roasted in this dish. Peel and slice one or two onions and mix in with other vegetables. Sweet Vidalia onions, or regular yellow or white are perfect.
Consider sliced leeks or fennel with its licorice-like flavor to really enhance the dish
3. | SPICE IT UP
If you're a purist, then season your dish with freshly ground salt and pepper. If you want to expand the flavor profile, then add in some rosemary, thyme, cumin, oregano, or seasoning blends. Going salt free? Then shake on a salt substitute like Mrs. Dash® for a little zing.
Other options: Add spices of your choice for their healing properties and make it as savory as you like. This roasted veg recipe is super healthy and also incredibly flavorful without spices, but you may wish to add in some Tumeric for it's suggested anti-inflammatory properties, sage for brain function, or cayenne may help reduce high blood pressure). Ginger is on our list as a root vegetable and has many touted healthy properties like improving digestion and supporting cardio-vascular health.
4. | ROASTING TIPS
Don't overload the pan, if you need to, split the ingredients between two baking dishes. This will allow the vegetables to cook more evenly, and give them that space to caramelize on the edges as the natural sugars escape.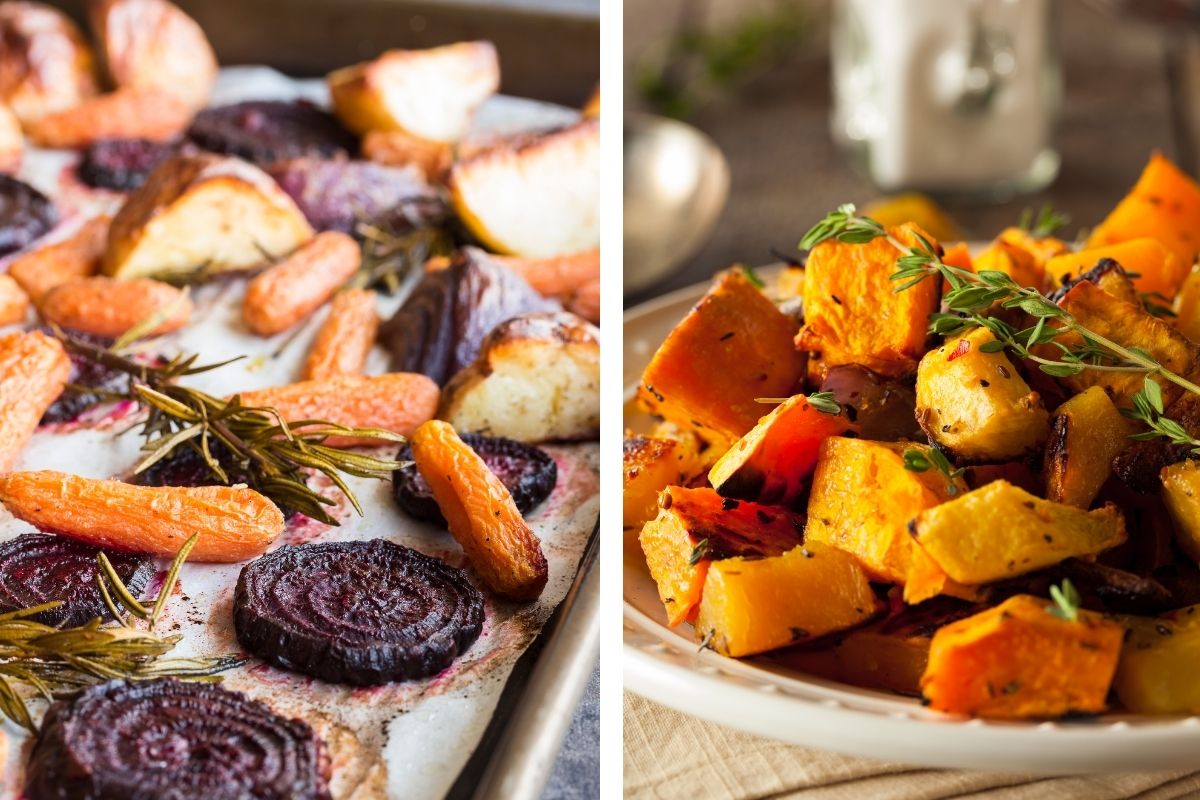 You'll have fantastic flavors with any combination of root vegetables you choose to incorporate into this dish
5. | INSTRUCTIONS
Preheat oven to 425 degrees F.
Peel, chop and dice all vegetables and put in a large bowl, then drizzle 2 TBSP Avocado Oil or Extra Virgin Olive Oil over mix. Sprinkle on your favorite spices and seasonings, then toss together. Pour mixture onto a large baking dish like a Pyrex® 9×13 or similar, or two (keeping the vegetables spread out in an even layer or they will steam vs. roast). Serving size depends on how many vegetables to add.
Bake for about 50 minutes – stirring them once during baking after about 30 minutes.
Remove from oven when all vegetables are soft when pierced with a fork.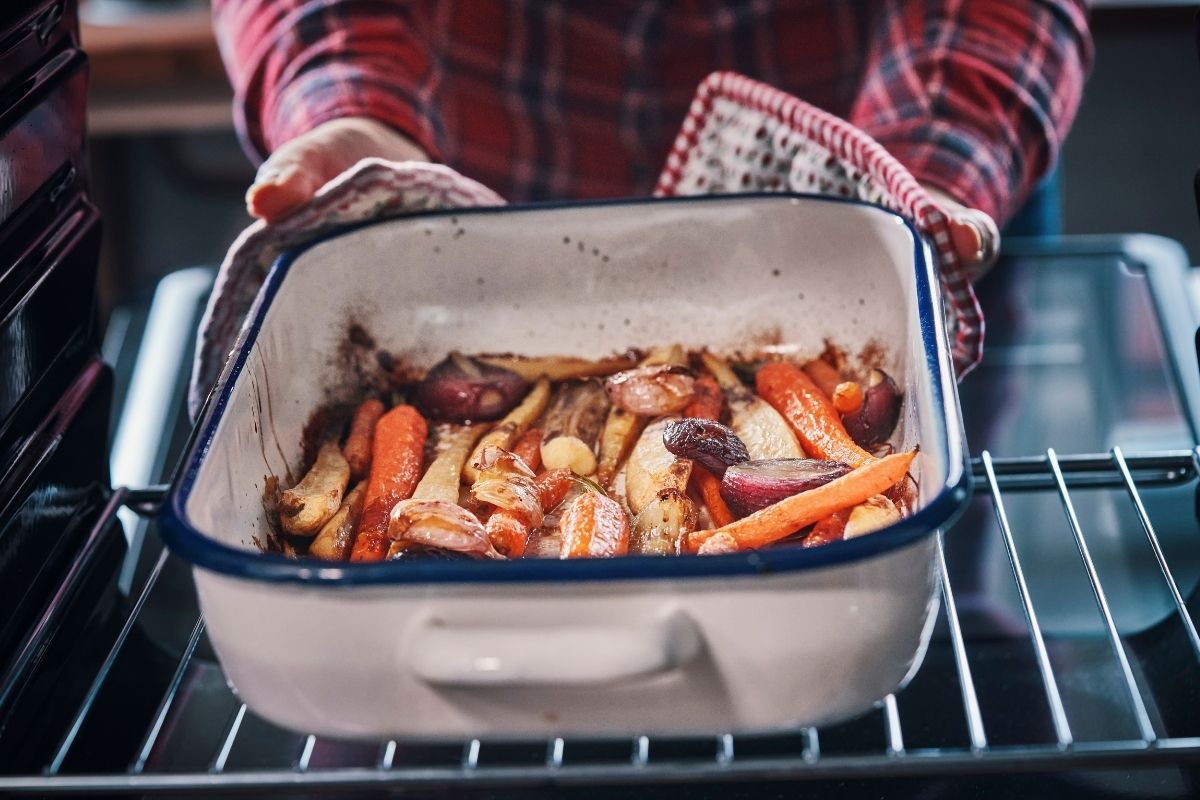 Bake at 425 degrees F for about 50 minutes
6. | EAT THEM HOT
Straight from the oven is the preferred choice, although they do make great leftovers. They could get soggy if allowed to cool down, so it's worth it to ensure everything is ready just in time for lunch or dinner. If one of you likes a bit more heat, then just place a bottle of Siracha on the table. Plate and serve immediately and enjoy!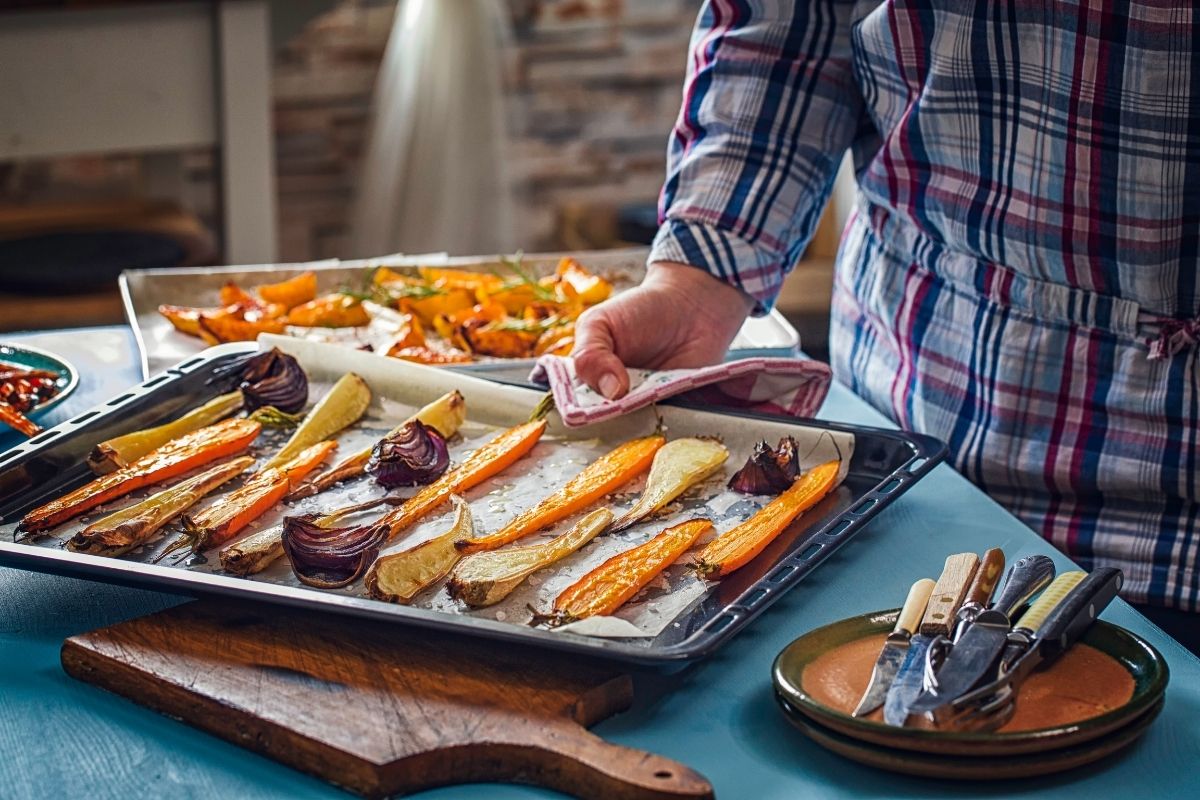 Hot from the oven and full of earthy goodness
CONTACT US
If you're ready to make a healthy change and move to the beach, give us a call at 252.301.3090. You can also search available Outer Banks homes and land on the link below, or if you would like us to build a home on your land, we can do that too!