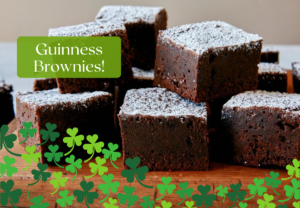 St. Patrick's Guinness Brownies
Ingredients: 
Nonstick cooking spray, for greasing the pan
1 cup all-purpose flour
3/4 cup unsweetened cocoa powder
1 tablespoon instant espresso powder
1 teaspoon kosher salt
One 11.2-ounce bottle stout beer, such as Guinness® Extra Stout
1 1/2 sticks (12 tablespoons) unsalted butter, cut into pieces
4 ounces bittersweet chocolate, chopped
1 1/2 cups granulated sugar
5 large eggs
1 tablespoon pure vanilla extract
2 teaspoons flaky sea salt, for garnish
1 tablespoon confectioners' sugar, for garnish
Directions:
Preheat the oven to 350 degrees F. Spray a 9-by-9-inch baking pan with cooking spray and line the bottom with parchment, leaving a 2-inch overhang on 2 of the sides. Spray the parchment with cooking spray.

Whisk the flour, cocoa powder, espresso powder and kosher salt in a medium bowl until combined.

Slowly pour the Guinness into a medium saucepan, trying to make as little foam as possible. (Hold the pot at an angle and press the lip of the bottle to the side of the pot and slowly pour. This should help eliminate foam.) Bring the beer to a boil over high heat, then reduce the heat to medium-low and simmer until thickened and reduced to 1/3 cup, 12 to 13 minutes (you may need to pour the beer into a liquid measuring cup a few times to make sure it is reduced enough). Add the butter and whisk constantly until melted, about 1 minute. Add the bittersweet chocolate and whisk constantly until melted and smooth, about 2 minutes.

Remove the pan from the heat and whisk in the granulated sugar until combined. Whisk in the eggs, 1 at a time, beating well after each addition. Stir in the vanilla extract until just combined. Add the flour mixture and stir slowly until combined, taking care that none of the flour spills out of the pot. Pour the mixture into the prepared pan.

Bake until set on top, the brownies have slightly pulled away from the sides and a toothpick inserted into the center comes out with just a few moist crumbs, 30 to 35 minutes. Sprinkle the flaky sea salt on top.

Let cool in the pan for 30 minutes, then use the parchment overhang to remove the brownies from the pan to a cutting board and let cool completely, about 30 minutes.

Use a fine-mesh sieve to sprinkle the confectioners' sugar on top of the brownies and slice into 16 squares.
PRO TIP: Add grean frosting or sprinkles for some extra St. Patty's Festivity!