One of the most beautiful times to be on the Outer Banks is in October. Many of the Halloween events that are offered on the Outer Banks are family-friendly but the beach also offers some frightening attractions for the brave and wary. With the phenomenal weather, warm beaches and numerous Halloween events, you will find yourself enjoying Fall on the Banks at its best.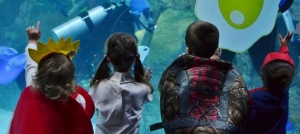 Trunk or Treat Under The Sea (October 24-25)
Family-friendly, frightful fun returns to the NC Aquarium on Roanoke Island during Trick or Treat Under the Sea! Dance with the Monster Zombie Bash crew! Visit the laboratory of a mad scientist! See the mysteries of Halloweentown and visit the ghosts of pirates in the Graveyard of the Atlantic! Plus, children can trick or treat at booths of local businesses and organizations handing out surprises during the event. This is a locals favorite and an event the entire family will enjoy. Children under 2 are free.
Tickets are $13 plus tax and are available for purchase here: https://reservations.ncaquariums.com/roanokeisland/Info.aspx?EventID=10.
Island Farm Pumpkin Patch (October 6, 13, 20, 27)
Every Saturday in the month of October, Island Farm offers all to come and find their perfect pumpkin. Pumpkin Patch Saturdays entail of an ox-drawn wagon ride to the farm's pumpkin patch where each individual gets to pick their pumpkin of choice to take home. After the wagon ride to the pumpkin patch, Island Farm also offers other farm fall activities such as stuffing a scarecrow, scarecrow photo booth for taking photos, making a corn husk doll, children's 19th-century toys and games, and farm animals including horses, chickens, sheep and more! On October 27th, if you wear your Halloween costume to Island Farms you will receive a surprise. Ticket purchases are 8$ and children under the age of 5 are free.
More information can be found here: http://www.theislandfarm.com/special-events-programming/
Haunts Against Hunger Ghost Tours (October 19, 20, 21, 23, 24, 25)
It is the 1st Annual Haunts Against Hunger Ghost Tours. The Outer Banks Tastes & Tales, along with Ghost Tours of the Outer Banks, have gathered the ghosts for a good cause. All of the ticket proceeds from walking ghost tours will be donated to the Roanoke Island Food Pantry in Manteo, NC. The Ghost Tours includes walking through one of America's oldest and most haunted and historic towns, downtown Manteo and visiting haunted locations including the graveyard. Haunts Against Hunger Ghost Tours even mixes local historic fact and research with modern technology, allowing guests to take an active part in investigating paranormal activity. The tour welcomes children and adults. Tickets are 15$ per person plus a donation of one non-perishable food item. Children 5 and under are free.
More information can be found here: http://outerbankstastesandtales.com/1st-annual-haunts-hunger
The Outer Banks Halloween Arts & Crafts Expo (October 24)
Part of HalloWeek 2018, the Arts and Crafts Expo will feature handmade Halloween-themed local arts, crafts, and creepy curiosities for sale from a variety of artisan vendors. Admission is free.
More information can be found here: http://obxentertainment.com/halloween/
Blackbeard's Pirate Jamboree (October 25, 26, 27, 28)
It is the 300th Anniversary  of Blackbeard's historic last battle directly off of the shores of Ocracoke Island. There will be history and fun filled on your travels as you chart your course through  Ocracoke to attend the Annual Blackbeard's Pirate Jamboree. Attendees will step back in time with the sights and sounds of the 17th and 18th century pirate life. Ocracoke Island comes alive with pirate reenactment crews as they invade by land and sea. There will be musical entertainment, magic shows, history, period encampments, vendors and a live battle with cannons on Silver Lake.
Visit website to see scheduled details events: https://www.visitocracokenc.com/event/2018-blackbeards-pirate-jamboree/
Trick Or Treat Night (October 27)
Trick or treating will be held from 4-7:30 pm. In addition, First Flight Elementary will have Trick or Treat Night including a cake walk, silent auction, crafts, games, face painting, a photo booth, and raffle drawing at 6:30 pm. Food will be available for dinner. Trick or Treat Night is all ages friendly and open to the public. Admission is 2$ per person plus a donation of one non-perishable food item for the food drive. (Tickets are available for purchase for the cake walk, photo booth and crafts)
More information here: https://www.facebook.com/events/540784446374511/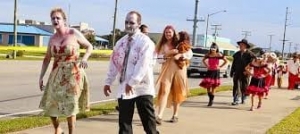 The 5th Annual Outer Banks Halloween Parade (October 28)
The Outer Banks Halloween Parade will be located at the Aviation Park in Kill Devil Hills. Pre-parade trick or treat party begins at 2pm. The Halloween Parade begins at 3pm followed by the awards ceremony.  The official After Party following the 2018 Halloween Parade will take place at Secret Island Restaurant starting at 5pm.
More information here: http://obxentertainment.com/halloweenparade/
WANCHESE WOODS (October 5, 6, 12, 13, 19, 20, 26, 27)
Are you ready for the #1 haunted attraction on the east coast? Every Friday and Saturday in the month of October, Wanchese Woods offers you to test your level of fear with their unforgettable style of scare through their haunted trail Slaughter Swamp. Wanchese Woods also added a second attraction,  Mr. Jingles Playhouse, which is a blacked out maze. There will also be an onsite food truck with a delicious menu from Lachine Cuisine. Ticket Sales are from 7pm to 11pm and are cash only. Each attraction is 20$ or you can buy a combo ticket for the price of 35$.
More information can be found here: https://www.wanchesewoods.com/