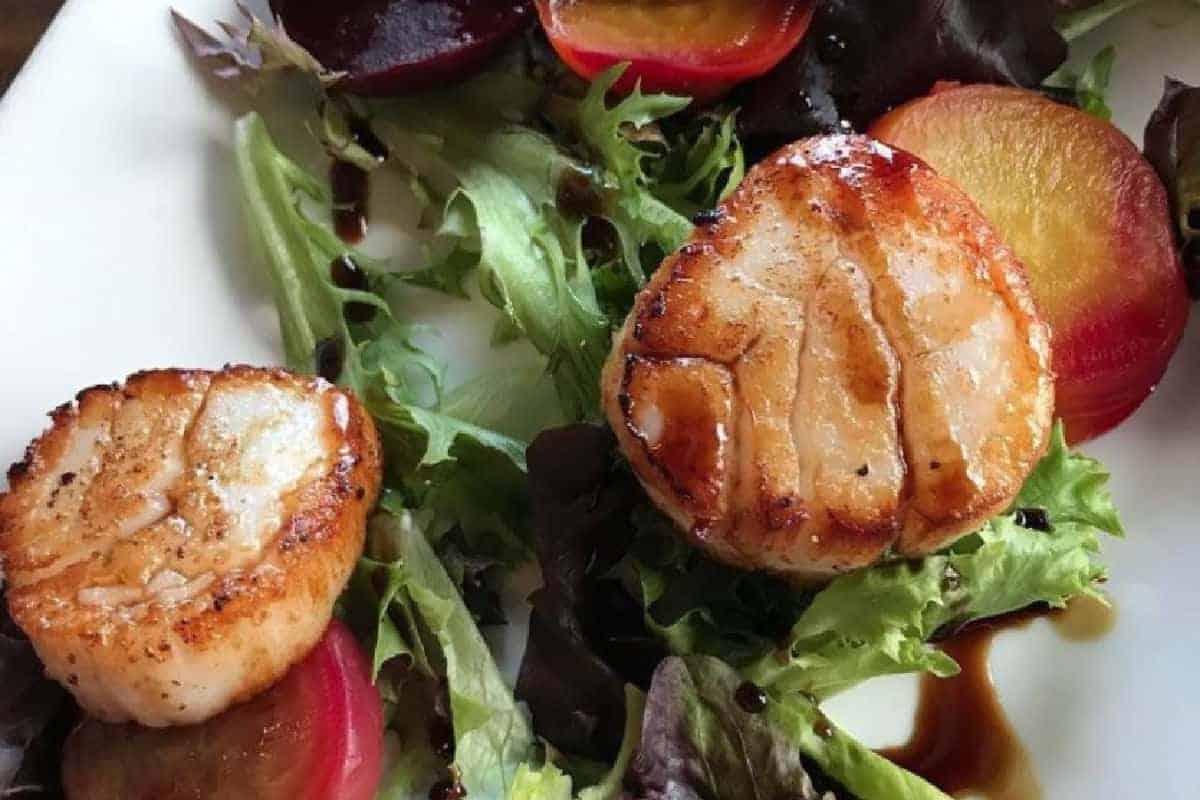 Easy make at home brown butter seared scallops will become your go-to dish to impress guests
Every vacation at the beach, we have always looked forward to dining out at the seafood restaurants where "the catch of the day" literally meant just caught fresh fish, shrimp, scallops, and oysters. From the fall green tail shrimp to the wicked tuna, it's all so incredible here on the Outer Banks of North Carolina. As much as we love sea scallops on vacation, we may be a little intimidated by cooking them at home. But here's the good news – they are the easiest of all seafood to prepare.
Seafood is our thang on the Outer Banks, so let's explore a simple way to cook tender scallops perfectly every time. You'll be amazed at how easy it is to prepare this elegant and delicious seafood dish at home! It's sure to become a shoe-in as your favorite make-at-home-recipe. May through August is typically the peak season for fresh scallops at the beach.
Fresh sea scallops are not fishy tasting, and have a mild, slightly sweet flavor and firm, yet buttery, texture. Get perfectly cooked scallops every time with our super easy method. Sea scallops (the larger ones) are quickly sautéed in butter that turns brown and deliciously nutty as it cooks, to make a gourmet meal is short order. Adding a splash of lemon juice and fresh herbs will finish the dish (or you can make it without).
Prep Time: 5 min. | Cook Time: 6 min. | Total time: 11 min.
INGREDIENTS
3 tbsp butter, divided
1 lb sea scallops (about 16) tough side muscle removed, patted dry on plate with paper towels
¼ tsp salt
¼ tsp ground pepper (a dash of cayenne pepper if you'd like them a little spicier)
1 tbsp chopped fresh herbs, such as tarragon, sage, cilantro, basil, or thyme
A squeeze from a fresh lemon or lime
EASY DIRECTIONS
Heat 1 tablespoon butter in a large skillet over medium-high heat. Sprinkle the dry scallops with salt and pepper; cook until golden brown on the bottom, only for about 3 minutes. Gently flip the scallops and add herbs and the remaining 2 tablespoons butter to the pan. Continue cooking, spooning the butter over the scallops, until browned on the bottom and just cooked through, 2 to 3 minutes more.
Remove scallops from heat and squeeze lemon juice over. After plating spoon remaining brown-butter from pan over them and serve immediately. Pairs well with asparagus and risotto, or as pictured above sweet baby beets and arugula.
Note: Scallops can easily be overcooked and tough, you want them to remain mostly translucent in the center to be cooked properly.
Hint: Add a little fresh ginger to the butter to enhance the sweetness of the scallops
WHERE TO BUY
We have some incredible fresh seafood markets on the Outer Banks, but they are seasonal. If you are here beyond the fresh catch season for scallops, we've found excellent quality scallops flash frozen after the season ended at Fresh Catch Seafood in Wanchese, give Micah and Matt a call before heading over to see what they have available: 252-475-9888. 57 Harbor Rd. Wanchese. Follow them on Facebook here.
DINE OUT
If you want someone else to cook them for you, then you may want to try one of our favorites on the Outer Banks, Blue Water Grill & Raw Bar, overlooking the docks at Pirates Cove Marina. P.S. It's ideal for a romantic date night! Follow them on Facebook here.