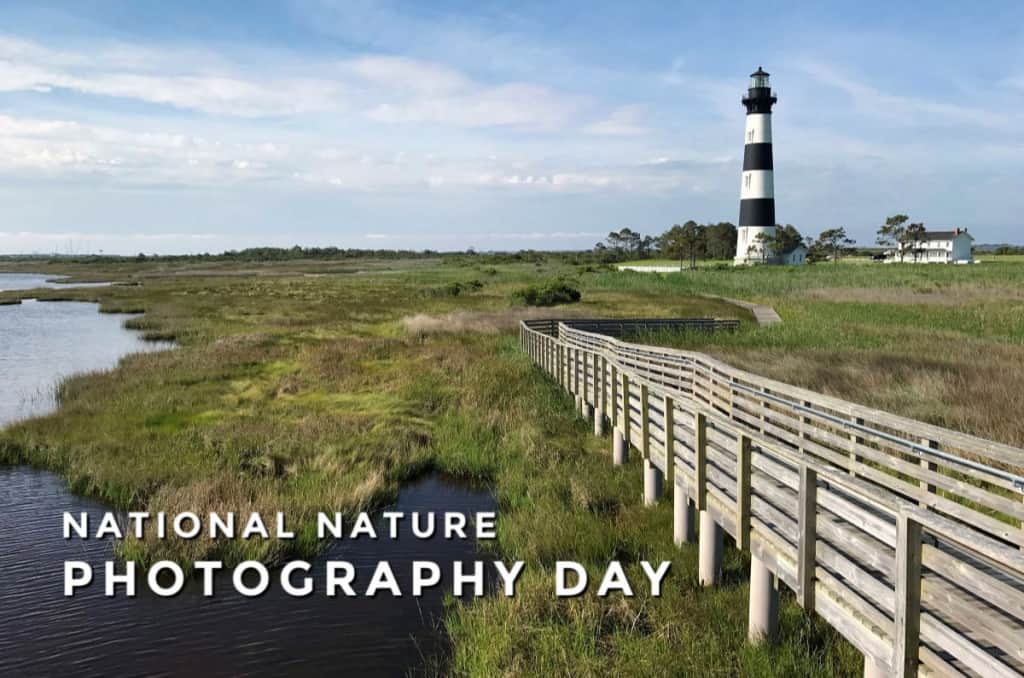 Bodie Island Lighthouse is an incredible place to view nature on the Outer Banks
If you're looking for inspiration to go outside and see something different, June 15th is National Nature Photography Day, and a great day to explore the natural side of the Outer Banks.
The North American Nature Photography Association (NANPA) along with millions of photographers and photography lovers across the nation observe Nature Photography Day on June 15th.

Here are some suggestions to get you started:
1. | Pick something or somewhere that you've never photographed before and make plans to photograph that subject or scene on June 15. You won't need an expensive SLR camera, your cell phone camera will work just fine. This day is an incentive to learn something new, and makes for a fun family adventure.
2. | Take your kids or grand kids on a nature trek, and show them how to photograph trees, flowers, birds, and more. Then print some of their photos and present them, in a mat or frame, to those young photographers. You may be surprised at some of the neat photos taken from their perspective. A fun place for this the Kitty Hawk Woods Coastal Reserve, or Nags Head Woods.
3. | Visit one of our national natural areas, like the Cape Hatteras National Seashore.
4. | Driving along Route 12 you can make stops at Bodie Island Light Station to view migratory waterfowl from the viewing platform.
5. | You can stop at Pea Island National Wildlife Refuge and go on some of their birding trails (note: No dogs allowed on these trails).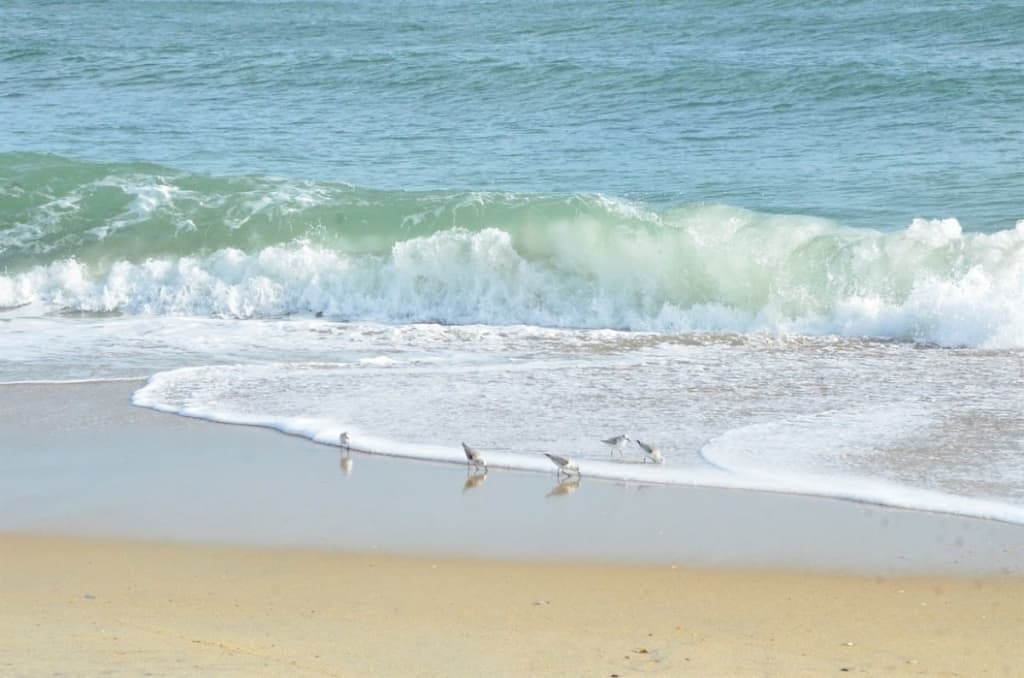 There is an abundance of wildlife at the beach, sometimes a pod of dolphins may even make an appearance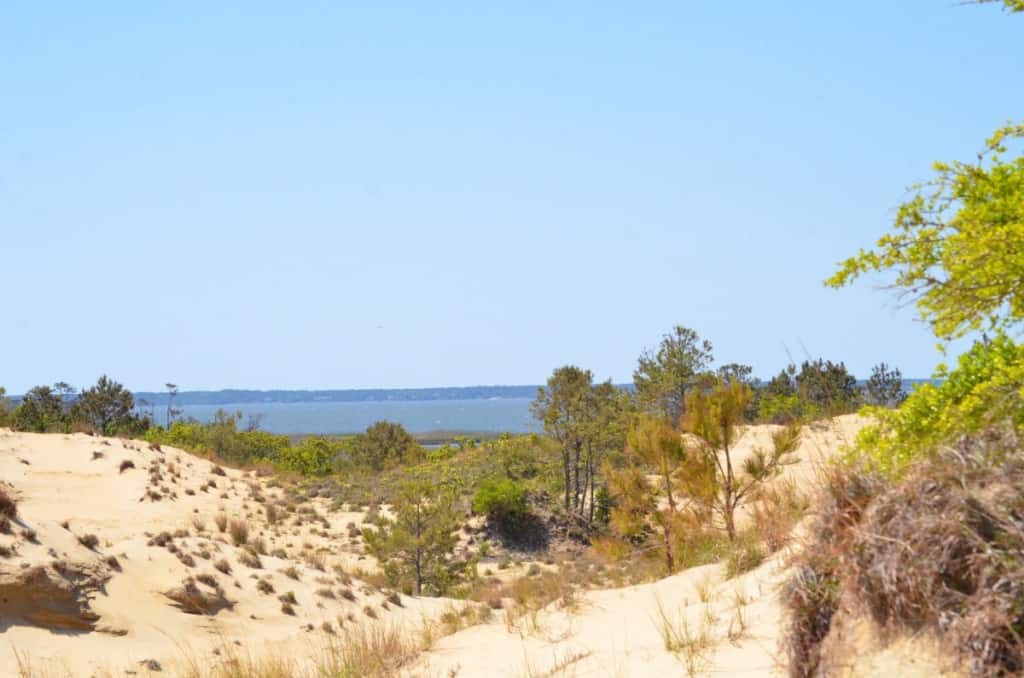 Explore Run Hill Natural Area in Kill Devil Hills
6. | Run Hill Natural Area is the little sister to the famous Jockey's Ridge sand dune, and the best part about this dune is you also have access the Sound. See up-close the unique and rich habitat in this ecosystem.
Is this curious aquatic turtle a red-belly or a slider? Find out here
Did you know?
There are 5 different species of sea turtles who visit and/or nest on the Outer Banks. They include the Loggerhead, Kemp's Ridley, Green, Hawksbill and Leatherback sea turtles. Our most frequent nesting turtles are Loggerheads, accounting for over half of our nests each season.
7. | To see rescued sea turtles, jellyfish, seahorses, stingrays and even sharks we highly recommend a visit to the fantastic North Carolina Aquarium on Roanoke Island. Plan for a full day of excitement for the whole family with indoor and outdoor exhibits. It's located in Manteo, so there are plenty of dining options available as well.
Bears, Alligators, Turtles, Snakes, Wolves…
8. | If you continue on past Roanoke Island, you may like to visit the Alligator River National Wildlife Refuge (152,000 acres), and yes there are alligators, and the rare and elusive red wolf, plus the largest black bears in America. The refuge is home to an abundance of wildlife, and best viewed early in the morning or late evening to catch any activity. It's not a park, so you may or may not see the big ticket items, the larger mammals. Find out when they are open here, to plan help your visit.
The refuge has tram tours and there are local kayaking companies like OBX Adventures that can take you out for a paddle.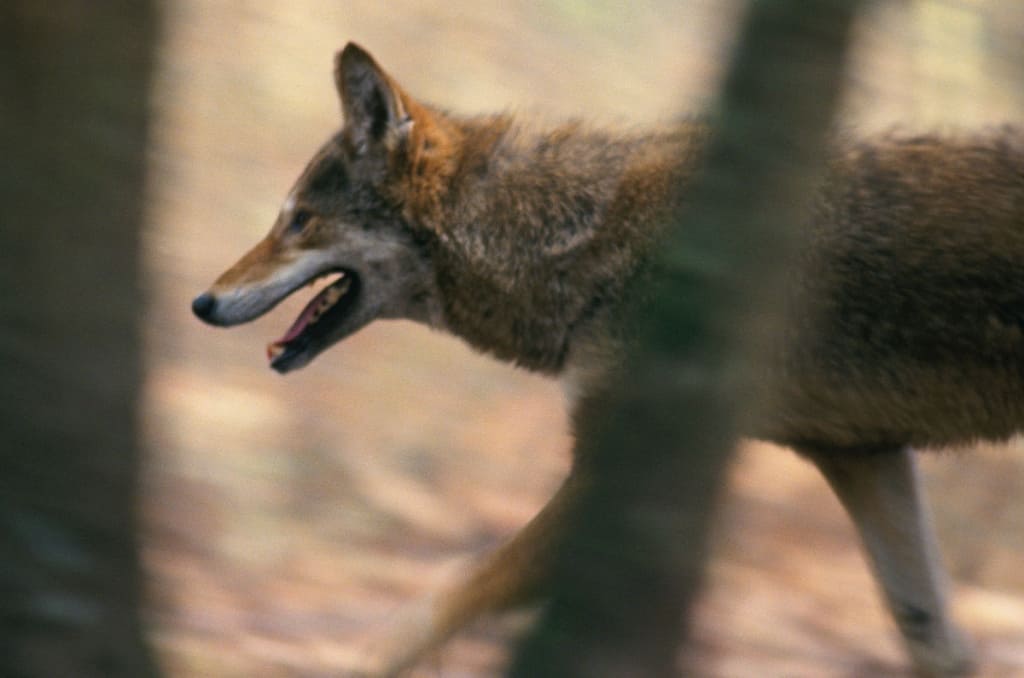 The refuge attracts visitors worldwide for its red wolf (Canis rufus) howling programs and is also home to the Dare County Bombing Range.
Photography Contest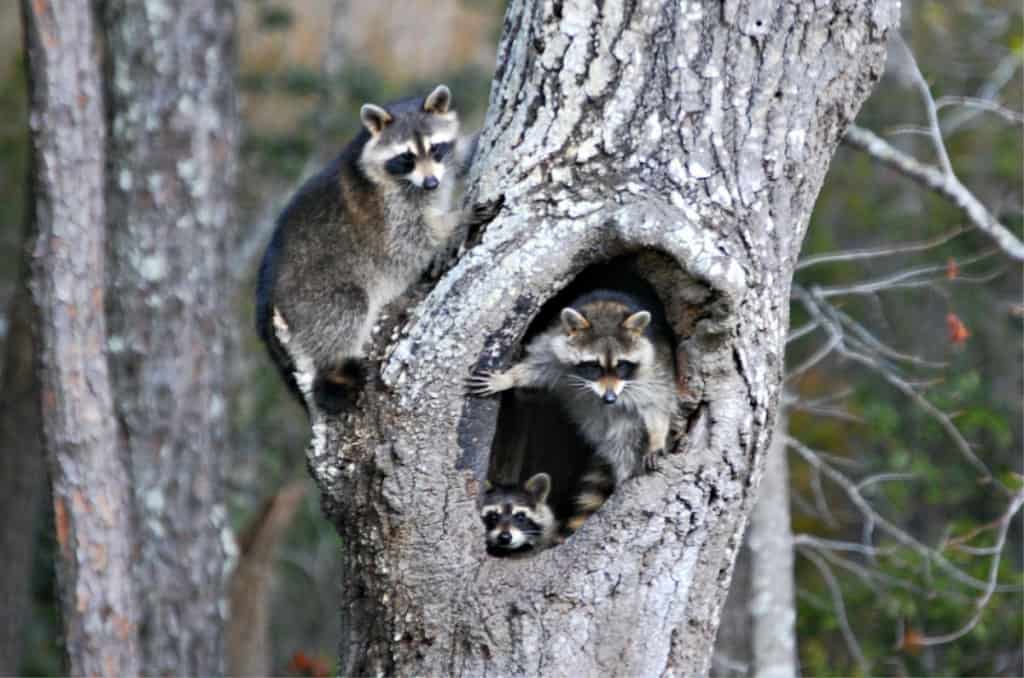 Mama raccoon and kits happy at home in a salt marsh in Kill Devil Hills
NANPA has a nature photography contest for this special day with over $3000 in exciting prizes. Wound't it be great if one of our local OBX photos took the win? Learn more here.
The place we call home
To learn even more about the natural history of our environment: plants, wildlife, and land. Pick up a book to enjoy by the pool about the Outer Banks, there is no place like it on the planet. We share this sandbar we call home with some incredible natural residents.
Consider making National Nature Photography Day on June 15 an annual family tradition. The Outer Banks are teeming with incredible wildlife and beautiful natural scenery, when visiting the natural areas and by taking only photographs we can do our part to help conserve it. Be sure to tag #naturePhotoDay and #NCWildlife on Instagram.
If you want to learn more about making the Outer Banks your home, give us a call at 252.301.3090, or visit us here.