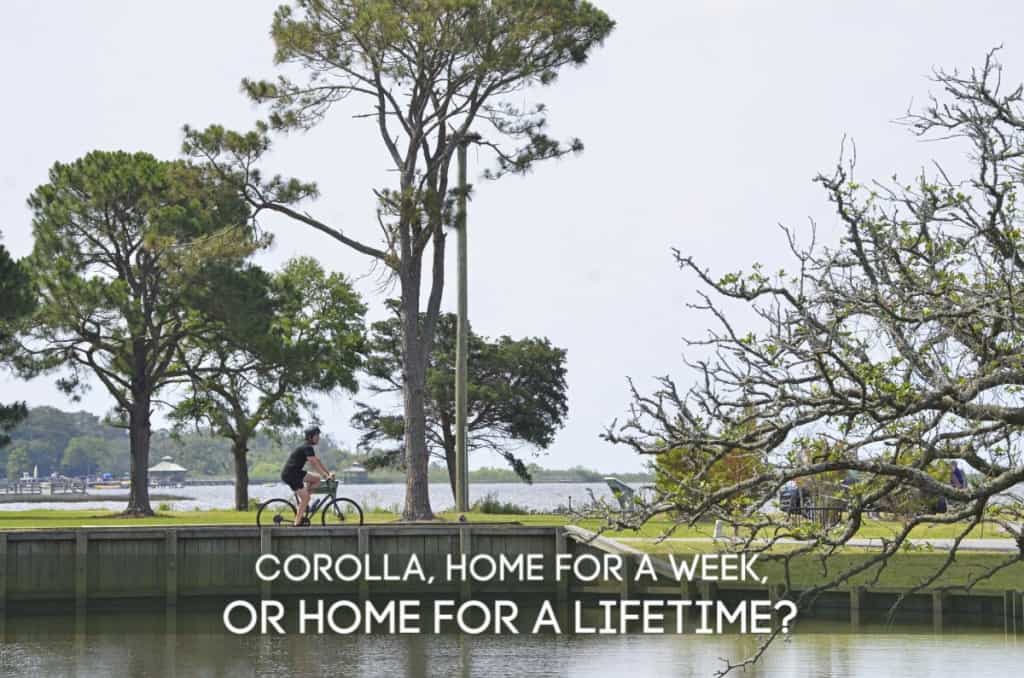 Explore one of the hidden gems on the Outer Banks, the Village of Corolla
Beautiful Corolla is known as the least commercial place on the Outer Banks. In fact, it's called a village, not a town or city, and it's simply surrounded by natural scenery on every side.
You won't find any big box stores in Corolla, but you will find vastly less populated, isolated stretches of beach to stroll. Fabulous places to launch your kayak for a sunset paddle on the Currituck Sound, and the ever-stalwart presence of the amazing 162' red brick Currituck Lighthouse.
Step back in time to a slower pace
WHY LIVE OR VACATION IN COROLLA
This small coastal community is resort living at its best, while it feels very upscale, it still embraces that Carolinian beach vibe. The fun shops, restaurants and residential amenities ensure you have everything you need for a vacation, or as a local. Since Corolla is where the highway ends in Currituck County, you'll find you aren't in the middle of all the hustle and bustle.
Corolla is ideal (some even call it idyllic) to get away from it all, but still enjoy all the best dining, shopping, water sports, and amenities on the Outer Banks.
Family fun in the sun at Corolla beach on the Outer Banks, North Carolina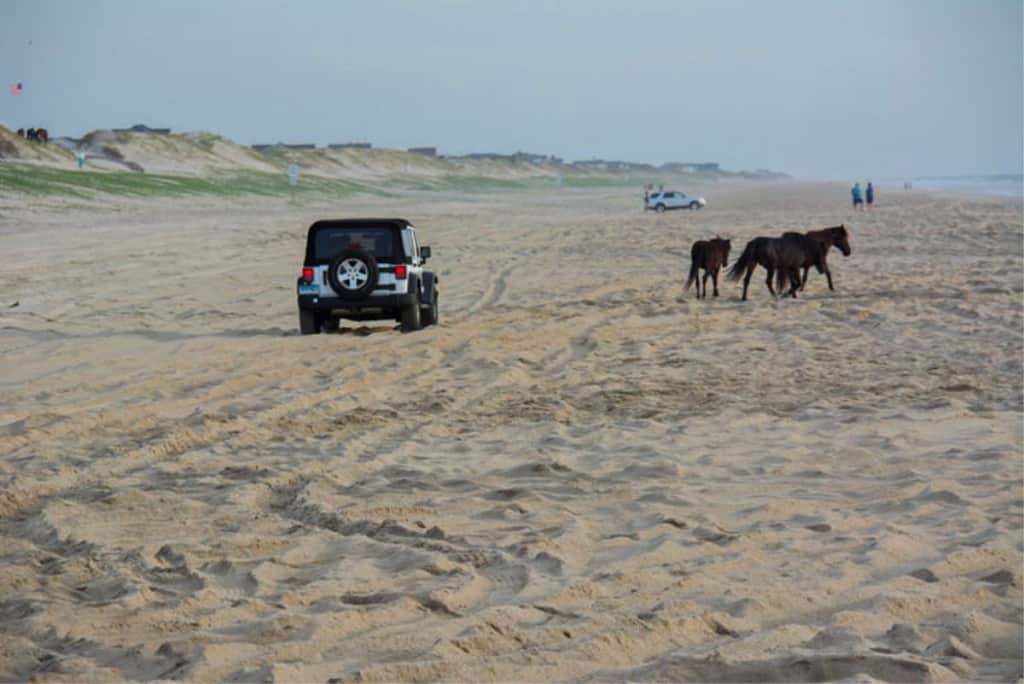 A jeep stops to allow wild horses to pass, learn more about them here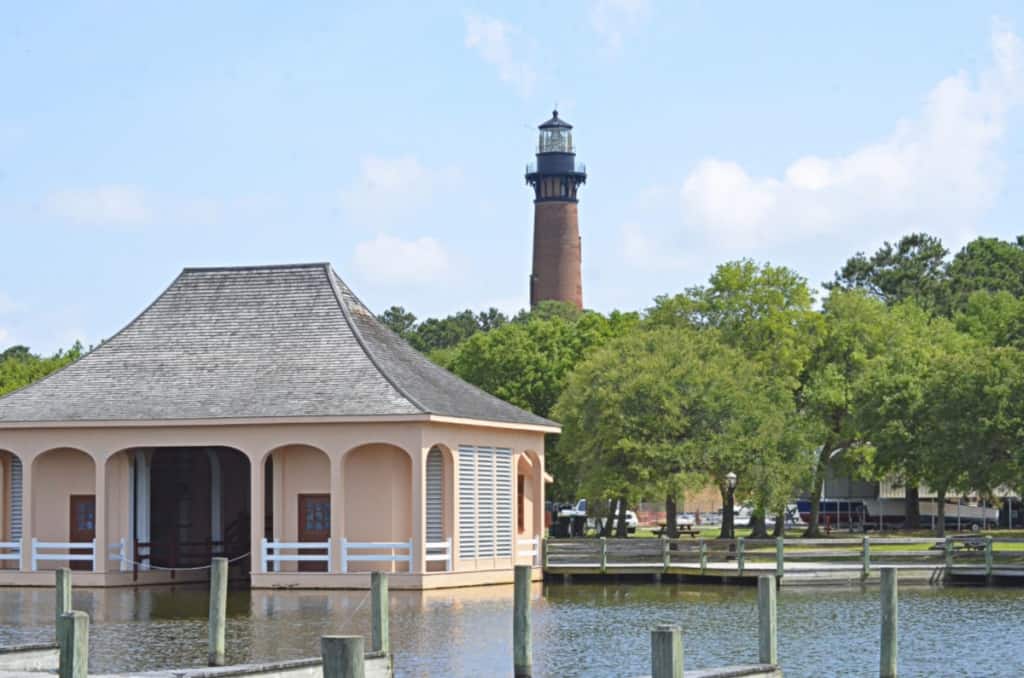 Currituck Lighthouse peeks up beyond the Whalehead marina in Corolla, NC
THINGS TO SEE AND DO
Corolla straddles the Currituck Sound and the Atlantic Ocean, which means you score the best of both worlds for water recreation, sound and beach.
Historic Corolla Park is home to Currituck Beach Lighthouse, with a

360-degree

view

(yes you can even climb it).

The

Outer Banks Center for Wildlife Education is a fantastic place to explore with your whole family.

The stunning

W

halehead

Club

,

a restored 1920s hunting retreat with original art-nouveau decor is a popular wedding venue, and a beautiful backdrop for your picnic or outing.

A bike path winds along NC 12 in Corolla for walking and riding.

Wild horses (

mustangs)

live and

roam

the

Corolla and

Carova

beaches, take a tour from one of the many guides.

4WD beach access to get to that perfect surf fishing or beach-combing location. The air down location is the Corolla Village Road public access facility, and air-up near the Lighthouse at the Historic Corolla Park. (Permit info here)
A birders paradise, as just north of Corolla, you'll find the vast Currituck National Wildlife Refuge, an estuary with a large population of migratory and nesting shorebirds.
Miles of white sandy beaches, from Corolla Beach to Currituck beach.
Watersports like standup paddle-boarding (SUP), kiteboarding, kayaking, parasailing, and surfing (rentals and guides available).
Golf and amusements: 18-holes golf course, skate park, putt putt, zipline and adventure park, and soundside nature trails.
Shopping in boutiques and souvenir shops.
Dining from grilled mahi to steaks, or pizza and pool tables (some feature waterfront and outdoor seating), you can also opt for locally caught seafood from one of the seafood markets.
For more exciting things to see and do in Corolla, go here on Trip Advisor, and here to Visit Currituck.
PET FRIENDLY
The beaches and many businesses are pet-friendly, your dog will thank you. See Outer Banks leash laws here.
Turn your sound up to enjoy these Corolla sights below:
FIND OUT MORE
Corolla, pronounced "kuh-RAH-luh" is the northernmost accessible village on the Outer Banks. Separated from the state of Virginia by a fence, Corolla is 15 miles from the town of Duck, but a world apart. Corolla easily rolls off the tongue and brings to mind a simpler life, less stress and pure natural beauty.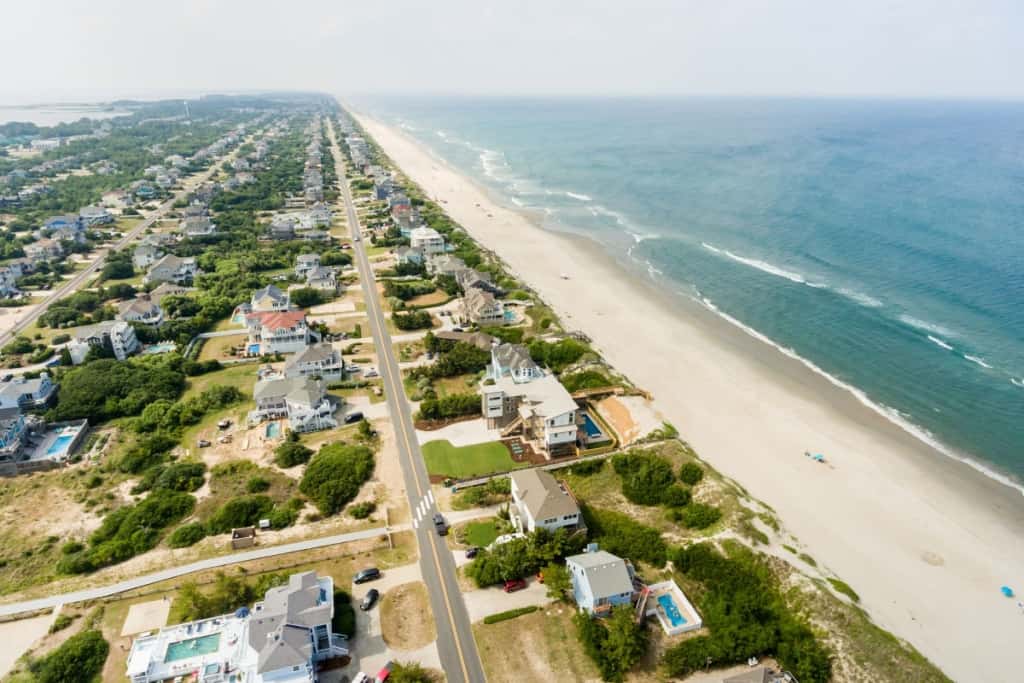 Paradise found, Corolla, North Carolina
If you're interested in learning more about how we can help make this little stretch of paradise your home, or share our proven track record providing turn-key, investment properties that you can use with your friends and family, and will provide an average of 15% – 20% ROI, just give us a call at 252.301.3090.